WBHM's GM Chuck Holmes on WBHM, the CPB, and You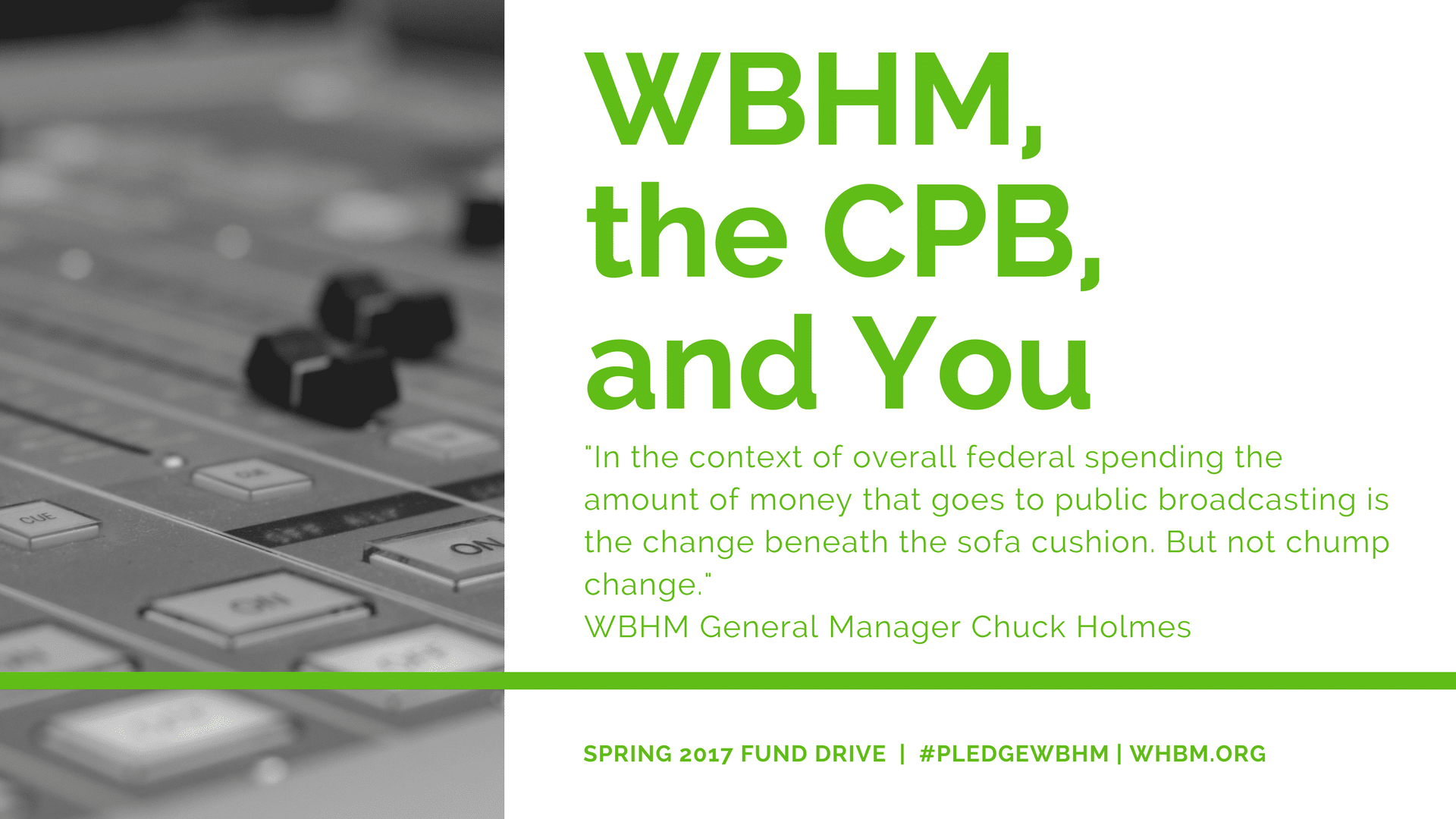 Is the reliable, respectable news coverage you get from WBHM and NPR worth 30 cents per year?
Before you answer, let's throw into the deal cultural and entertainment programs, like This American Life, Wait, Wait … Don't Tell Me! and Mountain Stage.
Wait, there's more, like the jazz and classical music that WBHM brings you every evening.
Thirty cents. Per citizen. Per year.
That's how much all of public radio in the United States receives through the Corporation for Public Broadcasting. Do that math, and in the context of overall federal spending, the amount that goes to public broadcasting is the change beneath the sofa cushion.
But not chump change. The CPB's annual grants are a small but significant portion of our annual revenue here at WBHM. It's about 15 percent of our operating budget. Along with the generosity of our individual members, corporate underwriters and philanthropists (about 70 percent of all revenue) and vital support from UAB, that CPB money helps us acquire the programs you hear and, yes, make payroll and pay expenses.
It is a small investment with a big impact.
In his budget recommendations for fiscal year 2018, President Trump is asking Congress to defund the CPB.  What's the cost to taxpayers? The entire CPB budget for public radio and television — $445 million in the current fiscal year — represents 0.01% of federal spending.
Public radio emerged 50 years ago with the mission to enrich American communities with independent journalism and educational programming in large cities and rural places often cut off from sources of news and information.
In Birmingham, it means WBHM brings you NPR's national and international coverage, and our own local stories on issues relevant to Alabamians.
If our station lost CPB funding I believe we'd see an immediate outpouring of support from the community that would make up the difference. The problem in future years would be sustaining that support. And the larger problem:  What would happen to the public broadcasting system? Lots of other stations across the country are more dependent on CPB money and would have to reduce their program purchases from NPR and other content providers, depriving those organizations of revenue that supports their journalism. That would affect the quality and variety of programming available to WBHM listeners.
I know plenty of conservative Republicans who respect the work of public broadcasting and want to find smarter ways of financing it, not toss it out. The hard work for the GOP-controlled Congress will be to reconcile the president's wishes with the simple fact that eliminating the CPB would have unintended consequences.
What can you do?
At Protect My Public Media you'll find a petition to Congress where millions of people are rallying to express their support for public radio and TV.
More than 100,000 listeners a week tune into the station, but we have just 5,200 members. Many of you already support WBHM with your contributions, and we need more of you. If you're not a member, become one.
Then please spread the word to friends, family and co-workers to support your local public radio station at our web site, WBHM.org. And on social media, please use our hashtag: #PledgeWBHM.
It's your radio station. We just run it. Thank you.