Sierra Hull reflects on the meaning of time on her album "25 Trips"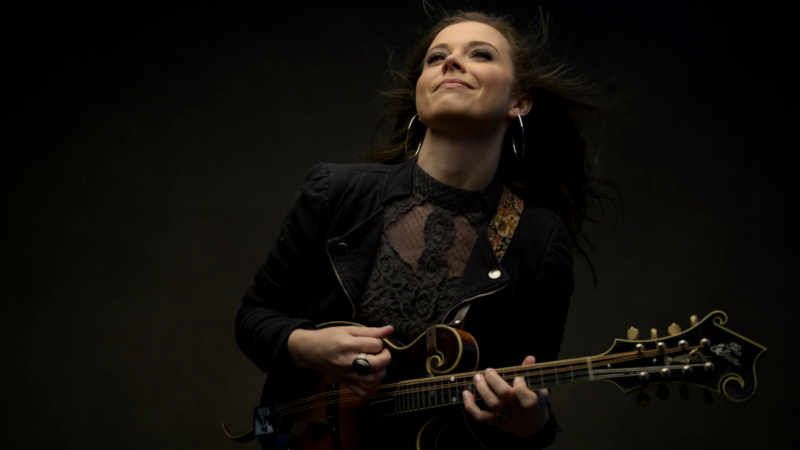 The first time Sierra Hull picked up the mandolin she was eight. Within four years, she played at the Grand Ole Opry and at Carnegie Hall. Now at age 30, Hull is a three-time mandolin player of the year by the International Bluegrass Association. Hull performs in Birmingham at UAB's Alys Stephens Center Saturday night. She spoke with WBHM's Michael Krall about her latest album, songwriting, and the last year and a half of her life.
In this time of COVID 19, what has it been like for you both personally and professionally as a touring musician?
For me,  I was looking forward to being on the road in support of a new record. So I had a record called "25 Trips" that came out in early 2020, in fact, just a couple of weeks before the entire tour [was] canceled. And I really found myself not only just home, but with a completely canceled calendar.  I think that kind of quiet reflection was really kind of a special thing and something that I'm grateful for even aside from, how hard it was and a lot of ways to not get to be with those we love or not get to stand on a stage and all those kind of things.
The album, "25 Trips," overall has you being a little bit more reflective about life. Is that fair to say?
The album is very themed around time, and so the title trip, "25 Trips,"  it's about 25 trips around the sun and was written around this period of time where I felt like I was just so busy that I was kind of feeling like all these amazing things are happening in my life, in this moment. And I'm excited and grateful. And I almost just wish time would slow down so I could actually stop and enjoy them, you know?  Little did I know how some of those lyrics would make me feel after going through something like we have this past year. It almost feels like I could have written some of those songs during this time, even though I didn't.
The first song on the album, "Beautifully Out of Place" — those two ideas don't always go together — could you tell me the story behind that?
It kind of just ended up falling out and sometimes songs take a long time to write. Sometimes, it starts with the melody, starts with the lyric. This one, both things just kind of came at the same time. It was after I'd had a conversation with my husband. He was about to head out the door to go to a recording session. And I was just having one of those mornings where I was trying to get to work, as they say. You show up, and you try to write, and you try to be creative. And I was just having a little, I don't know, period of time where I felt like nothing good was coming to me.  And he said, 'You know, Sierra,  I just believe in you so much. But at some point, you really do have to start believing more in yourself and kind of set that self-doubt aside.' And as soon as he left, I just I started playing that mandolin riff: [singing] 'You believe in me, but I can't see what you see. How long is it gonna take me to trust myself?'  It's like it just came out from our conversation.
Your roots are bluegrass. This album is a bit more eclectic for you, there are some electric instruments, even a little bit of percussion. I'm wondering, is there something pulling you in this direction?
Well, I just always try to let the inspiration of the moment dictate where I'm headed in terms of the music I'm making. I grew up here in Tennessee, a little town called Byrdstown. There's so much great country, bluegrass, gospel, Americana music in this part of the world. I spent my formative years into my teenage years really being immersed in that. So that's always going to be a huge part of who I am and sort of the foundation that everything that I do. But at the same time, I've always wanted to keep pushing to be the best musician, best songwriter, best singer that I can. And so I feel like because I'm inspired by a lot of different styles of music and I listen to a lot of different styles of music, it's sort of inevitably going to come out in my own music in some way or another.
Sometimes your writing and performing just has this effortless sound about it, and I say that not to be flip, but there's an easiness about your songs. They almost at times can sound too simple, but yet they draw you in because they're just beautifully realized. I'm thinking about the song "Lullaby" from your previous album.
It's interesting that you say that because I feel like I kind of go back and forth between this kind of style of writing – where sometimes as an instrumentalist, it's really tempting to get in there and push your musical creativity to kind of these complicated levels of things that you can play or letting the virtuosic side kind of push things. And I think there's moments for that within songwriting. But also, as I've been very lyric forward in a lot of my songwriting, "Lullaby" is a prime example of when you have a lyric like that, to just put an overly complicated melody with it in some ways wouldn't serve the song. Because I think oftentimes those songs that do feel simple and easy to listen to are oftentimes I've found the ones that people seem to connect with the most.
There's this video of you and Sam Bush a few years ago at a bluegrass festival playing "Turkey in the Straw." And you just have this look on your face like you can't believe you actually get to do this with one of your heroes. This is all in the middle of the of performing it. What goes through your head when something like that is happening?
Well, Sam is one of those people I've been lucky to be around a lot since I first met him when I was about nine years old, I'd only been playing a year. But as a mandolin player, if you've been playing two weeks, you probably know who Sam Bush is. You know, he's that big of a hero to all of us in the music community. You can tell them, oh, you're my hero. And, at some point, they become a friend. And you're not just walking around telling your friend constantly, 'you know, I love you right, that you're my hero?' But I think that, yeah, it's sometimes hard to lose that I wouldn't, and I wouldn't want to lose that.
You got kind of emotional about it. You said he made your bluegrass heart.
[Laughs] Yeah, I mean it's a pretty awesome thing to have somebody like that, and there's so many I could name. Alison Krauss was another that I still just can't believe.  And sometimes I still go, 'man, if you'd told nine-year-old me that that was going to happen, like, what the heck, you know?'
Tell me, what's the writing process like for you, does inspiration come from just about anything?
I think so, yeah. I think that the more I write, you realize, oh my goodness, there is so much to write about because if you just look around and open your eyes and ears, I mean, there's inspiration all around. It doesn't always mean you're going to have a great song, but I think the idea of exercising your kind of work ethic as a songwriter and searching for that inspiration, sooner or later you're going to really find something special if you're just keeping your eyes and ears open.
You're in a male-dominated field, and you've even referenced this in one of your songs. How did the bluegrass world react when you came on the scene?
You know, I have been really, really fortunate, and I know not everyone's story is like that. I know a lot of women who have felt like they really had to struggle to kind of find their seat at the table. But, maybe it's because I started so young as well. But I really feel like I've always had a good experience in the bluegrass community as a female, and that my fellow musicians have always treated me with a lot of respect. But more than anything, yes, I fell in love with the music, but I fell in love with the community and the way the community made me feel. And that was usually older musicians, sometimes two or three times older than me and oftentimes male. I know in some ways it might not always be the story for other people. But I've had a really good experience, and I feel grateful that I can honestly say that.
This interview has been edited for length and clarity.
Editor's Note: UAB's Alys Stephens Center is a program sponsor on WBHM, but our news and business departments operate independently.