State Health Officer warns Alabama is 'not in a good place' fighting the Omicron variant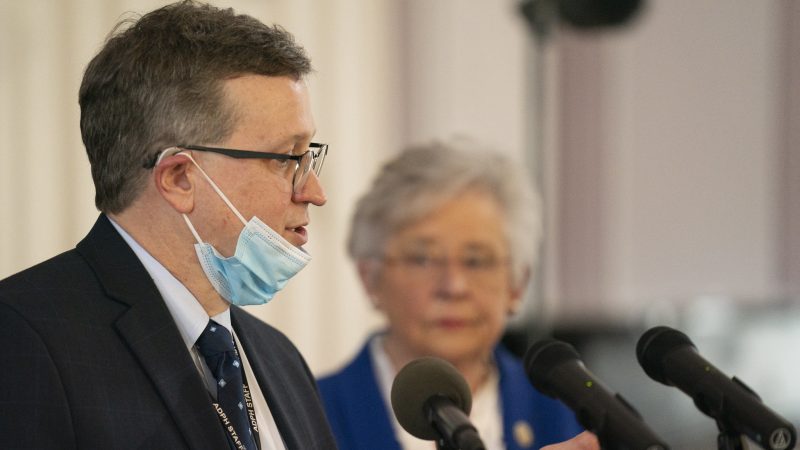 ​​Alabama's top doctor sounded the alarm Tuesday as the COVID-19 omicron variant continues to spread across Alabama leaving new record numbers in its wake. During a media briefing, State Health Officer Dr. Scott Harris said Alabama's positivity rate is almost 39%. That means nearly four in 10 tests came back positive.
"We, unfortunately, are not in a really good place right now," he said. "We're seeing the highest daily case numbers that we have seen since the pandemic began."
At least 1,249 people were hospitalized statewide with COVID-19 on Tuesday, roughly four times as many as in mid-December.
Harris said the omicron variant is becoming the predominant variant across the nation and it's "incredibly contagious."
"It will infect everyone in the state at some point, or most of them," he said. "So, we really need people to do the single most important thing they can do to protect themselves, which is to be fully vaccinated and boosted when it's appropriate to do that."
Meanwhile, COVID tests remain in short supply.
"We do not have enough testing to go around, no state does," he said.
Like most states, Alabama is leaning on the Biden Administration's pledge to distribute 500 million COVID tests to those who need them, for free. Harris said it's not clear who will be in charge of distributing those tests or when the state will receive them. For now, Harris said some testing is available at county health departments across the state.
Less than 48% of the state's population is fully vaccinated according to the Centers for Disease Control and Prevention, giving Alabama one of the nation's lowest vaccination rates despite months of work by health officials to promote the shots. With more than 16,450 dead from the illness, Alabama has the nation's third-highest death rate from COVID-19, according to researchers at Johns Hopkins University.
Last week, the CDC announced new guidelines saying those who test positive have to quarantine for only five days instead of the previous recommendation of 10 days. Dr. Sarah Nafziger, vice president of clinical support services with UAB Health System, said people still need to be careful after that.
"If you test positive for COVID, you need to stay home until you're better. A minimum of five days. So if you're at five days after you test positive, if you have no symptoms whatsoever and you have a normal immune system, then the CDC now says that it's OK for you to leave your house for you to go about your business," Nafziger said. "But they do encourage you to continue to wear a mask just in case on the off chance that you could still be contagious. Because what we know is that if you've still got symptoms, that's the biggest indicator that you're still contagious."
Nafziger also said all COVID tests are not created equal. PCR tests are the most accurate, which usually requires going to a clinic, pharmacy, or doctor's office.
"The other type of test on the market is an antigen detection test. If you can get a home test kit, it's going to be an antigen test. Now those tests work really well, but they're really variable in how they perform, depending on the manufacturer," Nafziger said.
Harris said at-home tests are not included in the data from the Alabama Department of Public Health, so there's an undercount of positive cases in the state.
The rolling average number of daily new cases has increased by about 5,000 over the past two weeks, a jump of about 630%. There were nearly 1,058 new cases per 100,000 people in Alabama over the past two weeks, which ranks 20th in the country for new cases per capita.
With reporting from WBHM's Cody Short and the Associated Press