Alabama Republicans pass bill to hike penalties for removing Confederate monuments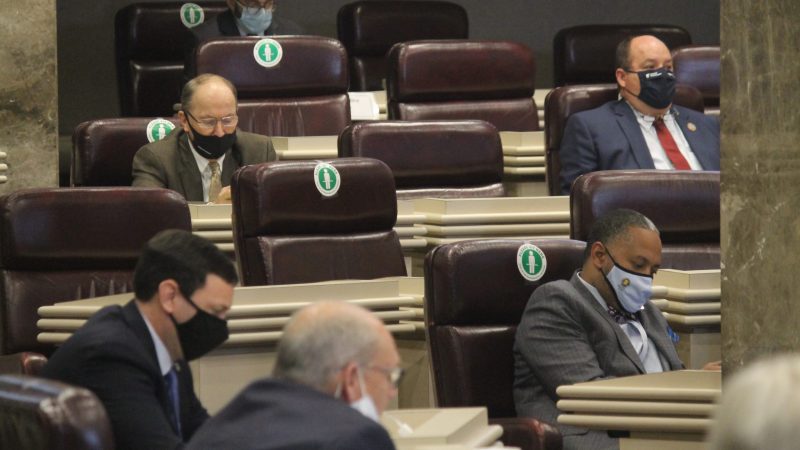 Under the Alabama Memorial Preservation Act, removing or altering monuments or memorials more than 40 years old incurs a $25,000 fine. Some cities, including Birmingham, have taken down Confederate monuments anyway and paid the fine. But Republican Sen. Gerald Allen of Tuscaloosa, who sponsored the law, wants the penalties increased.
"Anytime you bring up Confederate issues it's going to be controversial. It's going to generate a lot of debate. And it did," said Todd Stacy, host of Capitol Journal on Alabama Public Television and publisher of the Alabama Daily News.
Stacy offered an update on this week's action in the legislature.
Monument Removal Penalties
Allen's bill would increase the fines from a one-time $25,000 fine to a $5,000 a day fine. The bill passed a Senate committee on a voice vote Tuesday. Opponents were not pleased.
"Democrats especially just don't see this as necessary. In fact, many of them would like to repeal the current law," Stacy said.
A companion bill that also passed the committee on a voice vote would make damaging a memorial during a riot punishable by up to 20 years in prison. A confederate monument in Birmingham was vandalized in 2020, following a rally in response to the murder of George Floyd by a police officer in Minnesota.
Allen has tried several times to increase the penalties in his original law. Stacy was doubtful about these bills' prospects as they head to the full Senate.
"It's certainly a priority for Sen. Allen. I don't think it's really a priority for the greater Republican majority," Stacy said.
Riot Bill
A bill from Republican Rep. Allen Treadaway of Birmingham passed a House committee Tuesday which would require jail time for those who participate in a riot. Treadaway is a retired Birmingham assistant police chief who introduced the same measure last year. He testified before the committee.
"Part of what he argues is this is about the police department's ability to protect those who want to protest peacefully," Stacy said. "He said that when someone goes over the line and commits a crime, right now, they can arrest them, but they end up right back out there. They have to release them pretty quickly."
Opponents expressed concern that the law violates First Amendment rights. A federal judge has blocked a similar law in Florida. Black lawmakers, in particular, contend the definition of riot is vague and subjective. They also questioned if the law would be applied unfairly to Black protestors.
"I think you're going to hear a lot more when it goes to the floor. It could very well be a party-line issue where Republicans vote to pass the bill and all the Democrats vote against it," Stacy said.
Transgender Youth
A Senate committee on Wednesday passed a bill that would ban certain treatments for transgender youth such as puberty-blockers, hormone treatment or surgery. A similar bill was introduced last year, but did not receive final approval.
Backers of the ban said it's about protecting children. Transgender advocates said the ban harms children and is based on a misunderstanding of transgender people. They added the proposal interferes with the ability of doctors to offer potentially life-saving treatment.
"If this bill gets a vote in the House and Senate, it'll pass. It's a matter of timing and whether the legislature really wants to address this issue," Stacy said. "There are lots of priorities in the statehouse. It remains to be seen if this is a top priority."