With the NCAA Tournament in town, Birmingham is ready for thrilling games, an economic boost
Business owners like Kristal Bryant love weekends like this upcoming one in Birmingham.
Bryant's business, K&J Elegant Pastries — known for its "Kolossal Milkshakes" and custom cakes — is usually packed with visitors. But this weekend, it'll be all hands on deck for her 15-person staff as they expect a rush from a much larger crowd.
That's because Birmingham is playing host to the first and second rounds of the NCAA men's basketball tournament, from Thursday through Saturday, for the first time in 15 years. Local fanfare for the games grew more once it was announced that The University of Alabama and Auburn University would both be scheduled to play at Legacy Arena.
"I've already done a big order to prepare," Bryant said. "Containers, ice cream, all of that is already done for the week. So, we're basically just trying to work ahead."
Events like the NCAA Tournament are exactly why Bryant chose to plant her business in the middle of the BJCC. Her store used to be in Alabaster, a small town south of Birmingham, but she moved to the convention complex knowing opportunities like March Madness would bring in a lot of business.
"I want to commend the city of Birmingham and the JCC for doing such an amazing job," Bryant said. "As long as they bring in so many different events here as long as they keep events flowing, we'll be slammin'. So it's awesome."
Restaurants, hotels, Uber drivers, and Door Dashers are expected to make a little extra money because of the crowds of people coming to the city for the games, too.
David Galbaugh, the vice president of sports sales and marketing for the Greater Birmingham Convention and Visitors Bureau, said the city is expecting a $10 million impact from the games. That's a slightly lower estimate than what was previously projected before it was clear that Alabama and Auburn would both play here. But Galbaugh said the dip means there's a huge local draw for those games and for the tournament as a whole.
"[It] drives down a little bit in terms of that economic impact for the sheer fact that if you've got somebody that already lives here and they're going to the game, they're not going to come in and spend the night in a hotel and they might eat at home," he said. "So it might just be a little bit different in terms of the variables."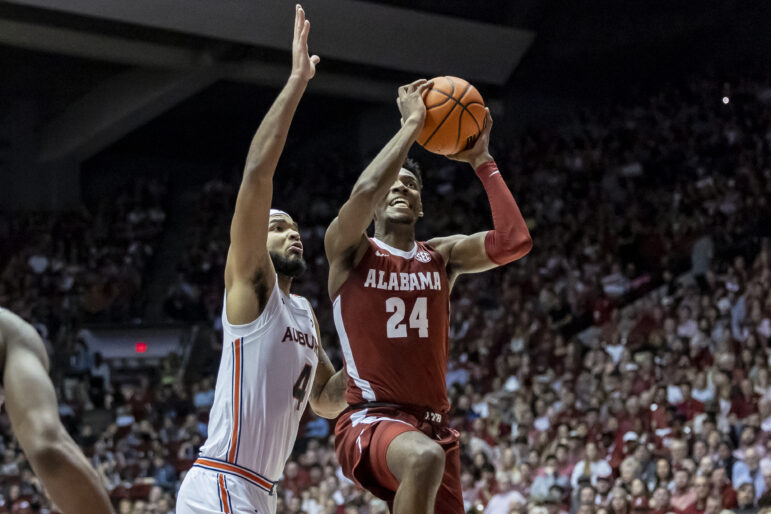 There are some Alabama fans coming in from out of state, including Christian Sykes who is headed down from North Carolina. Sykes graduated from the University of Alabama and runs a website dedicated to the school's basketball team.
Sykes said he thinks when people visit Alabama or even live in other parts of the state, Birmingham gets overlooked in favor of Tuscaloosa, Huntsville, and Montgomery. But he thinks the city's culture is important for outsiders to experience.
"I do think that there's a lot of culture and a lot of things that people can go and experience in Birmingham," Sykes said. "There's a lot of Black history, [and] Black empowerment that I really think that — me being a white person — it's a beneficial learning experience."
Sports reporter Kevin Scarbinsky, remembers when the NCAA used to come to Birmingham on a regular basis. From 1982 to 1997, Birmingham hosted five NCAA tournament regionals, and Scarbinsky said only one other arena — the former Meadowlands Arena in East Rutherford, New Jersey — hosted more regionals during that time frame.
🏀 This Thursday at Legacy Arena 🏀

11:15AM: Maryland vs. West Virginia

1:45PM: Alabama vs. Texas A&M-CC/Southeast Missouri State

5:50PM: Auburn vs. lowa

8:20PM: N. Kentucky vs. Houston #MarchMadness⛹️‍♂️

— Randall Woodfin (@randallwoodfin) March 13, 2023
But the NCAA tournament hasn't been in Birmingham since 2008. Since then, Legacy Arena has made major renovations to help expand the city's profile as a hub in the region for all types of sports, and other parts of the BJCC have expanded to host more visitors for large events.
"The redo of Legacy Arena, the entire uptown area, and all the work that's been done there … is validation that we are back in the game and we will be hosting at least NCAA basketball tournaments and most likely a lot more going forward," Scarbinsky said.
And he's right. There will be more NCAA games coming to Birmingham when the NCAA hosts the Division I women's basketball tournament regional at Legacy Arena in 2025.
This story was produced by the Gulf States Newsroom, a collaboration between Mississippi Public Broadcasting, WBHM in Alabama, WWNO and WRKF in Louisiana and NPR.