The 2022 Alabama legislative session starts Tuesday. Here's what to expect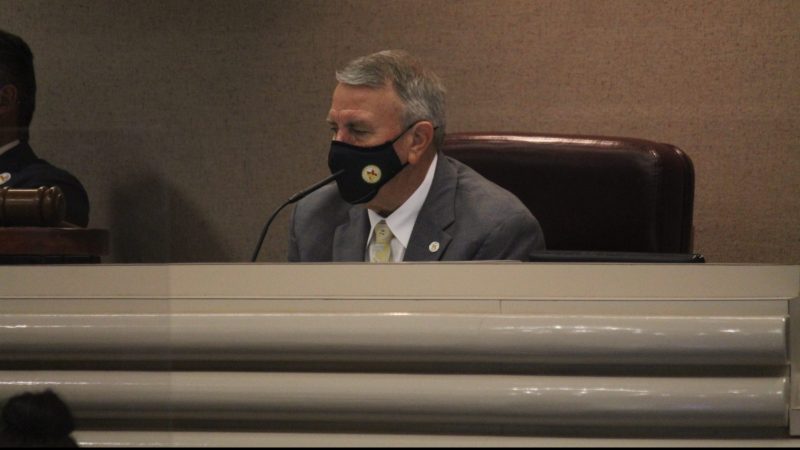 Alabama lawmakers will start the 2022 legislative session Tuesday, the third regular session to take place during the COIVD-19 pandemic. The virus will underscore many debates among legislators, but the other overriding factor at play is the fact it's an election year. Montgomery Advertiser statehouse reporter Brian Lyman spoke about what may happen in the weeks to come.
Election Year
State lawmakers go before voters this year with party primaries scheduled for May 24 and the general election on Nov. 8. In an election year, the sessions starts and ends earlier to give legislators time to take care of business in Montgomery before heading home to campaign. Lawmakers must pass the two budgets, but beyond that, legislators tend to avoid ambitious bills.
"That generally seems to be the dynamic that we're going to face this year," Lyman said. "The budgets appear to be in good shape. We don't expect any major controversies that way."
COVID Relief Funding
One major issue before lawmakers is how to spend more than $1.5 billion in funds from the American Rescue Plan. That's in addition to $400 million legislators have already decided to use toward a prison construction plan. Lyman said there are three areas lawmakers generally agree the remaining funding should go toward: broadband expansion, hospitals, and water and sewer infrastructure.
"The governor's office says that they want to make the spending of this money an early priority," Lyman said. "It could be the first major issue [lawmakers] dispense with."
There is discussion of holding a special session on COVID funding within the regular session. That means lawmakers would take up only that issue as long as the special session is underway.
Permitless Carry
For years, lawmakers have considered bills that would get rid of permits to carry concealed handguns. Proponents of the move, who call it "constitutional carry" are renewing that push. Republican House members made the issue part of its agenda.
"This is clearly a bill designed to excite Republican primary voters who are going to decide which legislators get to stay at work past 2022," Lyman said.
However, sheriffs generally opposed scrapping the permit. They argued the background check that's part of the permitting process is an important tool for law enforcement. The fees are also a revenue stream.
"House members generally don't like to get crossways with their district attorneys and their sheriffs," Lyman said. "You're going to see during this session which carries more weight, the opinion of the sheriffs or the fears of Republican legislators about their primary voters."
Third Grade Reading Test and Critical Race Theory
Lawmakers are expected to take up several education bills, including one related to a reading test for third graders. The test stems from a 2019 law that required third-graders to pass a reading test in order to be promoted. It would go into effect this school year. Democrats in particular have tried for some time to delay that testing requirement. They argue many students won't be ready because of the disruptions to schools during the pandemic.
"I get the sense there's a bipartisan consensus to delay the implementation of that testing requirement for at least a year," Lyman said.
Republican lawmakers have also made banning Critical Race Theory in Alabama K-12 schools a priority. This is the idea that racism is not just individual actions, but embedded in the country's laws and other social policies. It is also not taught as a theory in K-12 schools in Alabama. The Alabama State Board of Education passed a similar resolution in August.
"I would expect one of those kinds of bills to pass relatively early in the session," Lyman said. "It's just one of those things that I think is designed for legislators who are about to face primary voters."
Removing Racist Language in the Alabama Constitution
Alabama's 1901 Constitution is riddled with racist language including provisions on segregated schools and slavery. Those portions are no longer in effect because of federal court rulings, but the words remain. Lawmakers are expected to take up a constitutional amendment that would strip that language from the document.
"[This would] give a signal that Alabama is moving on or at least trying to move on from the sins of its past," Lyman said.
The measure comes from a study group that unanimously approved the revisions last year. If the legislature passes the rewrite, it will go before voters for their approval.
Gambling
Gambling is a perennial issue in Alabama. While a gambling bill came close but didn't make it across the finish line last year, Lyman says to expect more legislation on the matter this year. But he's skeptical of proponents' prospect for success. The same conflict among dog owners, the Poarch Band of Creek Indians, and smaller operators remains. There is not the push from Gov. Kay Ivey or legislative leaders to take on the issue either.
"It doesn't mean these measures can't pass, but without official support from leadership, their prospects are just not as good as they were last year," Lyman said.
Abortion
Alabama made headlines in 2019 after passing what was then the strictest abortion law in the country. It's since been blocked by a federal court. Last year, Texas enacted a bill that would ban most abortions and allow people to file civil suits against anyone who "aids or abets" an abortion. The measure is also being challenged in federal court. Alabama House Republicans have pre-filed an almost exact copy of that Texas law.
Lyman said he wouldn't be surprised to see the bill come up for a vote, but House Republican leaders aren't prioritizing the Texas-style bill.
New Website
Apart from legislating, the legislature has a revamped website.
"It's pretty good," Lyman said. "I think it reflects the real impact of COVID over the last several years."
Lyman said the new website makes live streaming meetings much easier. It also integrates relevant agendas and bills.
"It's perhaps a sign of where public interactions are headed with the legislature at least for the foreseeable future," Lyman said.