At Summer Reading Camps, Birmingham Students And Teachers Prepare For Alabama's New Literacy Law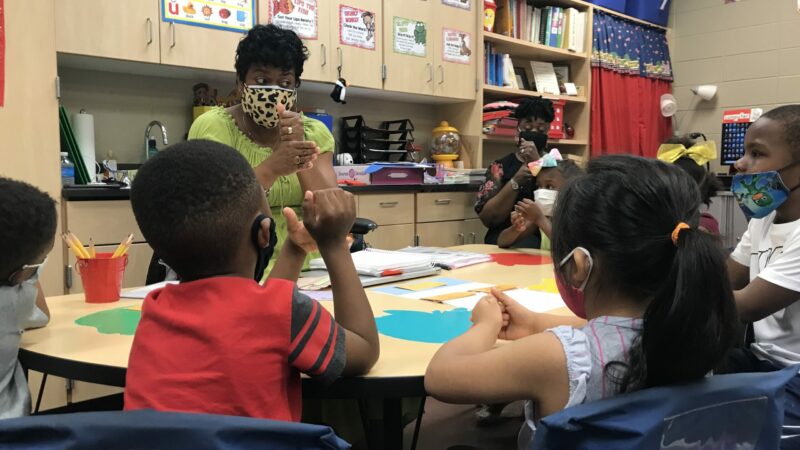 On a recent morning at West End Academy, vocabulary words lined the white board and students sat at their desks, practicing their writing and reading skills. It's summer, but the students were excited and engaged as they prepared for next school year.
Rilee Winchester, 7, shared why she's excited to start third grade.
"I'm more than excited, I'm happy," Rilee said. "I want to get smarter and smarter every step I go."
Rilee and her classmates were at a summer literacy camp, one of many in the Birmingham City school district for students in kindergarten through third grade. It's a new way the district is trying to get students and teachers ready for an extra challenge this new school year: the Alabama Literacy Act.
State lawmakers passed the policy in 2019, but will go into effect this school year. It means that third graders must pass the reading portion of a new statewide test, called the Alabama Comprehensive Assessment Program. Or they risk being held back.
"It really places a sense of urgency for educators because we know that our students, you know, many of them do struggle with reading," said Pamela Williams, who is the executive director of curriculum and instruction at Birmingham City Schools. "And they come to us struggling or they come to us not knowing the basic foundational skills that they need to become fluent readers."

In 2019, 23% of Birmingham City Schools students were reading at or above grade level, according to the Alabama State Department of Education's annual report card.
At the summer literacy camps, students received at least 90 minutes of reading a day using literacy kits provided by their schools. Teachers coached students in phonics, phonemic awareness, vocabulary and writing, among other skills.
More Challenges
But other factors make tackling this reading instruction even more difficult: learning loss from last year's remote schooling, access to the internet and poverty in Birmingham City Schools. Sixty-eight percent of Birmingham City Schools students are considered economically disadvantaged.
"The majority of our kids fall into that low socioeconomic status," Williams said. "So, yes, there is an equity issue because we had to offer the summer literacy programs at all of our schools because all of our schools had students that needed to attend those summer literacy camps."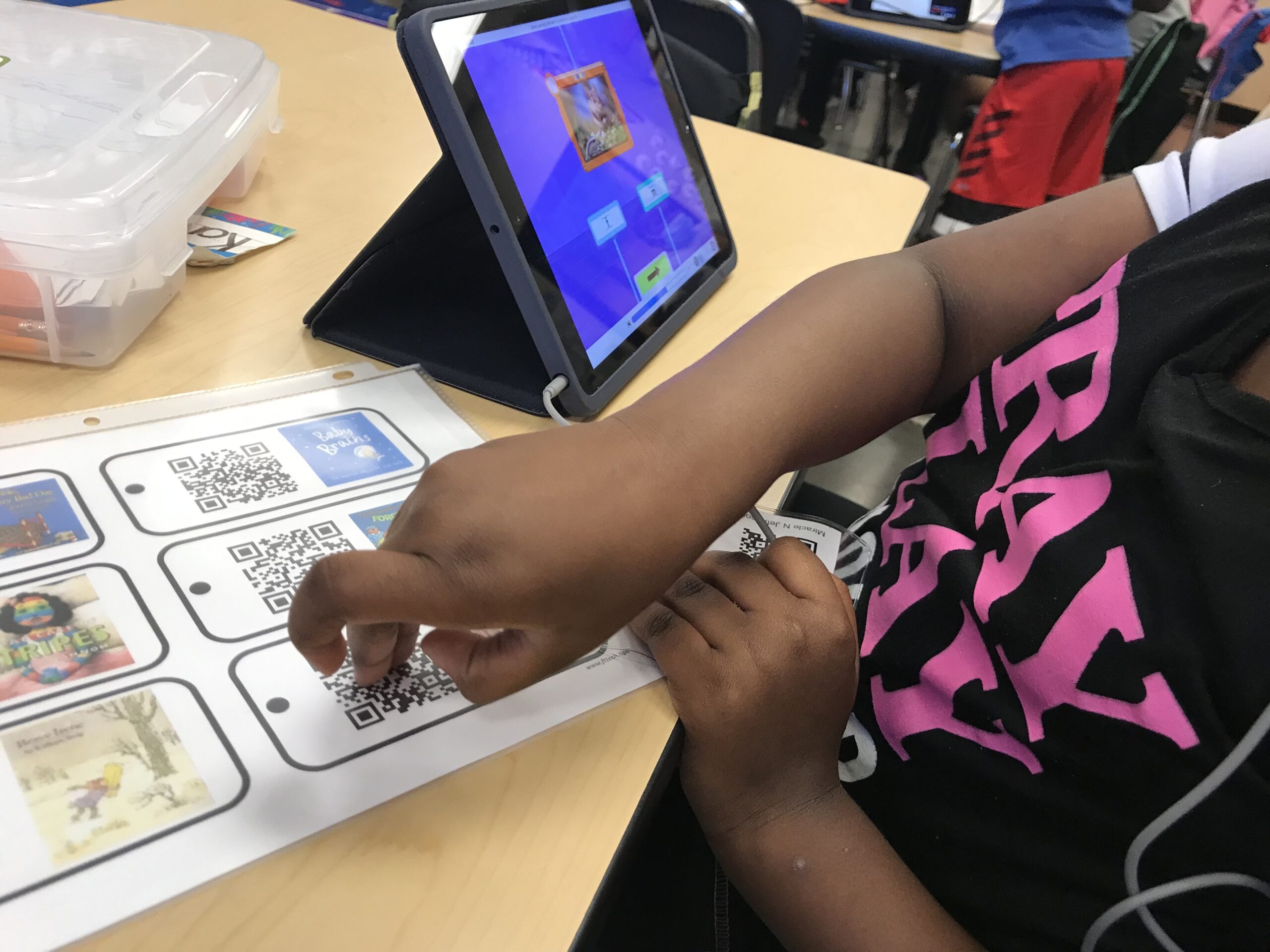 Naomi Hupert, a senior research scientist at the Education Development Center, studies literacy and digital learning with a focus on equity. She said that typically, schools in under-resourced communities struggle to retain teachers and often have less access to professional development resources to help them provide individualized instruction.
"Classes are more crowded — all the components that create an environment that's not really going to support kids, especially kids who need a little bit of extra help," Hupert said.
Over the past year, Birmingham City Schools have tried to address some of these challenges. The district offered educators training, resources and retreats so they can best support students.
But Hupert said that the Alabama Literacy Act itself already puts students at a disadvantage.
"Just in general, in terms of effectiveness, retention policies for third grade, for the most part, are not identified as being particularly effective, really, because third grade is too late," Hupert said. "Often retention policies are almost like a punishment for a child for failing to learn to read. And really, a child is not responsible for his or her failure to learn to read. It's all kinds of other circumstances in school settings."
Still, retention policies are fairly common in the United States. With its new literacy act, Alabama joins 16 other states and Washington, D.C. that require third graders to demonstrate their skills in order to move onto the next grade.
Research from 2008 from the Association for Supervision and Curriculum Development shows that holding kids back in third grade does more harm than good in the long term. In the shorter term, these kinds of policies show that students will not need more remedial support, but it is not a holistic solution, according to Hupert.
She said that the responsibility falls on education policy-makers to make sure that teachers are trained and closely monitor students' progress and that students get strong, early interventions rather than a punitive retention policy.
"Instead of making kids feel like they've done something wrong and have to be held back a year, you just want to give them all the support that they need from the earliest possible moment," Hupert said.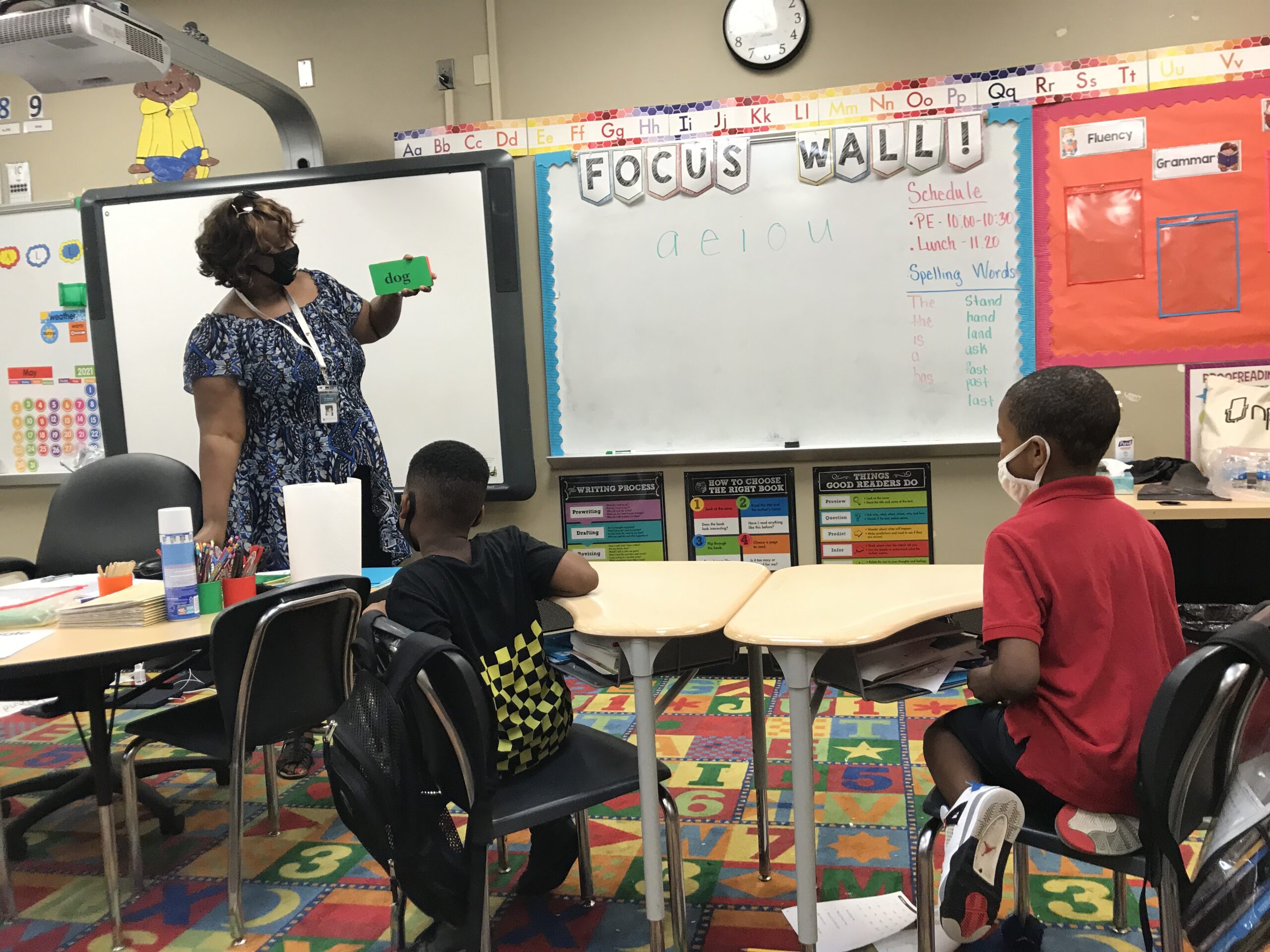 'Give It All We Have'
Even with the pressure of the new literacy policy, Birmingham City Schools is trying to give students that kind of support with their summer literacy camps. Plus, educators want to help children develop a love of reading.
At West End Academy, Principal Chandra Watkins said she has concerns about the impact of the policy, but she also has a lot of drive and determination.
"I think our babies are going to struggle some, but we're going to roll up our sleeves, our pant legs and go in to fight," Watkins said. " We're going to give it all we have."
If students do not show proficiency in the reading assessment test, schools can offer other options that allow a student to move on to the next grade. They're called "good cause exemptions" and include students with disabilities, students who are learning English and children who have received intensive reading intervention for more than two years.
Birmingham City Schools plans to continue the literacy camps during breaks throughout the school year.
Kyra Miles is a Report for America Corps Member reporting on education for WBHM.