Ivey signs a $1.3 billion prison construction plan into law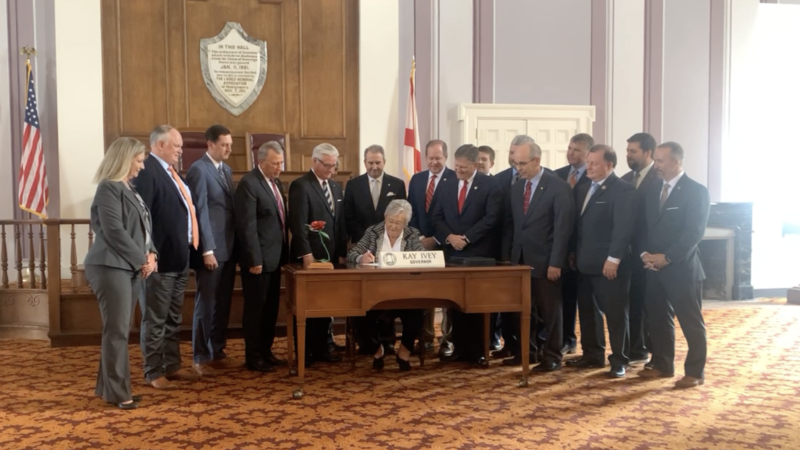 Gov. Kay Ivey signed a $1.3 billion dollar prison construction plan into law Friday afternoon, roughly one hour after state lawmakers gave final approval to the measure.
"This is a pivotal moment for the trajectory of our state's criminal justice system," Ivey said during a bill signing ceremony. "For several years now we have worked to address Alabama's longstanding prison infrastructure challenges. These challenges were decades in the making. And while we've worked diligently to resolve them, it took a lot of hard work and a lot of positive conversations between both sides of the aisle to get to today."
The proposal's passage marked the end of a special session that lasted just five days, the shortest length of time possible.
"There was a plan all week to move these through efficiently. There was consensus apparently that the support was there and it was," said Don Dailey, host of Alabama Public Television's Capitol Journal.
The proposal, backed by Ivey, allows a $785 million bond issue, spending $400 million from the American Rescue Plan and taking $154 million from the state General Fund to build two new men's "mega-prisons" with 4,000 beds each. It also calls for a new women's prison to replace the aging Tutwiler Prison for Women. Other facilities would be renovated and some would close.
The prison package had mostly smooth sailing during the session. Republican legislative leaders were firmly behind the plan which was backed by the Republican governor. Some Democrats crossed over to support the proposal although Republicans hold a supermajority in the legislature. Democratic Sen. Bill Beasley filibustered the plan on the final day. Beasley has three prisons in his district and wanted to reduce the size of the proposed men's prisons, but his effort failed.
The bill generated controversy, primarily around spending a portion of the federal COVID relief funds on prison construction. Alabama's lone Democrat in Congress, Rep. Terri Sewell opposed the plan, and New York Democratic Rep. Jerrold Nadler, chairman of the House Judiciary Committee, sent a letter to Treasury Secretary Janet Yellen asking her to prevent Alabama from using the money for prisons.
But backers of the construction plan said the move was allowed under federal rules and that the money could be spent on public safety.
"Those who support this plan feel in the right in using at least part of the federal stimulus money for this prison construction plan," Dailey said.
Alabama leaders are under pressure from Washington to address violent, overcrowded and understaffed conditions in state prisons for men. The U.S. Justice Department issued two reports in 2019 and 2020 detailing rampant violence and sexual abuse among inmates, and excessive use of force by correctional officers. The department sued Alabama last year contending conditions in prisons are unconstitutional.
"Achieving a solution to our problems rather than a court mandate was paramount, and that's what happened today," Ivey said.
Opponents of the now-passed plan say new construction alone does not address issues of overcrowding, staffing and corruption. Supporters of the plan say new facilities are needed. Proponents argue the buildings would be safer and more secure making it easier to attract new corrections officers, an ongoing problem for prison officials.
Lawmakers also considered two sentencing bills during the session, although only one passed. The approved measure expands a 2015 law to most inmates which allows for supervised release near the end of an inmate's sentence.
"It's seen as a way to keep closer tabs on inmates and also cut down, ultimately, on recidivism by helping these inmates stay on the straight and narrow and not return to prison," Dailey said.
The bill that died would have allowed an estimated 700 nonviolent offenders the chance to be re-sentenced under sentencing guidelines enacted in 2013. It is expected to be reintroduced in next year's regular session.
With reporting from Andrew Yeager