Alabama lawmakers advance a record-setting education budget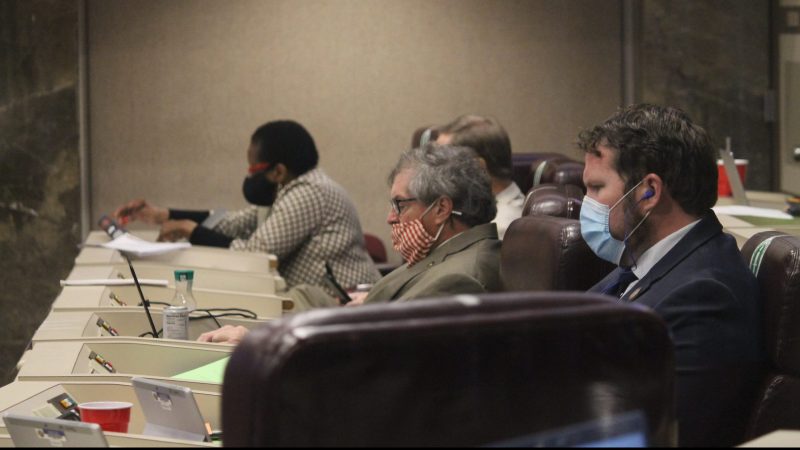 An Alabama legislative committee passed an $8.1 billion education budget Wednesday, the largest in state history not adjusted for inflation.
"Basically everybody's happy," said Todd Stacy, host of Capitol Journal on Alabama Public Television and publisher of the Alabama Daily News. "When you have a lot of money to spend, everybody pretty much gets what they want."
Stacy offered an update on the week's action in the legislature.
Education budget
The spending plan passed by the House Ways and Means Education Committee represents a $500 million dollar increase over the current fiscal year. It's about $126 million less than what Gov. Kay Ivey proposed.
"Clearly the House, they're trying to be more conservative," said Stacy. "They're trying to put money away into rainy day funds, trying to pay off debt."
Tax receipts are high at the moment, fueled in part by federal COVID relief monies working their way through the economy. Stacy said lawmakers are aware that will not last and budgeting accordingly.
The proposed budget included a 4% pay raise for education employees. It also would increase funding for classroom supplies, plus reading, math and science programs.
The bill now goes to the full House.
Alabama Numeracy Act
Alabama regularly fell near or at the bottom among states in recent years when it came to reading and math standardized test scores. In 2019, lawmakers passed the Alabama Literacy Act to address reading. On Wednesday, the Senate passed the Alabama Numeracy Act, sponsored by Decatur Republican Senator Arthur Orr, which attempts to turn around achievement in math.
The two measures are similar. One focus of the new bill is math coaches in schools.
"These coaches don't teach kids. They actually teach teachers. They are coaching teachers on the science of learning math," Stacy said.
Math coaches would be placed in all elementary schools with additional resources for low-performing schools. There are also accountability requirements placed on schools.
The Alabama Literacy Act included a provision to hold back third-graders who do not meet certain benchmarks in reading. There's no such holdback requirement in the proposed math bill.  Stacy said researchers found students who aren't reading properly by third grade have difficulty catching up. They don't find that phenomenon with math instruction.
"So there's not a holdback provision which has the added benefit of making it a lot less controversial and probably more likely to pass," Stacy said.
Period Poverty Bill
A 2019 survey found about 25% of U.S. high school females left school early when on their periods because they didn't have access to feminine hygiene products, and 13% didn't attend school at all. Those trying to draw attention to the issue have called this "period poverty." A bill from Birmingham Democratic Rep. Rolanda Hollis is an attempt to address that.
The proposal, which passed the House Wednesday, would offer free feminine hygiene products in all Title I schools in Alabama, which are schools with a large portion of students living in poverty. Hollis originally wanted to provide the supplies in all schools, but that was deemed too expensive by some lawmakers.
"Lawmakers like when you attack a problem specifically and have a specific solution rather than a broad brush," Stacy said. "There's a lot of momentum behind this bill."
Other action
The Senate on Thursday passed a bill that would lift the required permit to carry a concealed handgun in Alabama. The hotly debated bill goes back to the House for representatives to consider changes made in the Senate.
On Wednesday, the House Judiciary Committee approved a bill that would make it a felony for doctors to prescribe certain treatments such as puberty-blockers or surgery to transgender youth. The bill has already been passed by the Senate and goes to the full House.
Includes reporting from the Associated Press