Alabama educators push back on bill banning 'divisive concepts' from the classroom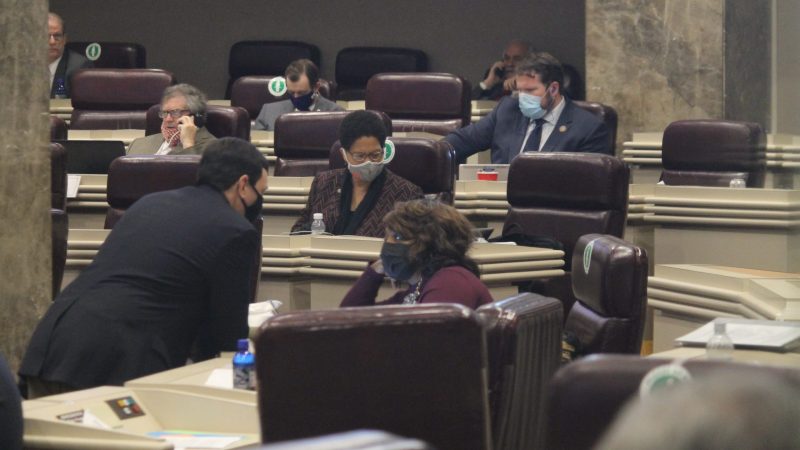 Schools have been a longstanding battleground in American life as teachers, parents, political leaders and others want a say in what is taught to students. A current flashpoint is issues of race.
Alabama lawmakers held a committee hearing this week on a bill that would block teachers from teaching certain "divisive concepts."
"What they're trying to ban is essentially critical race theory without saying critical race theory," said Todd Stacy, host of Capitol Journal on Alabama Public Television and publisher of the Alabama Daily News.
Stacy gave us an update on this week's action in the legislature.
"Divisive concepts"
Several bills in the legislature already deal more directly with critical race theory, a legal and educational theory that looks at how racism is embedded in social structures. It is not taught in Alabama K-12 schools but is covered in some higher-level college courses.
The bill, by Republican Rep. Ed Oliver of Dadeville, which was considered in a public hearing Wednesday, uses the more all-encompassing word "divisive" seen by some as a compromise compared to the earlier bills. It specifically bans teaching that the United States is "inherently racist or sexist" or that anyone is required to "acknowledge, affirm, or assent to a sense of guilt, complicity or a need to work harder solely on the basis of his or her race or sex."
Several educators during the hearing expressed concern the bill would cause a chilling effect making teachers unsure or afraid to teach certain subjects. They questioned how subjects such as slavery, racism, and Black history could be taught without violating the measure. Oliver said the legislation offers clear guidelines and he's fighting for a colorblind America.
"You run into trouble when you start prohibiting certain things being taught in classrooms because in many cases, especially in junior, senior year in high school, that's exactly where you start learning about different ideas and tough moments in our history," Stacy said.
Opponents argued the bill could stifle free speech.
Lawmakers on the committee did not vote on the bill after Wednesday's hearing, but a vote is expected in the coming weeks. Stacy believed the proposal would win committee approval, but not necessarily final approval to make it out of the legislature.
"A lot of these lawmakers want to go back home to their constituents and say 'We banned critical race theory,'" Stacy said. "A lot of times lawmakers will move legislation just far enough they can kind of brag about it but it doesn't actually pass and become law."
Alabama Literacy Act delay
In 2019, lawmakers passed the Alabama Literacy Act which required third graders to pass certain reading benchmarks before being promoted to fourth grade. Since the pandemic disrupted schools over the last two years, some in the education community have pushed to delay that requirement. It's scheduled to go into effect this school year.
The bill's sponsor, Republican Rep. Terri Collins of Decatur, and Gov. Kay Ivey originally agreed to a one-year delay. But a bill by Democratic Sen. Roger Smitherman of Birmingham, which passed the House Wednesday, delays the holdback requirement by two years.
"That's what's going on here is the fight between one year versus two years," Stacy said. "It may not seem like a huge difference but that's one cohort of students that could be promoted to fourth grade when they can't read."
Indications are that the two-year delay would win out, but Stacy said changes are still possible.
Ban on transgender treatments for youth
The Alabama Senate passed a bill Wednesday that would ban certain therapies for transgender minors such as puberty blockers, hormone treatments, and surgery. The bill from Republican Sen. Shay Shelnutt of Trussville would make it a felony, punishable by up to 10 years in prison, for a doctor to prescribe the therapies to those under 18.
Shelnutt has said the bill protects children and called these treatments child abuse. Opponents say politicians should not interfere with doctors' decisions.
There was little debate among Senators before passing the measure because Republicans voted to cut off debate, a move designed to head off an anticipated Democratic filibuster. Stacy expected a favorable reception for the bill when it moves to the House. He points out that the chamber on Tuesday approved a bill that requires students in K-12 schools to use the bathroom that matches their sex on their original birth certificate and not their gender identity.
"They're related," Stacy said. "If the votes were there on the transgender bathroom bill, I have to think they're there for the surgery and treatment bill."
Includes reporting from the Associated Press