COVID relief funding package passes Alabama legislative committees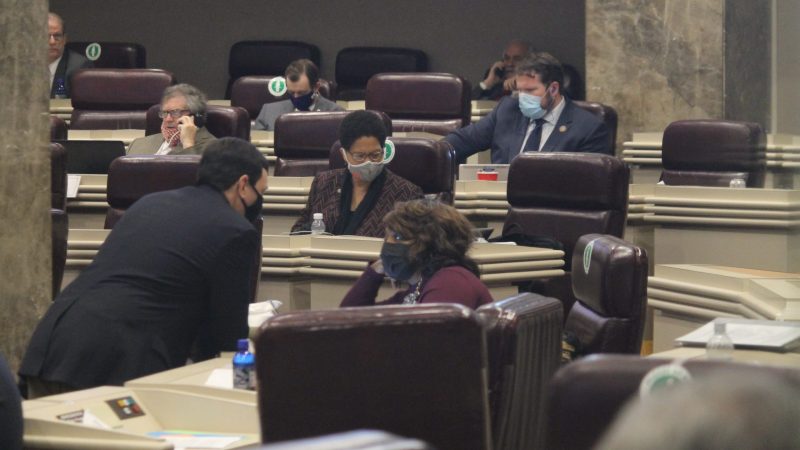 A plan to divide about $772 million in COVID relief funding passed through legislative committees this week as Alabama lawmakers took up the issue in a special session. The regular legislative session started last week, but Gov. Kay Ivey called the special session which started Wednesday.
A special session within a regular session may seem unusual, but there is strategy behind it.
"It's a tactic to focus everybody's attention on one issue, get it done and avoid getting caught up in the legislative process," said Todd Stacy, host of Alabama Public Television's Capitol Journal and publisher of the Alabama Daily News.
Only a governor can call a special session, plus the governor determines what bills and issues are discussed. This narrowing of the agenda is a way to get around the regular jockeying among lawmakers that can hold up bills. In 2019, lawmakers passed a gas tax increase through this method.
Stacy offered an update on the special session and other action in Montgomery this week.
COVID Relief
The package advanced by lawmakers contained three primary areas of funding: broadband expansion, health care, and sewer and water infrastructure.
"We're two years into this pandemic and hospitals and nursing homes are still struggling. They've had enormous costs," Stacy said.
The fund package also shores up Alabama's unemployment trust fund, which pays unemployment benefits to Alabamians. With that infusion of cash, the state would see an automatic tax increase on businesses.
"They did something similar last year with the CARES Act money," Stacy said.
The spending plan is Republican-led, and Republicans overwhelmingly control the legislature, but Stacy said Democrats have been involved in the discussions. He said Democrats are supportive of the water and sewer improvements that stand to benefit the rural Black Belt represented by Democrats. There's widespread support for broadband infrastructure.
That's a change from last fall when Democrats opposed using $400 million in funding toward a prison construction plan.
"This time around they seem to be in pretty much agreement across the board," Stacy said.
Stacy expects the package to easily make its way through House and Senate with the special session ending next week.
College Athlete Endorsements
Before the special session began, the House approved the repeal of a law pertaining to name, image and likeness rules. These govern endorsements by college athletes. But lawmakers passed this law just last year.
At the time, several states passed such laws as the NCAA considered their own rules. Since then, the organization overseeing college sports has released its guidelines and they are looser than Alabama's law.
"They don't want Alabama to be at disadvantage so they're just going to repeal this law," Stacy said. "It'll just be the NCAA policy that stands."