Gov. Kay Ivey Launches Reelection Campaign for 2022 Gubernatorial Race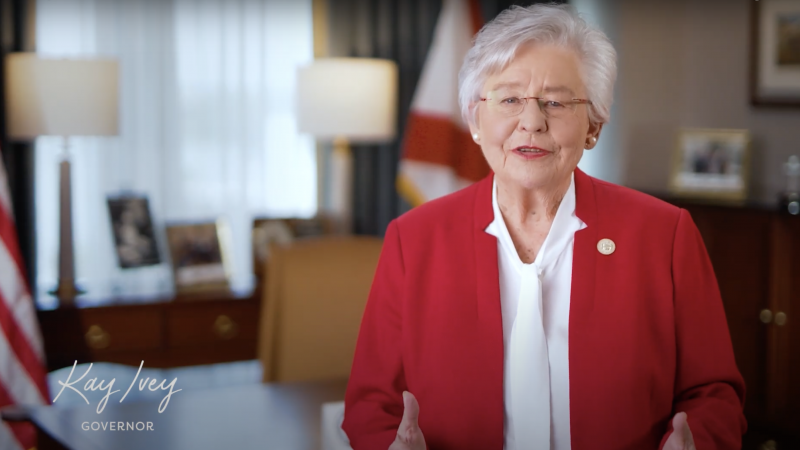 Republican Gov. Kay Ivey announced her reelection campaign Wednesday, touting her leadership during the COVID-19 pandemic and Alabama's accomplishments during her first full term.
In a campaign video, Ivey, 76, noted the state's economic growth, low unemployment and critical improvements in education and to the state's infrastructure. In March, only 3.8% of the state's workers did not have jobs, a rate that marked a low since the pandemic.
"Alabamians have shown the rest of the nation that our faith, resilience and common sense are what makes us and drives us forward to a promising future. I am proud to be your governor and would be honored to serve you for a second term," Ivey said.
Alabama is working again, and the best is yet to come. I'm all in for re-election — will you join me? https://t.co/WWfUU4jQal pic.twitter.com/TdmpTExurW

— Kay Ivey (@kayiveyforgov) June 2, 2021
Ivey was sworn in as Alabama's 54th governor in 2017 after then-governor Robert Bentley was forced to resign amid a scandal and a guilty plea to charges of campaign finance violations. She was elected to a full term in 2018. She's the second woman to lead the state and has been involved in Alabama politics since 1979.
As of now, no Democratic candidates have announced a bid for the gubernatorial race, which is set for Nov. 8, 2022.
However, Ivey will face a primary challenge in May 2022 from fellow Republican Dean Odle, a controversial pastor.