The real winner of Super Bowl 57? The Gulf South and its wide range of football talent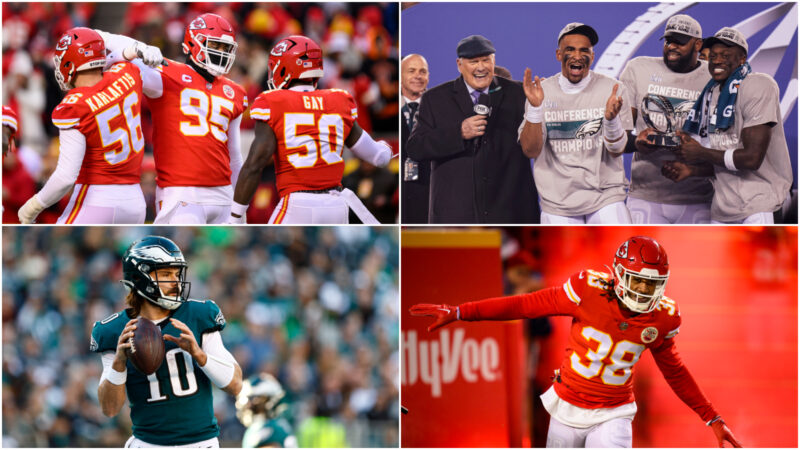 By Lacey Alexander/MPB News
This Sunday, Gulf South states will have a variety of players to root for when the Philadelphia Eagles and the Kansas City Chiefs take the field in the NFL's 57th Super Bowl.
Between both rosters, 29 players with ties to Mississippi, Alabama, or Louisiana will suit up when the game kicks off at 5:30 p.m. CDT, in Glendale, Arizona. 
Mississippi counts eight players who are alumni of its in-state universities before going pro and four Mississippi natives who played for non-Mississippi schools. Alabama also has 12 representatives in the big game, if you count Jalen Hurts, and Louisiana has nine.
Wyatt Rogers is the offensive coordinator for Brandon High School's football squad. He has been working with young athletes in Brandon, Mississippi, specifically quarterbacks, for over a decade.
"I'm just excited to watch 'em play. I mean there's so many guys playing for Mississippi," he said. "We're not just blessed that they're playing, we're blessed that these guys have great character and are such great role models for these kids."
By 'these kids,' Rogers means the many young athletes in Mississippi that will see themselves and their communities represented this weekend. Brandon's own Gardner Minshew is the Philadelphia Eagles' backup quarterback — playing behind Eagles starter Hurts, who won an NCAA championship with the Alabama Crimson Tide in 2017.
While Hurts has had a stellar season, leading the Eagles to a 14-3 record before cruising through the playoffs, the last Super Bowl trophy the Eagles won in 2018 was courtesy of a thrilling performance by Nick Foles, its-then backup QB who stepped in when starter Carson Wentz was injured. If history were to somehow repeat itself, Rogers is sure that Minshew would be up for the challenge.
"There is no question in my mind," he said. "If the stars align to where we're in the fourth quarter of the game and he's gotta drive 80 yards to get 4 points to win it? You can consider that done. I've just seen him do it too many times."
Rogers' son Will Rogers is the starting quarterback for Mississippi State University, a school that will see multiple alumni take the field this weekend. He says that Will was inspired by Minshew growing up and that he too hopes to get drafted into the NFL at the end of his college career.
Jay Perry, who once served as the director of player development at MSU and now works on the administration side, has fond memories of all four former Bulldogs — two on each team — that will play in the big game. Three of the four played high school ball in the state, and even Georgia native Darius Slay played community college ball before his MSU career.
"We claim Darius, too," Perry said.
He also noted the importance of representation, saying that when the coaching staff asks the current Bulldog squad who believes they can make it in the NFL, every hand goes up because they've seen MSU alumni do it before them.
"You're looking at three completely different locations: Houston, Mississippi, Yazoo City Mississippi, right here in Starkville," Perry said. "And what it demonstrates is, high school football and junior college football in Mississippi is dominant. Per capita, it is just as good if not better than anywhere else in the country."
Not all of the schools represented, however, belong to the powerhouse SEC — which houses 5 of the last 6 NCAA national champions. The Samford Bulldogs in Birmingham will see a familiar face in James Bradberry, and Louisiana Tech will have three former players on the field. Tulane's all-time sack leader, Patrick Johnson, will also be featured. Johnson is the latest product to add to the Uptown New Orleans school's Super Bowl legacy dating back to Max McGee, who scored the very first touchdown in Super Bowl history — a fact emphasized by Tulane coach Willie Fritz.
One non-SEC Mississippi school will also be well-represented this weekend. The University of Southern Mississippi will see two former Golden Eagles, Quez Watkins and Cameron Tom, suit up for the Philadelphia Eagles.
"They're just another part of that legacy of Southern Miss football," said John Cox, long-time announcer for USM football. "We're proud that they're playing and we're gonna have to root for 'em this weekend."
Colloquially known as "the voice of the Golden Eagles," Cox says both Tom and Watkins can show the world that you don't have to come from a Power 5 school to succeed at the next level.
"I think what they've done is prove it doesn't matter where you go to school, it doesn't matter what size the school or what kind of team, If you want it bad enough, I think you can do whatever it takes to make that next step and get into pro football," he said. "The ultimate goal, of course, is to play on a championship team and play in the Super Bowl like Quez and Cam Tom are gonna do."
Some of Mississippi's hometown heroes didn't choose a school in the state. The residents of Horn Lake in North Mississippi will have a tough time choosing a team this weekend with former Horn Lake High linebackers Darrius Harris playing for the Kansas City Chiefs, and Nakobe Dean playing for the Philadelphia Eagles. Dean won a state championship at Horn Lake in 2018 and was a member of the 2021 Georgia Bulldogs squad that beat Alabama for the NCAA national title.
"They're the epitome of what we want in our athletes at Horn Lake High School, and Mississippi, in any sport," said Horn Lake Principal Nick Toungett.
Toungett knew Dean when he was in eighth grade, and said his leadership and influence over other students were remarkable.
"Of course, his teachers trusted him and everything," he said. "So he would get done with his work in his classes and ask to be excused to walk around the other classes and check on the other football players to make sure they were doing their work and their assignments. He was truly a great leader even at that young age."
Assistant principal Janna Thompson remembers the championship run that the high school went on with Dean, and how far the squad came from his freshman year.
"When he was a freshman, the team was not that great at that time," she said. "He would kind of comment like, "Yeah we're gonna win a State Championship, too." And it came to fruition by his senior year."
Wyatt Rogers says all of the players with ties to the state have the opportunity to bring joy and pride to Mississippians this Sunday.
"It's something that gets kids, especially from places in rural Mississippi…that they can say hey, so-and-so from someone in Houston Mississippi or Okolona made it, maybe I have a shot," he said. "It's a chance to dream. And everybody wants to dream."
Here's a list of all of the players representing the Gulf South:
Kansas City Chiefs
Jerrion Ealy, RB, University of Mississippi (from Walnut Grove, Mississippi)
Clyde Edwards-Helaire, RB, Louisiana State University (from Baton Rouge, Louisiana)
Willie Gay Jr., OLB, Mississippi State University (from Starkville, Mississippi)
Darius Harris, OLB, Middle Tennessee State (from Horn Lake, Mississippi)
Chris Jones, DT, Mississippi State University (from Houston, Mississippi)
Justin Reid, S, Stanford University (from Prairieville, Louisiana)
L'Jarius Sneed, CB, Louisiana Tech University (from Minden, Louisiana)
Kadarius Toney, WR, University of Florida (from Mobile, Alabama)
Prince Tega Wanogho, OT, Auburn University (from Elmore, Alabama)
Philadelphia Eagles
Reed Blankenship, S, Middle Tennessee State University, (from Athens, Alabama)
James Bradberry, CB, Samford University, (from Pleasant Grove, Alabama)
A.J. Brown, WR, University of Mississippi (from Starkville, Mississippi)
Fletcher Cox, DE, Mississippi State University (from Yazoo City, Mississippi)
Nakobe Dean, LB, University of Georgia (from Horn Lake, Mississippi)
Landon Dickerson, G, University of Alabama
Jack Driscoll, OT, Auburn University
Kenneth Gainwell, RB, University of Memphis (from Yazoo City, Mississippi)
Jalen Hurts, QB, University of Oklahoma (played at University of Alabama; won 2017 national championship)
Josh Jobe, CB, University of Alabama
Patrick Johnson, LB, Tulane University
Jared Mayden, S, University of Alabama
Gardner Minshew, QB, Washington State, (from Brandon, Mississippi)
Boston Scott, RB, Louisiana Tech (from Baton Rouge, Louisiana)
Darius Slay, CB, Mississippi State University
Arryn Siposs, P, Auburn University
DeVonta Smith, WR, University of Alabama (from Amite City, Louisiana)
Cameron Tom, C, University of Southern Mississippi (from Baton Rouge, Louisiana)
Quez Watkins, WR, University of Southern Mississippi (from Athens, Alabama)
Milton Williams, DT, Louisiana Tech University