Dollar stores are everywhere in the South. These 5 charts explain what's behind their growth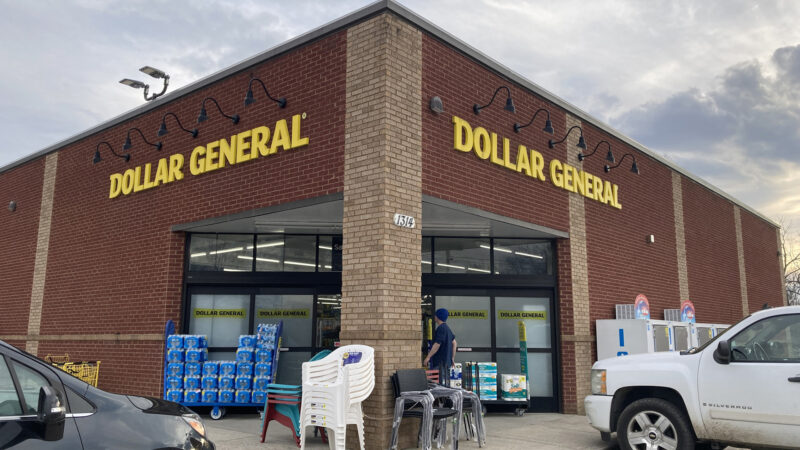 Editor's Note: This is Part 1 of a three-part series examining the rapid expansion of dollar stores in the Gulf South region and the consequences of it. You can read other entries in the series here:
On a standup album released in 2002, comedian Lewis Black claimed he found "The End of the Universe" in Houston, Texas — two Starbucks stores directly across from each other.
If he updated the bit for 2023, Black should replace Starbucks with dollar stores. After all, Dollar General has a more than thousand store-lead on Starbucks in the U.S. Add in Family Dollar and Dollar Tree, and dollar chain stores outnumber both Starbucks and Walmart combined. Many of them even share the same street — just like the Starbucks stores in Black's joke.
But today, neighboring dollar stores aren't limited to massive metros like Houston. Even in rural towns of just a couple of thousand people, it's possible to step outside of a Family Dollar and spot a yellow-and-black Dollar General sign not far from it.
So what's behind this explosion of dollar stores? Here are five charts to help understand the trend.
Why so many stores? It's all about profit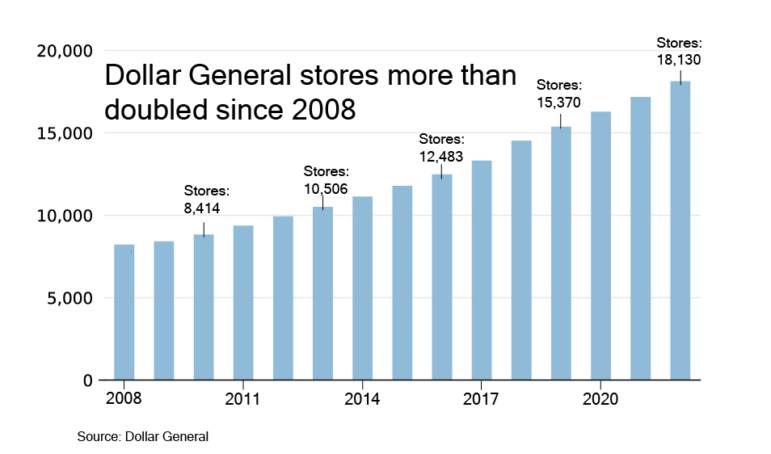 Since 2008, Dollar General has more than doubled its number of stores, growing from 8,222 stores to 18,130 in 2022. The chain holds the title for most retail stores in the U.S. and recently passed the 19,000 store milestone.
Another way to look at that growth: Dollar General alone opens about three stores a day.
So what's behind the rapid expansion? Maybe it's because Dollar General is planning on breaking into small-town health care and even banking. It could also be to beef up its side hustle of selling customer data, pitching it as having access to rural customer info no one else has.
While all of those are potential upsides, Brian Yarbrough, a financial advisor with Edward Jones who follows Dollar General, said that's overthinking it. Dollar General opens so many stores, he said, simply because its profits grow with each one — a new store nets them a roughly 20% return.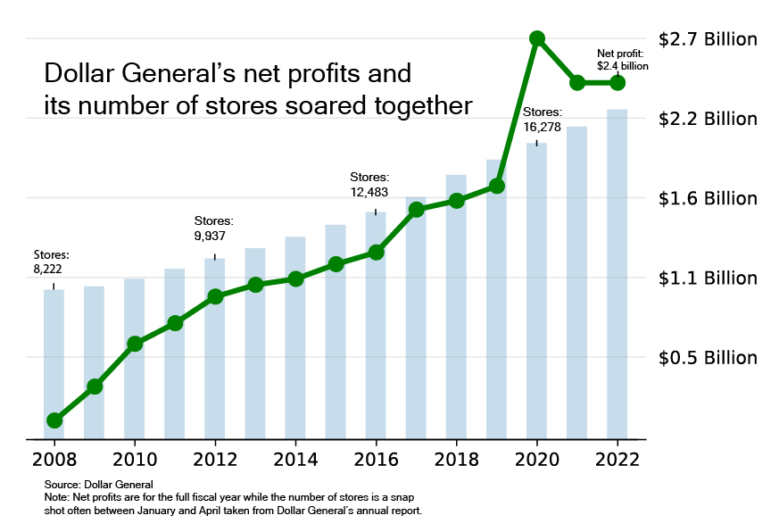 "They know the best return on their capital is adding more stores," Yarbrough said.
The company's net profit went from under $110 million in 2008 to $2.4 billion last year. The COVID-19 Pandemic led to a spike in profits in 2020, but profits and stores have otherwise risen together.
Another reason behind all the growth — we're in the middle of a dollar store war. Dollar General is aggressively pushing in on the Dollar Tree/Family Dollar territory (Dollar Tree owns Family Dollar). Karen Short, a managing director with Credit Suisse, said Dollar General thinks it can push out the competition because it's a better-run store. Yarborough agreed that Dollar Tree is now lagging behind.
"They don't have a problem opening up a better, newer store that's run in a much more efficient way with better product and better service and better employee morale," Short said.
In a statement, Dollar Tree said 95% of its customers "score us high on shopping experience, according to third-party survey data."
Will open anywhere, big or small
It's worth noting that while the sheer number of stores is impressive, profits are relatively modest. Dollar General's $2.4 billion from last year is still behind Starbucks ($3.3 billion) and Walmart ($13.9 billion).
But part of what makes the dollar chains stand out is where they're located. For one, every state in the contiguous U.S. has a dollar store in it.
But the stores are especially concentrated in the South. Mississippi, for example, leads the nation with the most stores per capita with about three stores for every 10,000 residents.
The dollar store expansion gets more interesting when broken down by counties. Other huge chains, like CVS and Starbucks, stick closely to big metros. And while many dollar stores concentrate in cities too, they also open up in tiny counties.
In Alabama, Mississippi and Louisiana, about 47% of Dollar General's stores are located in counties with less than 100 people per square mile. For CVS, it's about 19%, and Starbucks' total is less than 9%.
Essentially, the low overhead of the stores lets them open up where no one else can. The stores sell little-to-no produce and hire few workers.
Nowhere near peak dollar store numbers
It's easy to look at the map above and assume we've reached dollar store saturation. Well, the companies say they're just getting started.
Dollar General sees room for 12,000 more stores across the country. Dollar Tree is even more optimistic, believing the U.S. market can support another 15,000 Family Dollars and 10,000 Dollar Trees.
Altogether, that's more than doubling the total number of dollar stores in the country, though, the two companies would probably be fighting for similar spots. The companies haven't given a timeline for when all these potential stores could be opened.
But dollar stores are also seeing growth in another area — pushback. At least 75 communities have rejected dollar stores since 2019, according to a recent report from the Institute for Local Reliance. The advocacy groups believe the chains hurt communities in several ways, including pushing out grocers, creating dangerous workplaces with thin staff and exacerbating food deserts.
"If we allow the dollar chains to keep multiplying at this pace, we're going to look back in 10 years and be very sorry that we did that," Stacy Mitchell, co-executive director of the ILSR, said.
In a statement, Dollar General said it offers customers affordable household essentials where other retailers won't go.
"It is not unusual for us to hear from communities, especially in rural areas, asking us to bring a DG to their hometown," a company spokesperson said.
This story was produced by the Gulf States Newsroom, a collaboration between Mississippi Public Broadcasting, WBHM in Alabama, WWNO and WRKF in Louisiana and NPR.