Alabama student finds home in the comfort of her mind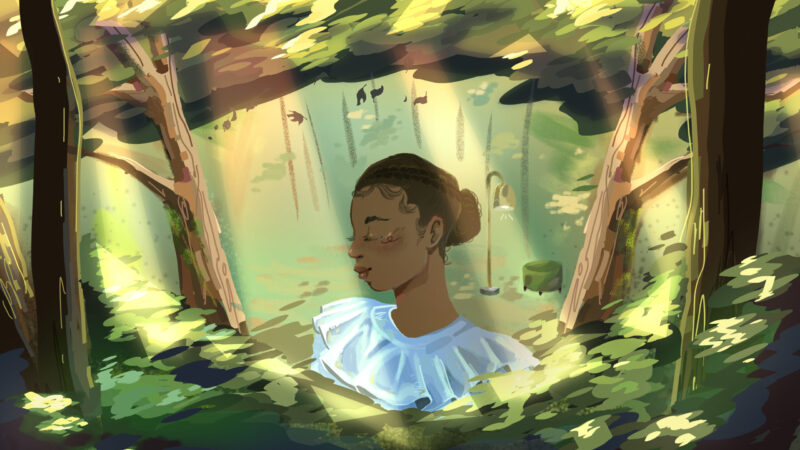 By Marissa Lacey
This story was originally produced as part of NPR's Next Generation Radio project as part of their collaboration with the Gulf States Newsroom.
Jameia Boone is from Byram, Mississippi, and, except for her college years, has spent her whole life there. Home for Boone used to be her family and her house in Mississippi. She loved her state, too, which extended to the deep potholes she would hit when crossing the state line. But, after growing up with a life of structure, her idea of home changed. Boone now says that home can be wherever or whatever you want it to be, and that's because her home is in her mind.
Growing up in a single-parent household, Boone was incredibly close to her mom. The two of them spent a lot of time together, both physically and mentally.
Boone's mother, who's also a therapist, would sit her down once a week to talk and check in on her mental health. It was a lot, but Boone learned about herself in the process, and that's how she got the idea of a "mind space" as home. Her mom's talks helped her organize her thoughts.
"I learned to develop a variety of coping mechanisms and different internal cues. Things that I could do to create a space for myself," she explained.
When she moved to Troy, Alabama, for college, Boone realized that her sense of peace is entirely up to her. Boone would find her mind space in creative bursts when she would go on walks, do something crafty, or even dance. She maintains that she's "always just doing something pretty artistic" and "can't sit still for too long."
Boone, who is currently a senior, became more involved with clubs and organizations, school work and events, and even volunteer work; however, her mind space became a way of relaxing after a stressful day and something of her own. Time was precious and something she was lacking, so her home in her mind became a way of keeping her peace.
Boone's mind space gives her a sense of freedom and peace. It's a massive place where she can create and provides an extension of what she loves. When asked to describe it, she shared:
"There's an ottoman. I'm sitting on said ottoman. There's a giant floor lamp, the vintage style that curves and arches. I'd be sitting there most of the time in the middle of the room."
The only light is provided by the vintage lamp. Her mind space also features art and ballet studios, and she says she's joined by someone else:
"There would be a nice lady who looks just like me, because she is me, because it's my mind. She knows where everything is. She's the only one who knows where everything is. She can give you all the directions."
Boone said she also sometimes sees her mom in her mind space, who she describes as nagging in a corner somewhere. Her mom says that's her conscience.
For Boone, her mind space can make home anything she wants, including memories from the past or what she's looking forward to in the future. She stresses that while physical places are not permanent, your mind will always be with you.
"Home to me is a place that you can always return to. That place doesn't necessarily have to have a physical location or coordinates, perhaps. I feel like it's a state of mind in a lot of ways," she said. "I see myself keeping my mind space as long as I have my mind."