Transgender issues dominate end of the legislative session. Second special session to come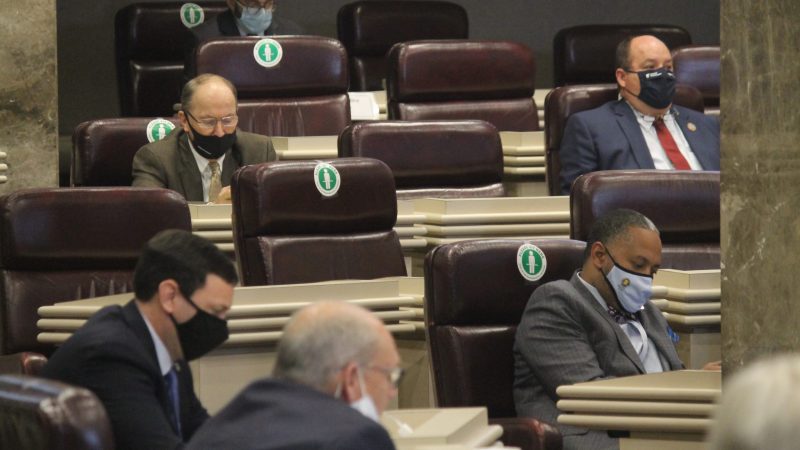 Florida has attracted criticism from across the country for a law that would ban teachers in lower elementary grades from discussing sexual orientation or gender identity in the classroom. It's a measure opponents have derided as the "Don't Say Gay" bill. Alabama now has its own version thanks to some last-minute maneuvering Thursday, the final day of the Alabama legislative session.
"It was a surprise to me. It was a surprise to most in the statehouse," said Todd Stacy, host of Capitol Journal on Alabama Public Television and publisher of the Alabama Daily News.
Stacy offered an update on this week's action in the legislature.
"Don't Say Gay" bill
Two transgender bills led the agenda on the final day. The House considered a bill that would make it a felony for doctors to offer certain treatments such as puberty blockers or surgery for transgender minors. In the Senate, lawmakers took up a what's been dubbed the "bathroom bill." It would require students to use bathrooms and locker rooms that match their biological sex at birth and not their gender identity.
But that bathroom bill was amended to include a provision blocking teachers from discussing gender identity and sexual orientation in grades kindergarten through fifth grade, similar to the Florida law.
"it was certainly a surprise and just sparked a lot of outrage from Democrats," Stacy said.
Both bills ultimately passed with Republican backing. They have since been signed into law by Gov. Kay Ivey.
Stacy said a big difference with the Florida law is that Alabama's went through as an amendment. Some observers questioned whether the amendment restricting what teachers could teach in the classroom was germane to a bill intended to regulate bathroom use.
"Also if you can't talk about sexual orientation, how do you actually enforce a bathroom requirement. So there are some complicating factors," Stacy said. "That could be brought up in lawsuits that are certain to happen."
Education Budget
Alabama's latest education budget contains the largest teacher raises since the 1980s. The pay increase is intended to fight a teacher shortage and keep veteran teachers in the classroom.
"In Alabama, we lead the Southeast in starting pay for teachers," Stacy said. "But as they get up in their careers, it really peters off.
Teachers with nine or more years of experience would get raises of between 5% to almost 21%. Teachers with less than nine years of experience would receive a 4% raise.
"It was a really big year for education in the legislature," Stacy said.
"Divisive concepts" bill fails
One controversial bill that did not make it through the legislature was the "divisive concepts" bill. It would have prevented teachers from discussing certain ideas in the classroom including that any race, gender or religion is inherently superior to another or that the United States is an inherently racist or sexist county.
The bill stemmed from efforts to ban instruction on critical race theory although the bill did not mention that concept specifically.
"I was a little surprised that didn't come up … because there was a lot of support," Stacy said.
But Stacy pointed to a Senate committee hearing on the bill. He said Republicans and Democrats mostly agreed in theory on what should be taught to students. They disagreed on if it should be put into state law.
"Some of that may have been persuasive to Republicans," Stacy said. "Is it too much government to tell schools and could it be a chilling effect on teachers in the classroom?"
Another special session
Lawmakers held a special session earlier this year and a second one is anticipated. Both have to do with federal COVID relief funds.
In January, legislators appropriated $772 million largely for broadband expansion, sewer and water infrastructure and reimbursing health care facilities. A second installment of federal money will come to Alabama in June.
"I'm sure we will see more health care related things in this next tranche, but beyond that we really don't know," Stacy said.
The second special session could take place in August.