Congressional map ruling a 'bombshell' for Alabama lawmakers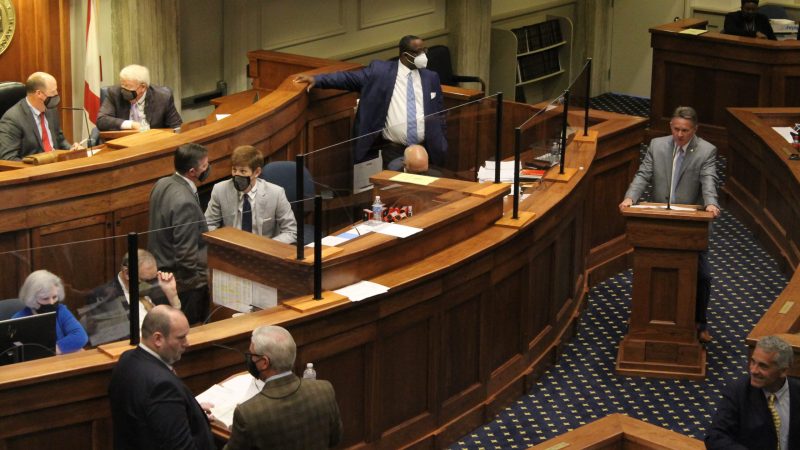 When Alabama lawmakers are in session, the legislature is usually where the action takes place. But this week, the big happening came from a panel of federal judges. They blocked Alabama from using its new congressional maps based on the 2020 census lawmakers approved last year. The judges ordered the legislature to redraw the maps to include a second district with a significant number of minority voters.
"It was nothing short of a bombshell really. This is a monumental ruling and it's going to have political ramifications far and wide," said Todd Stacy, host of Alabama Public Television's Capitol Journal and publisher of the Alabama Daily News.
There was nothing shocking about the other major news from Montgomery. Lawmakers finished a special session Thursday to appropriate more than $772 million in federal COVID relief funds.
Stacy offered an update on this week's legislative work.
Congressional Maps
Legislative reaction to the ruling largely fell along party lines with Democrats celebrating. Republicans were not happy.
"They drew these maps according to what they thought the law required and the rules were and feel like it's unfair," Stacy said.
The court has told lawmakers to redraw the maps by Feb. 11 or the judges would step in and make changes themselves. It's not clear which route legislators would prefer.
"Right now, I'd say that's about 50/50 either way," Stacey said.
Alabama Attorney General Steve Marshall has appealed the ruling to an appellate court and the U.S. Supreme Court. In the meantime, the ruling throws a wrench into the usual work of the legislature. Redistricting is a complicated process and Todd suggested legislators might as well ask the governor to call another special session to take up the issue. The overturned maps already came out of a special session in the fall which Todd described as "quite a slog."
"I don't think you have a lot of legislators, especially in the majority, the Republicans, who are eager to dive right back in to redistricting," Todd said. "They're kind of tired of all that."
COVID Special Session
In contrast, it was smooth sailing for a package of bills authorizing spending more than $772 million in COVID relief funds. That money will largely go to broadband expansion, sewer and water infrastructure and reimbursing health care facilities.
Discussion around those measures was largely bipartisan.
"Republicans and Democrats, they are both kind of singing "Kumbaya" at the moment on this federal relief money which is pretty significant," Stacy said.
About one billion dollars of additional federal COVID money will arrive later this year but not until after the regular session ends. Still, lawmakers have already started to think about where that money might go.
Todd expects addition reimbursements for hospitals and nursing homes. Improvements to mental health care facilities are another possibility.
"You can imagine lots of agencies have similar types of requests," Stacy said.