New report shows math proficiency continues to lag in Alabama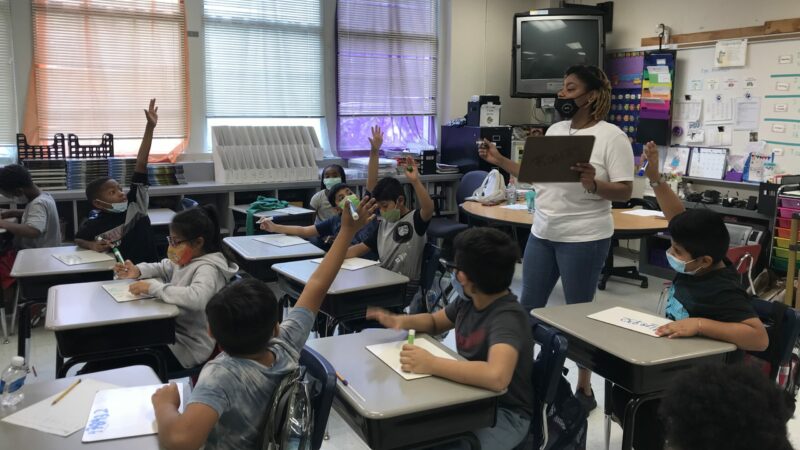 Voices for Alabama's Children, a child-advocacy non-profit, on Tuesday released an update to the annual Kids Count Data Book which measures the safety, health, education, economic security and well-being of kids in Alabama. The update put Jefferson County at 15th of Alabama's 67 counties for 4th grade math proficiency and 14th for 8th grade math proficiency—slightly above the state average.
Statewide 24% of 4th graders and 14% of 8th graders tested proficient in math.
"I'm challenging everyone to stop looking at these outcomes as the outcomes of bad teachers or bad parents or bad adults and start looking at them as the outcomes of adults, teachers, parents, caregivers who need our support," Collier Tynes, CEO for Voices of Alabama's Children.
State lawmakers did debate ways to improve math instruction and outcomes in Alabama this legislative session resulting in the Alabama Numeracy Act which Gov. Kay Ivey signed into law on Tuesday. The measure included $20 million to hire more math teachers and provide math remediation services for students.
Tynes said that law will provide a necessary evidence-based plan for math instruction and it also give teachers more support in the classroom.
The reading and math proficiency numbers in the report are the most recently available but not all the data is from 2021. Some is still from 2019 and 2020 because the pandemic made it hard to gather information.
"A lot of the issues in this book are not new, but we know that the pandemic just exacerbated and exposed issues that we've been seeing with children for a long time," Tynes said.
For example, in the update the number of child abuse or neglect reports have gone down. But it's likely those numbers have actually gone up in the last couple of years because of an increase in emotional and financial stress on families.
"Unless you are living under a rock, you know that there is a child mental health crisis right now," Tynes said.
She said when parents and teachers are stressed, that's passed on to kids. For every 923 Alabamians there is one mental health care provider.
Tynes hoped $5 million allocated for a mental health pilot program for youth and $1 million to increase school-based mental health services will help address both parent and child mental health.
"When we provide the services that parents need to know that their children are safe, their children are receiving a quality education and their children are able to continue their safe growth and education outside the hours of school and inside the hours of school, then we're supporting parents," Tynes said.
Kyra Miles is Report for America corps member reporting on education for WBHM.