Alabama lawmakers roll the dice on a new lottery bill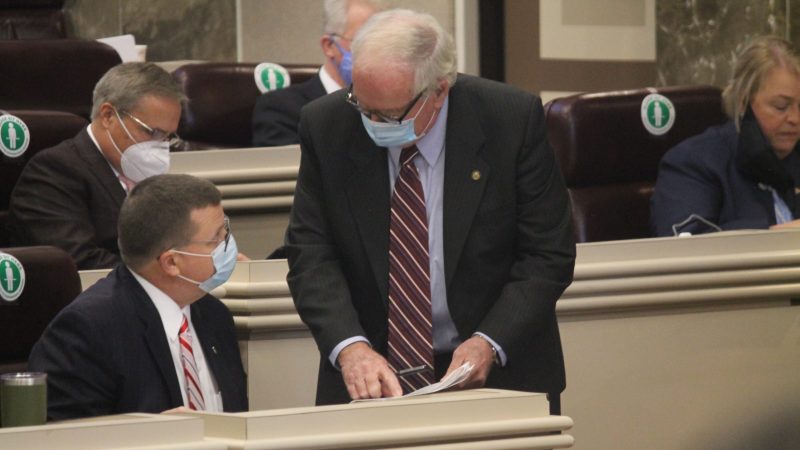 An Alabama Senate committee took up a bill Wednesday that would expand and regulate gambling in Alabama. Gambling proponents have tried for years to pass some kind of gambling or lottery measure but have never been successful.
"[The bill] looks a lot like the proposal that came really close to passing the legislature last year," said Todd Stacy, host of Capitol Journal on Alabama Public Television and publisher of the Alabama Daily News.
Stacy offered an update on this week's action in the legislature.
Gambling bill
The latest gambling bill came from Republican Sen. Greg Albritton. It would authorize a state lottery, sports betting, eight full casinos, and two smaller gambling operations. Alabama is one of five states that does not have a lottery. The casinos would be located at already operating dog tracks and facilities run by the Poarch Band of Creek Indians.
Lottery revenue would go to education scholarships. Casino and sports betting revenue would go to broadband, health care, and possible Medicaid expansion. The proposal is a constitutional amendment which means it would have to be approved by voters to go into effect.
The bill is through a Senate committee, and Todd said it's likely the Senate will pass it as well. But, like last year, he expected hang-ups in the House.
"I think if you just had a vote on the floor, they would pass it easily," Stacy said. "The trouble is getting it to the floor. There's a lot of folks who want to pull the different levers of power to keep things from getting to the floor like this."
Todd said one lawmaker told him they don't have an appetite for gambling this year.
"But never say never, because gambling interest are very powerful and very persuasive sometimes, and so there's always a chance," Stacy said.
Divisive concepts bill
A bill that would ban teachers from teaching certain "divisive concepts" hit a roadblock this week. The measure is considered a compromise from an earlier proposal that sought to ban critical race theory. This bill doesn't mention that concept by name but does put restrictions around how issues of race, gender, and religion can be taught. For instance, it bans teaching that the U.S. is "inherently racist or sexist."
The divisive concepts bill passed a Senate committee Tuesday, but it had a different reception in a House committee.
"That committee got pretty dramatic, in fact, with some pretty harsh words being exchanged between Republicans and Democrats," Stacy said.
Democrats argued the state school board had already banned critical race theory and it's not being taught in K-12 schools so putting it into law is not necessary. The House committee decided to carry over the bill, which delays it.
"The Senate legislation is in a position to pass. We'll see if lawmakers really want to lean into this," Stacy said.
Postpartum medicaid care
Currently, women on Medicaid in Alabama receive 60 days of coverage after the birth of a child. Advocates have pushed to extend that saying new mothers need more care and that it would help reduce bad medical outcomes. About half of births in Alabama are covered by Medicaid.
A proposal that's part of the General Fund budget would extend coverage to a full year.
"There funding for this in the budget. There's an agreement with the Medicaid agency to do this," Stacy said. "As long as this budget passes, it's a big win for these advocates."
This is not Medicaid expansion and does not increase the number of people on the rolls which, Stacy said, makes it more palatable for Republicans. Still, support for Medicaid expansion is growing even among Republicans. He cited a poll that found 72% of Alabamians and 66% of Republicans back the move.
"It's hard to do in an election year," Stacy said. "But I do expect the issue to come up maybe next year. It's only a matter of time probably before Alabama expands Medicaid in some form."
Includes reporting from the Associated Press