Legislative Wrap-Up: Senate Moves To Nullify Federal Gun Control, Passes Gambling Bill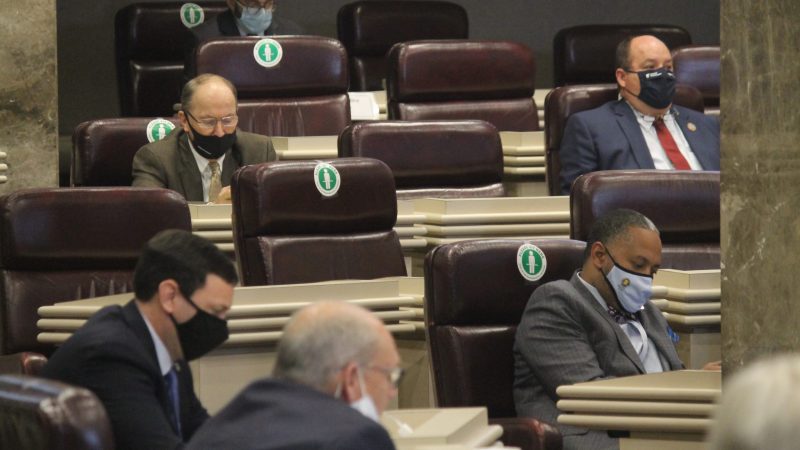 Alabama lawmakers pushed back this week against federal gun regulation, one of about a dozen conservative states to do so. The state Senate passed a bill that would prevent the state from enforcing federal gun laws. Also in this week's legislative highlights, a gambling bill won approval in the Senate. It features casino-style gaming in a number of areas, plus a lottery. Don Dailey, host of Alabama Public Television's Capitol Journal, tells us the bill is pretty similar to the one that failed just last month.
What's different this time around about the gambling bill that passed the Senate?
There's not a whole lot different; it seems that sentiment has changed somewhat over a comprehensive gambling plan versus about a month ago. You may remember that the Senate originally was scheduled to vote this week on a lottery-only bill, and it was substituted to include the more comprehensive gaming elements, including casinos and sports betting. The lottery sponsor, Senator Jim McLennan of Springville, has said that he didn't have the votes this week to get his lottery-only bill out. And he had said all along he was willing to compromise and to add on the more comprehensive gaming elements, if that's what it took to get a lottery to the voters. And that is indeed what happened.
Worth noting this would require voter approval before any gambling legislation goes into effect. 
Indeed, it's a constitutional amendment which will ultimately be up to the people as to whether they want to change the law to allow these gambling elements, and it has to go through the House next. There are a limited number of days remaining in the legislative session. Some say that they predict the lottery will get out. Others say it may not and that gaming could be the subject of a special session.
Alabama senators debated a bill that would keep the state from enforcing any federal executive order or act restricting firearm ownership. What is this bill about and what was the impetus?
It's about this larger national conversation about federal laws clamping down on gun and gun ownership, new gun control laws; a number of states, Alabama among them, are looking at not enforcing any of these new laws that might come down from the federal government, which would control gun ownership. Sen. Gerald Allen of Tuscaloosa sponsored a measure that got through the Senate on Thursday. He says to him, it's all about the constitutional right to bear arms and he doesn't want to see any infringement thereof. Of course, the legislation had a lot of critics, a lot of Democratic lawmakers stood up to object to these causes. And, of course, President Biden has in recent days sent down some executive orders, clamping down on gun ownership in certain limited cases in response to mass shootings in Georgia and Colorado. But to the sponsor of this legislation, it seems to be all about protecting the right to bear arms. And that has long been a cause and a torch that Sen. Allen has carried here in Alabama.
A lot of the criticism centered on the constitutionality of this legislation. Can Alabama be sued over this? 
Well, those who spoke against it in the Senate on Thursday certainly felt that we could Sen. Roger Smitherman was one of several who brought up the constitutional issues of this matter and whether or not the state was just setting itself up for what would be an inevitable lawsuit.
A proposed bill would revise the Memorial Preservation Act, which came into play last year in several Alabama cities where Confederate statues were removed. The current bill imposes a $25,000 fine on municipalities that remove these monuments. This bill would make the penalties for removing these monuments a lot stiffer.
Yes, the fine is currently a flat $25,000. This would up the ante to $10,000 a day until the violation is rectified. It's a controversial issue, as you might imagine. There was a lot of emotional testimony at a public hearing on this bill in committee this week. A lot of Democratic lawmakers, especially Democratic African-American lawmakers, spoke up in protest about many monuments that have been taken down around the state that they contend represent the state's racist past. The sponsor of this legislation, Rep. Mike Holmes of Wetumpka, takes just the opposite view. He says he's protecting history here and he also takes exception with some of the claims that many of these monuments represent a racist past. 
Other highlights:
The bill banning transgender girls from playing on girls sports teams won final passage in the Alabama Legislature.
A medical marijuana bill cleared a second hurdle and will go before the full House.
This interview has been edited for length and clarity.