Alabama Lawmakers Will Take On A $1.3 Billion Prison Construction Plan In A Special Session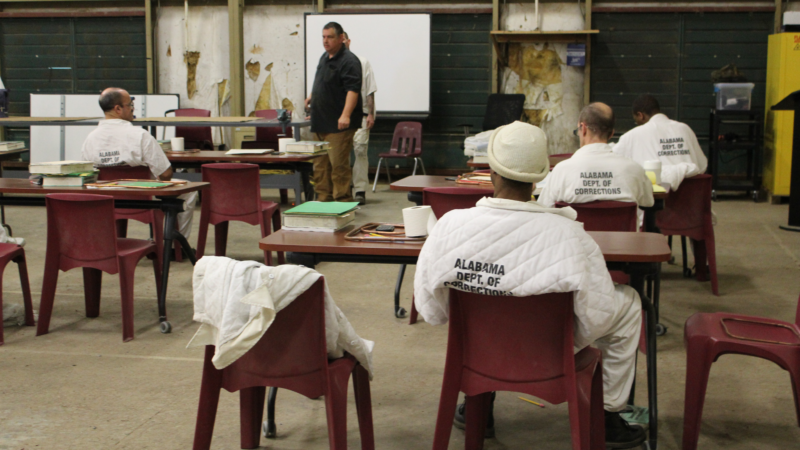 Lawmakers begin a special session Monday to vote on a $1.3 billion prison construction plan and two reform bills.
Gov. Kay Ivey formally announced the session Thursday afternoon.
"I am pleased and extremely hopeful that we are finally positioned to address our state's prison infrastructure challenges," Ivey said in a statement.
The proposed plan includes the phased construction of two new "mega prisons" that will house roughly 4,000 men each. Some existing male facilities would be renovated, while others would be closed. The proposal also includes replacing Tutwiler Prison for Women.
Funding would come from a bond issue of up to $785 million, up to $400 million of federal COVID relief money and up to $154 million in appropriations from the general fund budget.
Republican Rep. Steve Clouse, who is sponsoring the construction bill, said it is a "defining moment" for the legislature. He said prison construction has been discussed for years and is a divisive issue, but he thinks the bill will pass.
"I feel like we have, at this point, adequate support," Clouse said. "But things can change on a dime when you're dealing with legislation."
Republican leaders hope the plan will help satisfy federal officials who sued Alabama in late 2020 over violence and unsafe conditions in state prisons, a lawsuit that could lead to federal oversight of the system.
"We would certainly be taking care of a big part of the puzzle," Clouse said. "It's not the whole puzzle, but it's a big part of the puzzle."
Advocates and lawmakers critical of the construction bill want the state to prioritize other reforms.
"The Department of Justice has not told the state of Alabama to build new prisons," said Carla Crowder, executive director of the legal nonprofit Alabama Appleseed. "Their litigation will not magically go away because the state plans to build new prisons."
Under the proposal, new prisons will be equipped to provide better health care and programming for inmates. Crowder supports that, but said she hasn't seen any plan to fund and operate those initiatives.
"When a state as poor as Alabama devotes $1.2 billion dollars to buildings only, without any answers about where money is going to come from to provide staff, to provide programing, to provide medical and mental health care … We're not going to address the problems that got us here, and we're not going to be able to afford real solutions," Crowder said.
Democratic Rep. Chris England said the state needs to focus on policy changes to address overcrowding and improve re-entry options.
"If you don't deal with the structural issues within the system, whether it be the sentencing issues, whether it be through the lack of paroles, or the lack of pardons, or how we struggle to rehabilitate people, you're just going to end up putting old problems into new buildings."
In a letter to lawmakers last week, Ivey said updated facilities are necessary to improve conditions for both inmates and staff.
"It is not only legally and fiscally prudent," Ivey said, "but also the right thing to do to ensure the safety of our corrections staff and the proper rehabilitation of our inmates, many of whom will someday return to our communities."
Ivey announced Thursday the session will also include two bills dealing with retroactive sentencing and parole reform, though some advocates said the measures are minor.
This most recent construction plan comes after a different proposal fell through earlier this year. That plan, which involved leasing three new prisons built by private companies, didn't require legislative approval and received criticism from lawmakers and residents.
The current bill calls for prisons to be built on state-owned property, adjacent to existing facilities, which has garnered more support from local officials where construction will take place.
"From a county perspective, we look at the economic impact and the quality of life for our residents," said Elmore County Commission Chairman Troy Stubbs. "We are delighted to see this move forward."
Stubbs said the multiple prisons in Elmore County account for roughly 700 local jobs, and that number is likely to grow with new construction.
If the bill is approved, Clouse said state officials could break ground on the men's facility in Elmore County sometime in early 2022. The women's facility will also be located in Elmore County. The second men's facility is slated for Escambia County.
The special session begins Monday afternoon at 4 p.m.
2021 First Special Session Proclamation by Mary Hodgin on Scribd