Donald Trump's 'Save America' Rally Packs Farm Near Cullman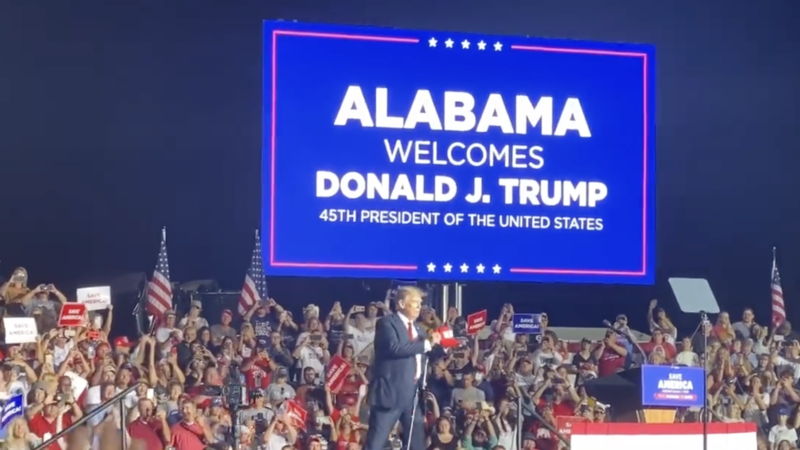 Rain and the threat of severe weather didn't stop supporters of former President Donald Trump from attending the "Save America" rally Saturday night in Cullman, Alabama. Several thousand people gathered at York Family Farms to hear from Trump and other Alabama Republicans.
Before Trump hit the stage, the tone for his speech was set by a video clip of the opening monologue from the film "Patton," a 1970 biographical war film about U.S. General George S. Patton during World War II.
Donald Trump now on the stage, chucking hats to his faithful. #trumprally pic.twitter.com/KWTjBtvyMg

— Ryan Phillips (@JournoRyan) August 22, 2021
He spoke on many topics during his meandering speech. Trump criticized President Joe Biden for his handling of the Taliban's recapture of Afghanistan earlier this month and the COVID-19 pandemic.
"Biden failed totally on the pandemic and he's now overseeing the greatest foreign policy humiliation in the history of the United States of America," Trump said.
"This is not a withdrawal, this is a total surrender. They [Afghans] don't respect us and this is what happens when you have weakness in the White House. Under my administration, everyone in the world knew not to mess with America," he said.
Trump called the fall of the Afghan capital Kabul, "one of the great military defeats of all time."
The former president said Biden is failing to control the pandemic.
"He didn't stop the virus," Trump said. "He's done a terrible job, including on vaccinations and now the virus is back."
Trump did recommend to the crowd to take a vaccine, which prompted some boos.
"You got your freedoms," Trump said. "But I happened to take the vaccine."
During the nearly 90-minute speech, Trump also repeated his claim that election fraud was responsible for his defeat in the 2020 presidential election. Election observers say there is no evidence of widespread fraud in last year's election. But the former president left the audience eager for 2024, as Republicans hope to take back the White House.
"We have to defeat the radical left," Trump said. "We will not give up and we will never surrender. Our movement is far from over, in fact, our fight has just begun."
Prior to his appearance, the crowd was fueled by speeches from state Republican leaders, including U.S. Rep. Robert Aderholt, Alabama Attorney General Steve Marshall and Lt. Gov. Will Ainsworth , who during his remarks called for Biden to be impeached. Ainsworth did not say for what action.
What a great time tonight at the Save America Rally tonight in Cullman. Honored to have President Trump in Alabama. pic.twitter.com/CgqzkaWA3B

— Will Ainsworth (@willainsworthAL) August 22, 2021
Congressman Mo Brooks also spoke, although at one point received boos from the crowd for suggesting it was time to move past the 2020 election and focus on future contests.
Trump restated his support for Brooks whom he endorsed in the 2022 race for the U.S. Senate seat being vacated by longtime Senator Richard Shelby. When called to return to the stage by the former president, Brooks referred to Trump as a "future president" and spoke of the "second coming of President Donald J. Trump." Trump has not said if he would run in 2024.
Trump's "Save America" rally was anticipated by many Alabama Republicans, including Gov. Kay Ivey. "I look forward to welcoming President Trump back to Sweet Home Alabama," she said.
The Trump Administration and the Ivey Administration worked hand in hand to deliver results to the people of Alabama. I was honored and thrilled to welcome President Trump back to Sweet Home Alabama today! — KI #alpolitics pic.twitter.com/R4cyZXzVGV

— Kay Ivey (@kayiveyforgov) August 22, 2021
The Alabama Democratic Party took aim at Republicans saying in a statement that instead of finding solutions to problems, "the political leaders of the Alabama Republican Party spent their Saturday worshipping former President Trump while he continued to spew lies about the 2020 election."
"Donald Trump's legacy is one of sowing division, amplifying conspiracy theories about COVID, trying to overturn a fair election, and increasing our national debt with massive tax breaks for millionaires and billionaires," the statement read.
Editor's note: The original story misstated Donald Trump's last visit to Alabama. The former president visited the state in 2019 after deadly tornadoes.