Community leaders call for 'fair maps' ahead of special session on reapportionment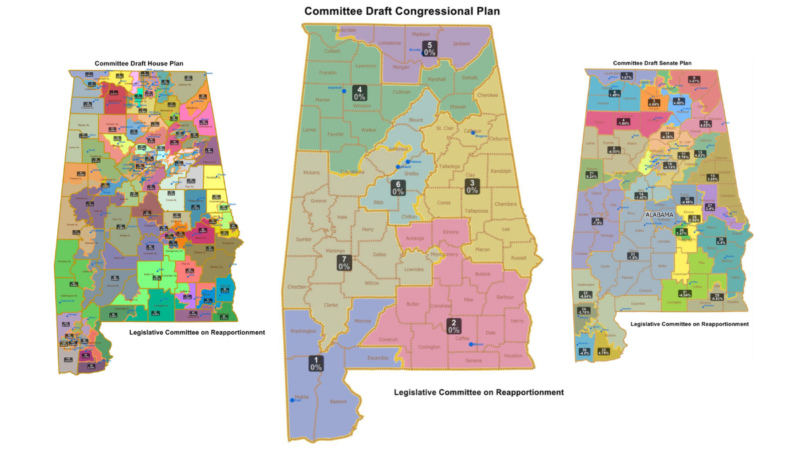 Alabama lawmakers will meet Thursday for their second special session of the year to vote on new legislative maps following the 2020 census. The once-a-decade exercise determines which lawmakers represent which areas and affects how government funding is divided. Some groups are concerned the new maps won't be favorable for Alabama's growing minority population.
Evan Milligan, executive director of the civic engagement organization Alabama Forward, said growing up in Montgomery, the congressional districts he and his family lived in were always changing.
"I pretty much lived on the same side of town, just in different neighborhoods for much of my life and my congressional representative has changed a couple of times," Milligan said.
For years, district lines in Montgomery have been split. It's currently divided three ways.
"When our communities are split up in that way, it kind of dilutes the amount of resources that can come back to our communities, whether it's for roads and bridges or schools or hospitals," he said.
According to data from the 2020 census, Alabama's population is nearly 27% Black. But almost two-thirds of Black voters are packed into District 7, which is Milligan's district. It includes parts of Montgomery, Tuscaloosa, Birmingham and most of the Alabama Black Belt.
"It may be that they designed a district with very irregular lines just to be able to put people of a single community of interest together," said Kathy Jones, president of the League of Women Voters of Alabama.
The organization urged lawmakers to preserve county boundaries when redrawing maps. That message echoed a lawsuit filed last month, which challenges Alabama's current congressional districts, saying they're racially gerrymandered and limit Black voters' influence in all districts, except District 7.
Alabama's permanent Legislative Committee on Reapportionment is responsible for redrawing maps to ensure that districts are competitive, with roughly the same number of voters. Rep. Laura Hall is a member of the committee. The longtime Democrat lives in Huntsville, a city that has seen major growth in the last decade. She recalled what happened last time around.
"We had a major case where the U.S. court struck down the maps that we drew in 2010 because they didn't follow the law and didn't show any regard for public input," she said. "It was my hope that we would make sure that we did not have that same problem this time. But at this point, I would say that's probably where we are."
With the special session just days away, Hall and other members still haven't seen any completed maps that the committee plans to propose. That's unusual.
The Committee on Reapportionment will be meeting on Tuesday, October 26 at 1 PM in Rm.317 at the Statehouse. With that being said, despite the fact that we will be voting on Tuesday, we still haven't seen any proposed maps. #alpolitics #redistricting #SpecialSession2021 pic.twitter.com/LbupLy9Yev

— Chris England (@RepEngland70) October 24, 2021
Kathy Jones with the League of Women Voters of Alabama said she and other organizations are keeping a close eye on the redistricting process. She said a fair map for Alabama should have at least two congressional districts where 40% of voters are non-white.
"What we really want is to see the state put a high priority on racial equity and also making sure that everyone's vote counts," Jones said.
Last week, the American Civil Liberties Union, the ACLU of Alabama, and the NAACP Legal Defense Fund sent a letter to the state's Reapportionment Committee reminding them to comply with the Voting Rights Act in the redistricting process.
Rep. Laura Hall said unfair maps will draw a legal challenge.
"If we don't get it right, we're talking about spending more tax dollars defending a flawed map that could have been corrected on the front end. So, we are facing a great challenge as we get ready and prepared to go into the special session," Hall said.
Republican Rep. Randy Wood, who is also on the reapportionment committee, saw things differently. Though the state grew about 5% in the latest census, he didn't expect many changes to the maps.
"I think they'll be similar to the same ones. You'll actually have to know what to look at to see a difference," he said.
Wood believed the current maps offer minorities a voice, so the new ones will too.
The proposed maps will be released Tuesday. Alabama lawmakers must vote on new district lines for seven congressional districts, eight state school board districts, 35 Alabama Senate districts and 105 Alabama House districts.