Birmingham Mayor Randall Woodfin Wins Another Term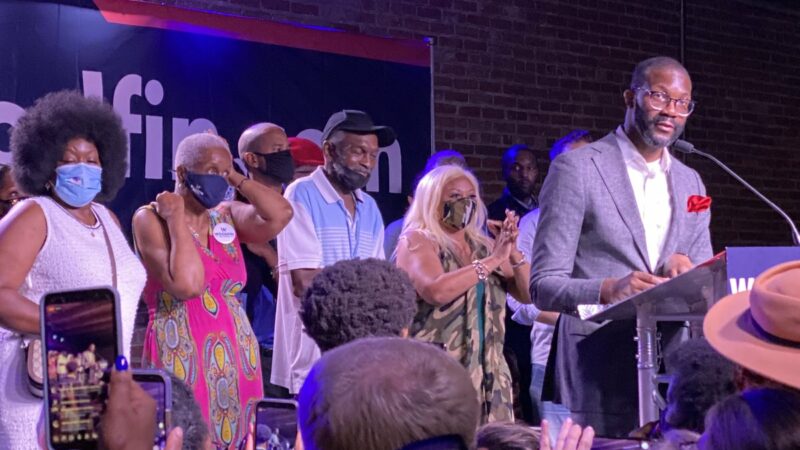 Birmingham Mayor Randall Woodfin was elected to another term Tuesday evening, taking in roughly 64% of the vote.
Jefferson County Commissioner Lashunda Scales trailed behind with around 21% of the vote and former Birmingham Mayor William Bell behind her with 9% of the vote.
But voter turnout remained low in this year's election, with only 25% of active voters casting a ballot.
Woodfin took the stage to chants of "four more years" at an election night watch party with supporters.
"You told us to invest in your neighborhoods, and we did. You told us to pave more streets and we did. You told is to tear down this blight and we did. You told us to invest in our younger generation and we did with the Birmingham Promise," Woodfin said. "I also want you to know, that my commitment and sense of urgency will be the same over the next four years. Thank you for this opportunity to continue to represent you. Thank you for this opportunity to continue to lead our city. And thank you for this opportunity to be in the trenches with you to make the city of Birmingham better."

Woodfin plans to accomplish a variety of things as part of his 'Vision 2025 Plan.' Some of these include:
Further expanding the Birmingham Promise Scholarship Initiative
Expanding COVID-19 vaccination sites
Implementing the City's PEACE Strategy, a public health-based approach to preventing gun violence in Birmingham
Launching "Operation Second Chance," a program for Birmingham residents to expunge misdemeanors and select felonies from their criminal records
Expand the city's Pardons for Progress program
Continuing the Birmingham Police Department's policy of de-emphasizing marijuana possession cases so that minor marijuana possession cases no longer go before our municipal courts
Working to clear any remaining backlog of untested rape kits in Birmingham
Continuing efforts to revitalize Birmingham's 99 neighborhoods.
Woodfin was first elected in 2017 after beating incumbent Mayor William Bell.
TONIGHT: I'm at Mayor Woodfin's Election Night Celebration at The Fennec pic.twitter.com/t8o4SyblkZ

— Cody D. (@codydonair) August 25, 2021