Alabama Will Follow CDC Guidelines For COVID-19 Booster Shots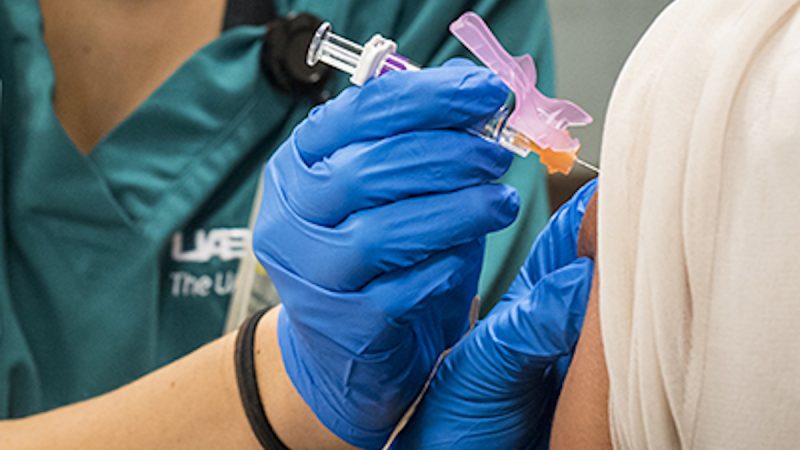 Alabama's leading health official said the state will provide booster shots for COVID-19, following guidance from the Centers for Disease Control and Prevention. At a press conference Friday, State Health Officer Dr. Scott Harris said a third shot should be given to people aged 65 years and older, residents in long-term care settings, and people aged 50–64 years with underlying medical conditions. He said anyone getting the third shot should be fully vaccinated for at least six months. Boosters are now available to those who fall under those categories.
Additionally, Harris said the CDC recommends that people aged 18–49 with underlying medical conditions may get the third shot.
"The distinction being made here is that it really depends on people's individual risk and benefit. That's a discussion they will have to have with their healthcare provider," Harris said.
The CDC also recommends people 18 and up who are at increased risk of contracting the virus, based on their occupation, may receive a booster dose. Harris said that includes healthcare workers, first responders, teachers and grocery store workers.
The CDC has only authorized the third shot for the Pfizer vaccine.
CDC Director Dr. Rochelle Walensky endorses ACIP recommendation for a booster shot of Pfizer-BioNTech #COVID19 vaccine in certain populations & also recommended booster dose for those in high risk occupational/ institutional settings. See full statement. https://t.co/X4HgVB4xJo

— CDC (@CDCgov) September 24, 2021
During the press conference, Harris emphasized demand for monoclonal antibodies, a treatment used to prevent people with COVID-19 from being hospitalized, is far higher than current supply. Federal officials recently changed how states receive monoclonal antibodies from directly ordering them to a coordinated system that rations them to states. With that, Alabama has seen its allotment fall. The state was only allocated about 6,600 doses this week.
"We have had about 3 times as many requests for monoclonals as Alabama is going to have this week. So, it's a scarce resource and there's not enough to go around," Harris said. 
While hospitalizations for COVID-19 have been falling in recent weeks, Harris said facilities are still overstretched. The state reported 1731 people hospitalized with the coronavirus Thursday. Intensive care units remain at or above capacity.
According to statistics from Johns Hopkins University, Alabama currently has the nation's highest death rate for COVID-19. On Friday, the Alabama Department of Public Health reported 13,291 Alabamians have died from the coronavirus since the start of the pandemic. Harris said at least 90 percent of recent deaths were preventable with the vaccine.
"These aren't numbers or stats," Harris said. "These are our friends and our family and our loved ones."