Alabama Names Ashley M. Jones As Its New Poet Laureate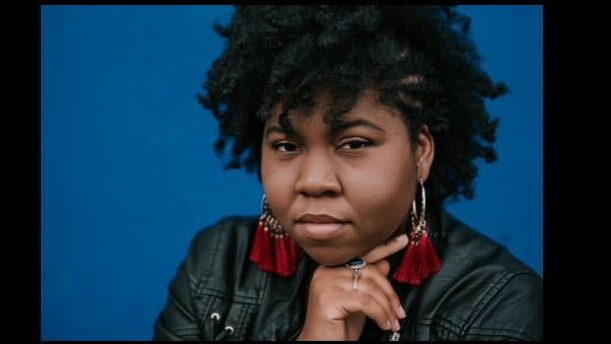 Ever since she read a poem about Harriet Tubman in elementary school, Ashley M. Jones has been writing poetry. She's founded the Magic City Poetry Festival. She has a new book coming out in September. And her latest accolade: Jones is now Alabama's poet laureate, a goal she has long wanted to achieve.
"I dreamed of being Alabama state poet laureate, U.S. poet laureate, a Nobel laureate. These are all my dreams since the age of four," she said.
Jones was named the next poet laureate of the state during the Alabama Writers Cooperative's yearly meeting on Sunday. She knew the commendation was in the works, but said it still felt surreal.
"I couldn't help but feel like it wasn't real life because so much work  culminated in this moment. So, I felt excited and scared and happy and just very humbled, honestly, that people would want me."
At 31, Jones made Alabama history as the first Black poet laureate and the youngest. She said it shouldn't have taken this long to appoint a person of color.
"I feel honored to open that door, but I also feel like I want people to realize that I shouldn't have been the first in 2021."
Alabama has had a poet laureate since 1930. Jones hopes that more people of color will be appointed to the position, and it can be a "normal thing that anyone can be a poet laureate and represent their people and their culture."
Born and raised in Birmingham, Jones attended Epic Elementary, where she first fell in love with poetry. She was in the second grade when she had an assignment to memorize something and bring it to class to recite. Jones chose a poem out of a book she picked up from the library.
"It was called Harriet Tubman and it begins, 'Harriet Tubman didn't take no stuff, wasn't scared of nothing neither. Didn't come in this world to be no slave and wasn't going to stay one either.'"
Jones remembers reciting the poem dressed as Harriet Tubman. "And I just felt this surge of power that I had never felt before."
Jones said she's been writing poetry ever since that day.
Now, she serves as a member of the creative writing faculty at the Alabama School of Fine Arts, giving back the power she once found through words.
As Alabama's poet laureate, Jones will tour the state and make appearances at schools, universities, libraries and other state institutions, as well as give lectures, read poetry and hold workshops on a local and national level.
Jones already has a list of things she hopes to accomplish during her four-year term, including showcasing writers who are already in the state.
"It's simply me being able to tell everybody, 'Hey, y'all, this is what we're doing here in Alabama,' or even to connect communities within the state who may not know about each other and connect them to resources," she said.
Jones said she is also eager to meet new poets and artists."It always meant a lot to me as a young person to meet Black writers and see them doing things," she said. "So, I'm really hopeful that just by being visible and doing my best job, I can maybe let some other person, young or old, know that they can also do what it is they dream to do."
The news of Jones' appointment as Alabama poet laureate comes just a few weeks before the release of her third poetry collection, "Reparations Now!"
The book includes poems about racism in the United States, poems about her family, including her father who passed away earlier this year, and poems about Jones as a Black woman navigating her way through the country. 
"This book, I feel, represents me… unapologetically," she said.
Here's Jones reading "All Y'all Really From Alabama," which is featured in her new book.
"Reparations Now!" is set to be released Sept. 7. She will officially take on the role as Alabama Poet Laureate after a commissioning ceremony at the state capitol in the coming weeks.