After a blowout pilot season, high school girls flag football could be an official sport in Alabama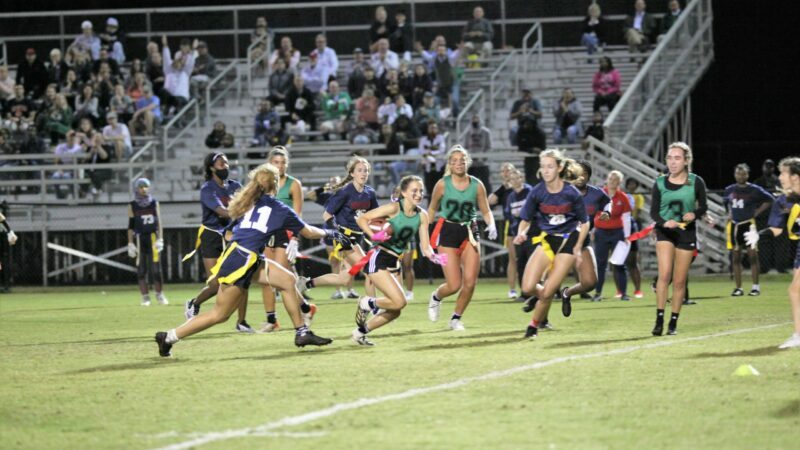 The Alabama High School Athletic Association's pilot season of girls flag football culminated Wednesday with a championship game between Hewitt-Trussville and Smiths Station high schools at Birmingham's new Protective Stadium. The Lady Huskies of Hewitt-Trussville defeated the Lady Panthers of Smiths Station in a thrilling overtime game.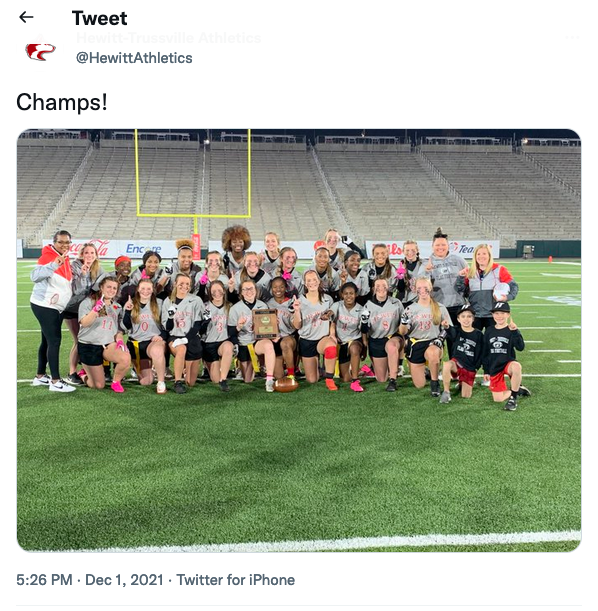 Earlier this year, the central board for the association voted to make girls flag football a pilot program this season. Hundreds of students competed on 40 teams across the state. The sport isn't officially sanctioned by the association just yet but Segars said they're hoping to move in that direction.
"Based on our bylaws, if we have enough member schools who are going to sponsor a team for 2022-23, we will sanction it," Segars said. "We won't know until probably February what that's going to look like."
As part of this year's pilot program, girls flag football is being sponsored by the NFL's Atlanta Falcons and Nike. The Falcons alone contributed about $150,000 to make sure money wouldn't be a barrier for any school. Segars said those funds will be divided among schools over a two year period. While flag football is relatively inexpensive, there are costs.
"You look at belts and uniforms, but you also have to think about supplements for coaches, travel, so that can add up," Segars said.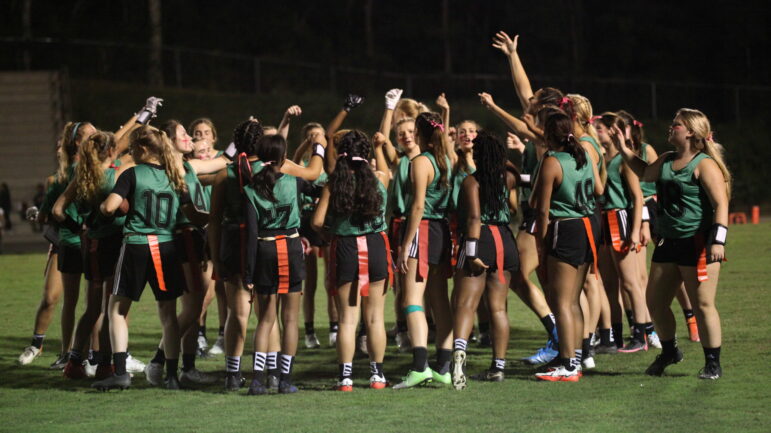 Under the Tuesday night lights a couple of weeks ago, Auburn High School went head-to-head against John Carroll Catholic High School in Birmingham. There was a lot of excitement with students, parents and football fans filling the stands on each side of the field. The two teams were competing to advance to the postseason semifinals.
"We have 36 girls on our team and the ones who barely even see the field, the whole game, they are in it," said Mary Claire Carruth, coach of the Lady Cavaliers at John Carroll. "They're pumping their other teammates up. They are so eager to play football and to learn about flag football that they just keep it exciting."
Carruth, 29, sees a lot of herself in her athletes. She played powder puff football in high school and participated in the intramural coed flag football team at the University of Alabama.
A week after defeating the Auburn High School Tigers, Carruth and the Lady Cavs fell short with a loss in the state semifinals. She's proud of the season they've had but said this is just the beginning for girls flag football in Alabama.
"I think that the state is surprised right now at how it took off this year, and I just think that it's going to turn into something really, really special," she said. "I think it's just going to snowball from here."