Historic Theatres Among Businesses Damaged During Violent Protest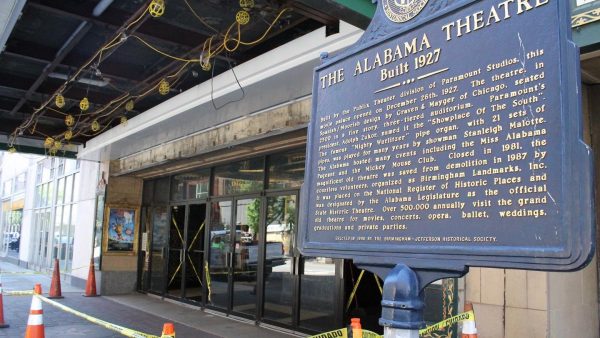 Clean up continues in downtown Birmingham after protests to mark the killing of George Floyd in Minnesota turned violent Sunday night.  Cindy Mullins manages the Alabama and Lyric theatres, which were both hit.  She said she was not surprised by the reaction of protesters, but she is disappointed they targeted the historic buildings.
Note: This interview has been edited for clarity and length.
Interview Highlights:
Protest turns violent downtown:
"When I started seeing footage of what was happening downtown, I started becoming worried that it was going to move a little closer to the theaters. But all in all, we're very thankful that our damage was quite minimal compared to some other places. We were very lucky that our damage was only on the exterior and it was just limited to glass being broken."
Damage on 3rd Avenue North:
"The Alabama and Lyric and the other properties that are attached to them had more than 10 windows and doors broken. That is at all of the facilities between the Alabama Theatre and the corner at 18th Street and the Lyric and the Superior Furniture building, which is just next door to the Lyric Theatre. But just farther down our street Wheelhouse Salon had their windows broken and their computers and other equipment that they use for processing appointments and point of sale systems. They had some of that equipment stolen. Just one block over the California Fashion Mall was completely destroyed by fire. Some other local businesses, restaurants and other store fronts also had some pretty catastrophic damages."
Thoughts from neighboring businesses:
"Everybody that I've spoken with really feels strongly that the most important takeaway here is that human lives are more important than broken glass and damages to buildings. Now, that's not to say that these business owners aren't hurting, but they know why this is happening. In a way, that hurt and concern about loss of business and loss of money is really mitigated by just this concern for what's going on in our community and in our country. But also Monday, there was really a great sense of hope because so many people were coming and helping clean up and offering help, asking where they could go that needed more assistance; sweeping up broken glass, helping board up windows, removing graffiti, that continued all day long. You know, even up till very close to when the curfew started, people were asking, how can I help? What can I do? So the sense of community is very strong."
Preparing for another violent protest:
"We chose to board up every window and door at all of the properties that we own on 3rd Avenue, not just the ones that were broken. So we we did that as a precautionary measure just to ensure that we're as protected, as we can be against more broken glass. Our budget is really being hit hard right now because of the COVID-19 pandemic. We don't know when we will be able to reopen. We're already just stretched so tight trying to make ends meet."
Birmingham, Jefferson County and several of its cities have enacted curfews in response to Sunday night's civil unrest.
Editor's Note: The Alabama Theatre is a program sponsor of WBHM but the news and business departments operate separately.