Birmingham Brewery Bounces Back After Coronavirus Slows Sales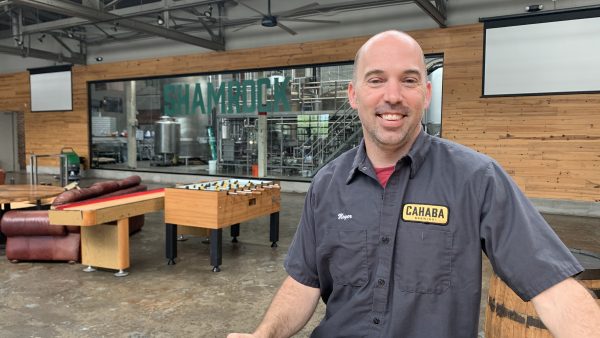 Restaurants, bars and breweries are back in business since the state eased restrictions to slow the spread of COVID-19. Back in mid-March, we checked in with Eric Meyer, founder and co-owner of Cahaba Brewing Company. Meyer wasn't sure how much longer his business would survive the pandemic. Like many restaurants and bars across the state, Cahaba Brewing moved to curbside service only. As a result of the coronavirus' economic impact, Meyer was forced to lay off his part-time staff and he's gotten some relief from federal disaster loans. Now, since Gov. Kay Ivey reopened the economy, Meyer said things are looking up.
"We've been able to bring back some of the part-time bartenders to kind of keep people busy," he said. "We keep running the curbside pickup, to go beer, so it's been good."
Meyer said Cahaba Brewing isn't seeing the money it saw last year but this is a new time. He said it's been fun to see the community out supporting the brewery and to see people out and about. "We have a large space, so they're able to really social distance here and still be able to sit with, somebody you came with and enjoy a good local product," he said.
Cahaba Brewing reopened its taproom on May 14. Meyer said they've made several changes to ensure the safety of the staff and customers. 
"We removed a lot of our tables and we're allowing more than six feet in between each table," he said. "We removed a lot of the chairs so that the tables can have smaller groups of people. And we've set up a new point of sale system so that you can close out your tab."
Meyer said people don't have to hand the bartender a credit card. "You just have to hold up your I.D. so they can look at it and then they can hand you a beer and the tabs all handled through an app on your phone," he said.
"We have hand sanitizer stations all around the brewery; utilizing the hand sanitizer that we make here. We try to keep people from just standing around and socializing inside the tasting room. We have signs up saying, if you're not seated, please go outside."
Meyer said all of the bartenders are wearing masks as they should, but then also using hand sanitizer between every transaction and having that be a very visible thing for each customer at the start of each transaction.
He said business will look like this for the foreseeable future, but customers are still coming back. Much like the beer, Meyer said business is flowing as well as it can right now at 50 percent capacity. 
"We are thankful for what the community has been doing and all the local beer drinkers have supported us for a long time and it's been good," he said. "But at the same time, we normally do a big 'Cahaba-cue' in April and we raise $20,000 [or more] for the Breast Cancer Research Foundation of Alabama. We have a whole bunch of people come through here and we haven't had that. And, those are the things that allow us to keep moving forward."
Despite missing out on revenue from larger events, Meyer said the brewery is doing well. "We, again, are thankful for the support we have and we'll just keep grinding away," he said.
Editor's Note: Cahaba Brewing Company is a financial supporter of WBHM. But the news and business departments operate separately.