Birmingham's Food Desert Plan: More Grocers, Fewer Dollar Stores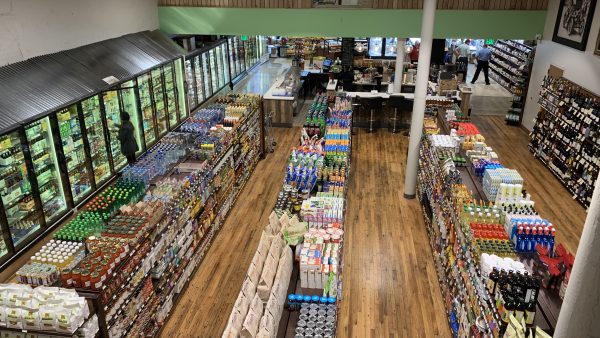 At Harvest Market in downtown Birmingham, there's fresh produce, a juice bar, and local specialty items. And there are the basics — milk, bread, canned goods, and rice. It's a small independent grocery store that opened last week.
There are already plans for expansion within the city. The owner recently purchased Village Market, a grocery store in East Lake, after rumors it may close. 
"With us having multiple stores within our buying group, we're able to purchase products that we can implement in those stores and keep the price point down," operations manager Jeff Gentry says.
Gentry and Birmingham Mayor Randall Woodfin share a common goal: to improve access to healthy food around the city.
Over the last few years, more than half a dozen stores have closed around the city, including Walmart and Winn-Dixie. That has left residents dependent on local meat markets, corner stores and dollar stores for groceries.
Gerry D'Alessandro, a third-generation grocer with stores in Bessemer and Trussville, says for him, opening a store in Birmingham is risky business. And there's one big reason. "The proliferation of dollar stores has been the biggest game changer in low income areas," he says.  "This makes it less attractive for a full-service grocery store to operate in those areas."
City officials are aware. They plan to limit the number of dollar stores as part of Woodfin's "Healthy Foods Ordinance." If approved by the city council, the ordinance would also loosen zoning restrictions on fresh food producers, giving them more leeway on where they sell their products around Birmingham. 
The city also recently set aside half a million dollars to help offset the cost of opening a grocery store in the city's food deserts.
Josh Carpenter, Birmingham's director of innovation and economic opportunity, says it's getting harder for larger supermarkets to survive in many cities. One reason? Online retailers like Amazon.
"Amazon starts selling fresh produce overnight and all of a sudden everyone who's accustomed to buying things on Amazon have a new service of delivery that brick and mortar stores find difficult to compete with," he says.
But Carpenter says the city has a strategy. Instead of chasing after big grocery chains, the city will try to attract smaller stores.  
"We see the new grocery store as being a smaller model that targets healthy food options and works with and alongside the community to understand their needs and desires," he says.
Carpenter says the solution won't happen overnight. But he says Harvest Market downtown is a start. So far, the store has attracted downtown residents and people who work in the area.
Meanwhile, the city hopes to cut the number of residents living in food deserts almost in half by 2022.