"It's Just Plum Sad:" Ivey Disputes Reports of Health Issues, Chastises Maddox Campaign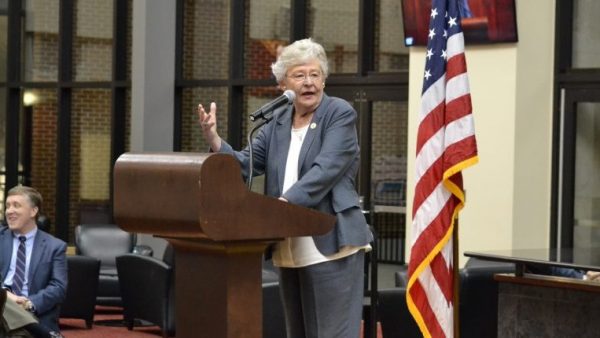 By Robert Carter
Gov. Kay Ivey is again disputing that her health is an issue in her re-election campaign and called out her Democratic challenger for trying to make it one.
Ivey released a statement from her doctor Tuesday that confirmed she did not suffer what some have characterized as a mini-stroke in 2015, while she was traveling to Colorado Springs, Colorado, as lieutenant governor. Dr. Brian Elrod said he examined her a day after she was discharged from a hospital. When news of her illness became public last year, Ivey's staff initially said she had not been admitted to a hospital.
"The letter I released today from my doctor clearly confirms what I've been saying all along. I'm in good health," Ivey, 74, said before her speech to the Tuscaloosa County Republicans at their Lincoln-Reagan Dinner, held at Bryant-Denny Stadium. "It's just plum sad that Mayor (Walt) Maddox's campaign is pushing this issue out just three weeks away from the election. It makes me have to assume that Mayor Maddox is desperate because his liberal record is not connecting with Alabamians."
Ivey said she suffered "altitude illness" in Colorado, but she said her health is fine now.
Ivey again sidestepped another of Maddox's criticisms, that the governor would not go head to head with him in a debate. With the Alabama Crimson Tide's field just outside a window, Ivey was asked if she was sitting on a lead and running out the clock.
"I'm as busy as a bee in a tar bucket!" she exclaimed. "With the hurricane to deal with plus the campaign and official duties, I have no plans to debate."
The controversy over Ivey's health first appeared last year when Spencer Collier, the head of what is now the Alabama Law Enforcement Agency, said that one of his troopers who was with Ivey reported that she suffered a transient ischemic attack, often called a mini-stroke, and was incoherent. Collier claimed that he was told by Ivey's chief of staff, Steve Pelham, not to tell anyone that she had been in the hospital. A spokesman for the governor has disputed Collier's claim.
Collier was dismissed as law enforcement secretary by then-Gov. Robert Bentley, after Collier went public with accusations that Bentley was having an affair with a woman on his staff. The affair led to a divorce between Bentley and his wife and eventually to his resignation, which resulted in Ivey taking over as governor.