Some Doubt Gov. Robert Bentley's Prison Reform Plan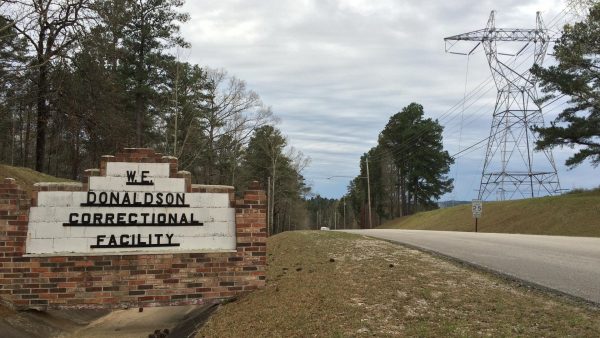 Critics call them five-star prison hotels. Fact is, Alabama's prisons are among the most overcrowded in the nation. The state's correctional facilities, designed to hold 13,000 inmates, instead house almost double that. State prisons are also chronically understaffed, a factor thought to have contributed to two recent inmate riots at Holman Correctional Facility and a fatal inmate stabbing at Elmore Correctional Facility. A Senate budget committee approved Governor Robert Bentley's proposed solution to the problem. But there's uncertainty as to whether that's indeed the way out.
It's barely 4:30, but already it's dinnertime at Donaldson Correctional Facility in Bessemer.
The first wave of prisoners lines up with their trays.
"We have grilled dirty rice, we have cornbread, we have turnip greens, and we have pinto beans today for the menu," Food Service Steward Preastley Summerville heads the kitchen at the maximum security prison.
"Because I'm from Louisiana, I make a Roux and I make it like I did back home," he says. But looking past the serving line into the kitchen, the floors are broken up. And there are lots of little puddles around. The metal on some appliances is buckling and rusted. There's peeling paint on the wall.
"Something's always breaking down or tearing up around here," says Captain Jeffery Baldwin, a correctional officer at Donaldson. He says maintaining this 34-year-old prison is tough.
"We've got to give inmates what they're supposed to have," he says, "and most of the times we give them what they're supposed to have —hot water, cold water, clean clothes— things will pretty much go  the way they're supposed to go."
Things didn't go the way they were supposed to at Holman Correctional Facility near Atmore earlier this month. There were two riots within days of each other. Inmates set fires. A warden and a guard were stabbed. Like most Alabama prisons, Holman is severely overcrowded and understaffed.  Violence has been on the rise. Five years ago, Holman saw 67 assaults. Last year there were 151.
After the riots at Holman, Governor Bentley and other state officials toured the prison. It was like a war zone.
"The fire damage and the broken windows," he says. "We also saw how inmates actually live." The bunks, Bentley noticed, had virtually no space between them. And these may be prisons, but there's barely any surveillance. Bentley's answer? Build more prisons.
"We really need to consolidate many of the men's prisons. Most of the men's prisons, 14 or 15 of them, into three modern prisons," Bentley says.
And the plan calls for a fourth big prison, one to replace Tutwiler. That's the women's prison that was the center of a lawsuit the Justice Department brought against the state for failing to stem sexual abuse against inmates.
Building four huge prisons, of course, comes with a giant price tag: $800 million. The state would borrow that money through a bond issue.
Aleks Kajstura, legal director at the Prison Policy Initiative says the intentions are good to build newer, safer, and bigger prisons,  but that isn't going to solve Alabama's problem.
She says while many other states have reigned in their prison populations in recent years, Alabama has not. It doesn't matter whether there are 1,000 tiny prisons, or four big ones: you can't build your way out of an incarceration problem, she says.
"Across the nation we've seen that if you build a prison, it will get filled," Kajstura says.
Instead, she says Alabama ought to look at its criminal justice system: things like what it's putting people in prison for, and its sentencing policies. Also, she says the regional prison system could make it harder for families to visit loved ones in prison. And keeping those family ties intact usually means a smoother re-entry into society. Plus, she says, $800 million is a lot of money.
"Yeah and imagine what all that money could do if you reinvested it into communities, into education," she says. Or repairs. She says think of all the holes you could patch with that money.
Meanwhile at Donaldson, Captain Baldwin says they're making do with what they have. He says their secret to prison security is a good relationship with inmates. But even with good relationships, there were still 11 assaults there in January.