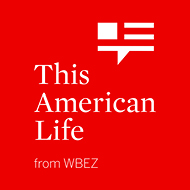 There's a theme to each episode of This American Life (Sunday from 2-3 p.m.) and a variety of stories on that theme.
Mostly the show is journalism, but an entertaining kind of journalism that's built around plot. In other words, stories! Our favorite sorts of stories have compelling people at the center of them, funny moments, big feelings, surprising plot twists, and interesting ideas. Like little movies for radio.
The show is an experiment.  One program was taped for 24 hours in an all-night restaurant. Another, featured a band put together from musicians' classified ads. One of the most popular episodes explained the 2008 economic collapse as it was starting to unfold.