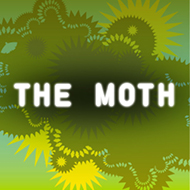 The Moth Radio Hour (Saturday from noon to 1 and Sunday from 5 – 6 p.m.) is a weekly series featuring true stories told live on stage without scripts, notes, props, or accompaniment. Each Moth Radio Hour mixes humorous, heartbreaking, and poignant tales that captivate, surprise, and delight audiences with their honesty, bravery and humor.
Moth storytellers stand alone, under a spotlight, with only a microphone and a roomful of strangers. The storyteller and the audience embark on a high-wire act of shared experience which is both terrifying and exhilarating.
The Moth Pitch Line invites people to pitch story ideas online or through a toll-free hotline.