Why trees are an environmental and health Swiss army knife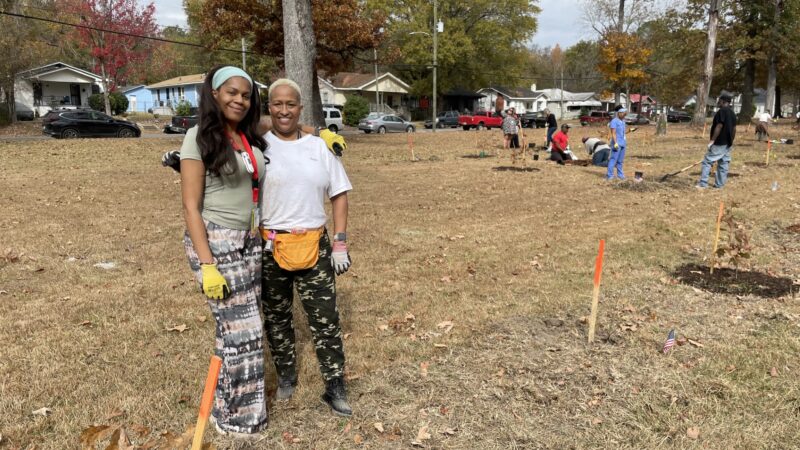 This story is part of a regular series called Outdoor Connections, which features stories that explore the biodiversity of Alabama and how we depend on it.
"On one side is this big, beautiful lake. On the other, is the airport," Francesca Gross said, as she explained why Lynn Park, just across the street from East Lake Park in Birmingham, was a perfect location to plant trees.
As if on cue, a jet revved its engines and took off from the Birmingham-Shuttlesworth International Airport. Gross paused to let the jet get out of earshot, then went on to describe how hard surfaces in cities — like the hundreds of acres of concrete runway, just over a berm a few hundred yards away — can hold in heat.
"That's an urban heat island," said Gross, the program manager of Cool Green Trees. "Temperatures get hotter during the day, nights stay warmer and people can't cool down."
That's why Gross and her team at CGT plant what amount to mini-forests in various neighborhoods in the Birmingham area, including at Lynn Park recently. Those trees provide shade, as well as water vapor, that bring down the temperature.
They also offer a number of other benefits, both for the health of the environment, as well as for humans, made all the more critical by the havoc climate change is playing on the weather. Those effects are made all the worse in inner-city neighborhoods, where CGT focuses much of its work.
Trees and the inner city
In its first full year of actual planting, Gross said CGT will plant about 500 trees. Because trees bring so many health benefits, the organization received an initial grant of almost $400,000 through a fund connected to the Jefferson County Department of Health. The fund, the Jefferson County Department of Health Donor Advised Fund, committed an additional $550,000 to help support CGT for the next four years.
Dr. David Hicks, Health Officer with the Jefferson County Department of Health, said CGT's focus on under-resourced communities was a major reason why the health department agreed to the funding.
"The great thing about the Cool Green Trees initiative is that, based on data analysis, they have mapped within Jefferson County where these areas [are] that have low tree canopy. And they happen to oftentimes be in neighborhoods that have a lower income status," Hicks said.
Hicks said these neighborhoods are often prone to flooding and located near industrial facilities that produce air pollution and are built on large swaths of impervious surfaces that absorb heat. Trees help clean the air, mitigate the effects of extreme rains, and reduce the effects of urban heat islands.
That's especially critical as the climate changes and temperatures increase. He said trees can even increase property values.
"It's not a panacea, but a simple approach is planting trees strategically in certain areas to help impact people's lives in a positive way," Hicks said. "There's not that many things that you can get that much impact based off of one intervention."
Planting and gathering
Gross, CGT's program manager, said there's more to the group's approach than showing up with trees and shovels.
"Community outreach is essential. We do that all year round," she said. "We go to neighborhood meetings. We call people on the phone. We go door to door, leaving notes."
Back at the planting in Lynn Park, Robert Walker was there with his own pickaxe to help break through Alabama's notorious clay.
"I'm happy to be a part of this, because they was respectful enough to give us a call and say, we're doing this in your community, in your neighborhood," said Walker, president of the East Lake Community and Wahouma Neighborhood.
He said CGT showed a willingness to connect with and include members of his community. So, when the group asked if he'd like to volunteer at the planting at Lynn Park, he jumped on the opportunity.
"I've got dirt and grime all over my wonderful white T-shirt," explained Traci Carlise, with a laugh. "And that's [from] carrying bags of mulch out to people who are currently digging the holes."
Carlisle is a whole health coordinator at the Department of Veterans Affairs. She grew up in the area and believes planting trees will have a positive impact on the park and surrounding neighborhood.
"Seeing more life and vitality [in] these parks will make people want to bring their families out more, so we can see the picnic, so we can see the next generation of kids and families enjoying these parks," Carlise said.
Connecting to my community
Dan Howard also volunteered to help plant. He's a veteran and wellness coach at the Birmingham VA. Well before he joined the Marines and the army reserve, and did tours in Iraq, he spent time where he's planting today.
"I remember playing peewee football at this park," explained Howard.
Howard considered the trees mental health care.
"This is me connecting with the earth and my community, and treatment for me, along with maybe injuries I've suffered in the military. So, this is part of my care."
As is the case with Howard, it's not just the trees being nurtured. Those planting them, as well as those living nearby, are being nurtured as well.
Do you have an idea worth featuring as part of our Outdoor Connections series?Email [email protected].