'We're going to help them': How Mississippians are banding together after a devastating tornado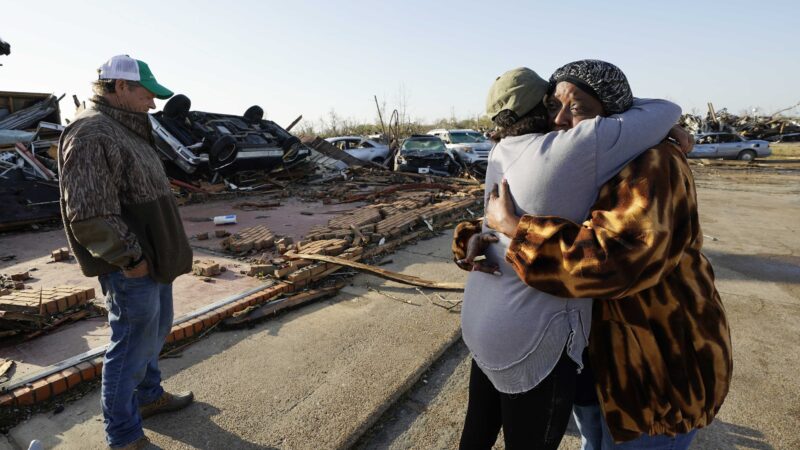 After a powerful tornado leveled parts of West and Central Mississippi Friday night, state and local rescuers are coordinating aid efforts for the hardest hit towns.
In what state meteorologist Lance Perrilloux called a "very rare event," the tornado covered about 170 miles and lasted for more than an hour. It struck Rolling Fork just after 8 p.m. on Friday before damaging several other towns in the Delta on a path toward Alabama.
In a tweet Saturday morning, the Mississippi Emergency Management Agency (MEMA) confirmed 23 people are dead, dozens are injured and at least four people are missing, but "unfortunately, these numbers are expected to change." At least one person also died during the storms in Alabama after being trapped under a mobile home that flipped overnight.
Anna Guizerix, managing editor for the Vicksburg Post, said staff started calling people in nearby Rolling Fork and other damaged towns overnight as the devastation became clear.
"We stayed up overnight and tried to find out any information we could," she said.
As information trickled in on Saturday, she said the tornado took people by surprise.
"There was one restaurant, people were eating inside. They were finishing up their dinner and they heard the roaring of the tornado. And the owner rushed everybody into the walk-in cooler and the restaurant was destroyed," she said. "Everybody in the cooler was saved."
Late Friday and early Saturday morning, video footage on social media and in news outlets across the Gulf South trickled in showing widespread damage, downed power lines and reports of people trapped in their homes and vehicles.
MEMA sent out roughly 300 search and rescue personnel to continue working to account for missing people and assist impacted counties with recovery and aid, like water distribution and opening up shelters.
"One of our goals at MEMA is to help restore normalcy as quickly as possible," said External Affairs Director Malary White. "For those people who are displaced, we just ask for patience right now as we begin the recovery process, and to be safe if you do go back to your homes to start cleaning up debris."
Vicksburg Mayor George Flaggs, Jr. was among the people who headed to Rolling Fork on Saturday. He said the community is clearly distressed.
"It's more devastating than the pictures could ever show," Flaggs said in a phone interview. "The amazing thing is, in spite of the devastation, to see how so many people in Mississippi mobilized to this site so fast. It is unbelievable the number of volunteers, law enforcement agencies and emergency management people… just about all the elected officials in this area."
Lt. Gov. Delbert Hosemann toured Rolling Fork on Saturday. He met with Mayor Eldridge Walker to discuss the city's next steps in seeking aid.
He also spoke with residents — many of them standing in the streets looking over debris covering where their homes, furniture, vehicles and more used to be.
"These people have suffered a catastrophic loss … it's just piles of rubble everywhere," he said during a phone interview. "They just want to see somebody cares. I hugged the mayor, I talked to the alderman and talked to the people standing here in the lumber yard and tell them we're going to build back, and we're going to help them."
'A long-term recovery'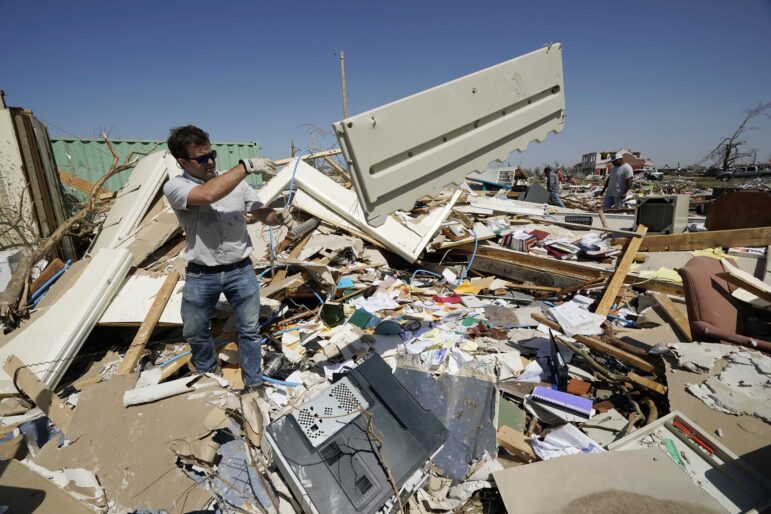 In Vicksburg, the United Way of West Central Mississippi has begun collecting donations and supplying water to the community. Michele Connelley, the organization's executive director, said that many of those impacted by the tornadoes have been struck by disaster before. In 2019, there was major flooding, leaving half of a million acres of the lower Mississippi Delta underwater.
"I personally know individuals who call Rolling Fork home," Connelley said. "They are very close to Vicksburg and the United Way of West Central Mississippi, and also assisted in the Yazoo Backwater flood in 2019. These are the exact same people that were affected by that horrible disaster."
Now, she said her most immediate goal is to get clean water to Rolling Fork. United Way has begun collecting bottled water donations — some three truckloads in under a few hours. The nonprofit has also started a fund for disaster relief, with 100% of the profits going to recovery efforts, which Connelley said isn't going to happen overnight.
"This is going to be a long-term recovery," she said. "This is going to be something that's going to affect these families for years to come."
'All hands on deck'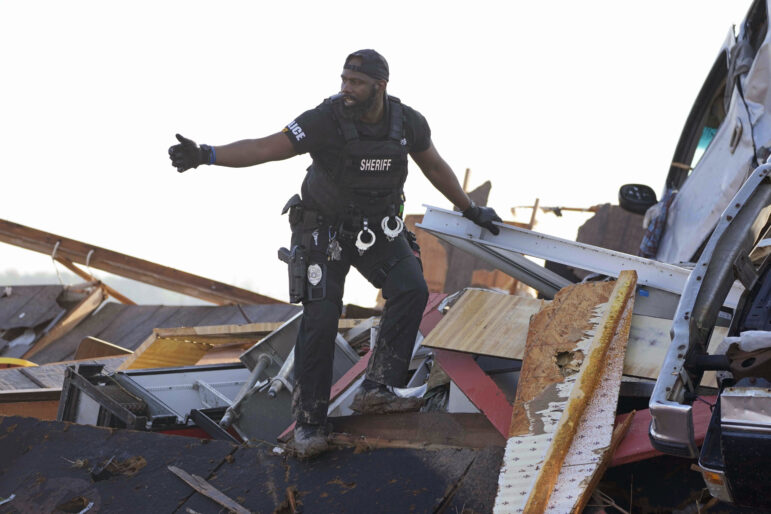 The Sharkey-Issaquena Community Hospital in Rolling Fork was damaged and evacuated because of a lack of power and water, according to MEMA. Nearby hospitals, including Merit Health River Region in Vicksburg, reported getting 16 patients in its emergency room but could handle more if necessary.
About 25 miles south of Rolling Forks at Baptist Memorial Hospital in Yazoo City, Chief Administrator Mac Flynt said they got an influx of injured patients as well — treating about 20 patients with a wide range of injuries.
"As you can imagine, it was all hands on deck last night," Flynt said. "Anything from stitches all the way up to trauma."
He said the hospital set up a temporary triage space and also brought in extra nurses, nurse practitioners and doctors to help.
"Just to be prepared for anything that walks through the door," he said. "Because whenever you're driving in like I was last night, you just don't know what's going to happen until they walk through the front or the back door."
Flynt said watching the aftermath of the tornados has been emotional.
"I see the response from my staff. I see how much they care for the community, for the patients," he said. "Especially in a small town like that, it really rocks everybody's world."
Shelters and meals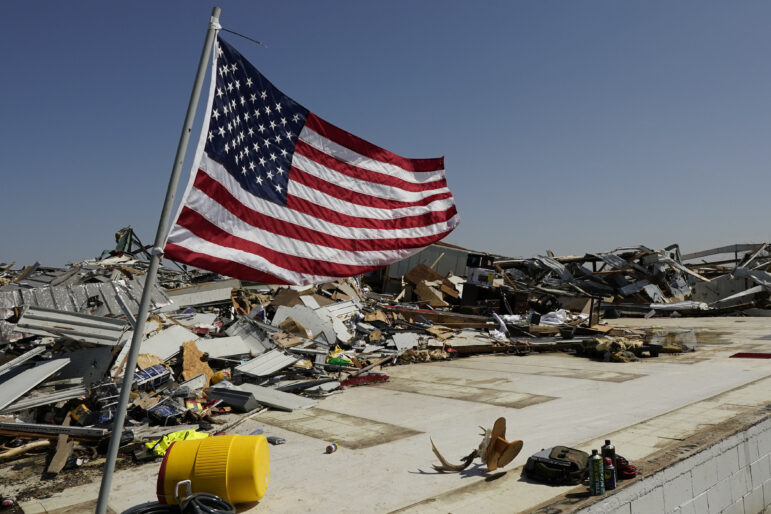 MEMA released a list of shelters and meal locations for impacted counties at the following locations:
National Guard Armory, 19719 US 61, Rolling Fork, Mississippi
Humphreys County Multipurpose Building, 417 Silver City Road, Belzoni, Mississippi
Old Amory National Guard Building, 101 S 9th Street, Amory, Mississippi
The American Red Cross has also set up an additional shelter at Greenville, Mississippi's multipurpose center. The Red Cross is providing food for thousands of breakfast, lunch and dinner meals at these shelters, according to a MEMA press release. The state agency also said a team from the Federal Emergency Management Agency is on its way to help.
Additions or changes to shelter and meal locations will be posted on MEMA's Facebook and Twitter social media accounts.
Mississippi Public Broadcasting's Kobee Vance and Teresa Collier and Gulf States Newsroom's Danny McArthur, Maya Miller, Rashah McChesney and Orlando Flores Jr. contributed to this report.
This story was produced by the Gulf States Newsroom, a collaboration between Mississippi Public Broadcasting, WBHM in Alabama, WWNO and WRKF in Louisiana and NPR.