'Unprecedented' education budget passes Alabama Senate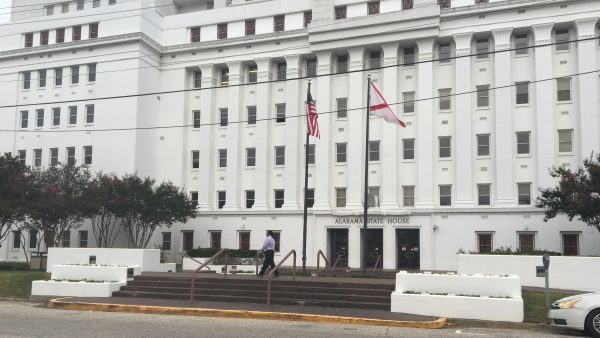 The Alabama Senate passed an $8.8 billion education budget Thursday, a budget in recording-setting territory.
"That doesn't even count the $2.8 billion supplemental appropriations bill that's on top of it and that's thanks to extra revenue that's accumulated since the last budget – an unprecedented amount of money," said Todd Stacy, host of Capitol Journal on Alabama Public Television.
Stacy discussed that and other action in the legislature this week.
What's in and what's out
The proposed spending package includes a 2% pay increase for teachers along with more money for K-12 schools, higher education and community colleges.
"[Senate Finance and Taxation Education Committee Chairman] Arthur Orr told me he's never had a more difficult budget year, just because there's so much money and everybody has their hand out wanting more," Stacy said.
Perhap the most notable changes came in the supplemental spending plan. Gov. Kay Ivey had proposed sending taxpayers rebate checks of $400 for single filers and $800 dollars for couples. Senators cut that down to $105 for singles and $210 for couples. With that reduction, $500 million dollars would be sent to an education "rainy day" account.
Ivey faced criticism over proposed spending on projects not directly tied to education. They included a planned water park in Montgomery and relocating the Mobile airport. Senators stripped out that spending.
"I talked to Arthur Orr. He said, 'Look, those are tough decisions. These are extra funds. They're worthy projects.' He said at the end of the day they want to spend education dollars on education projects," Stacy said.
Help for Birmingham-Southern College
Officials at Birmingham-Southern College announced last month they would stay open despite years of financial troubles coming to a head in December. That was based on receiving $37.5 million in public money – $30 million from the state – but none of those funds have been promised. Now the state's money at least appears to be coming to BSC as a loan, as opposed to a direct payment.
The Senate passed a bill Thursday that sets up a loan program to help struggling private and public colleges in Alabama. While it doesn't name Birmingham-Southern, the bill is intended to help the school.
"Lawmakers were a lot more comfortable with a loan situation, rather than simply cutting a check," Stacy said. "My sense is this is going to make it through and become law."
Drag show bill introduced
The latest front in the culture war is now in Alabama – a drag show bill. Conservative lawmakers across the country have introduced bills to limit drag shows. Some have been very broad while others are more narrowly tailored.
The Alabama bill, introduced last week by Republican Rep. Arnold Mooney of Indian Springs, would add a provision to the state's anti-obscenity laws to prohibit "male or female impersonators, commonly known as drag queens or drag kings" from performing in K-12 public schools, public libraries, and in other public places where minors are present.
Reaction to these bills have fallen largely along party lines. With Republicans holding a super-majority in the legislature, Stacy believes the proposal does have legs.
"Will it get a vote? Absolutely. This is a headline-grabber for Republicans in a good way." Stacy said. "But on the long list of things that really need attention, I don't think this is towards the top."
A federal judge last month temporarily blocked Tennessee's first-in-the-nation law placing strict limits on drag shows, siding with a group that filed a lawsuit claiming the statute violates the First Amendment.
New digs for legislators?
Believe it or not, the Alabama State House was not intended to be a state house. The building was originally the headquarters for the Alabama Department of Transportation. Lawmakers "temporarily" moved into the building in the 1980s. They're still there.
"Anyone who has been to the State House knows that it is in dire disrepair," Stacy said. "It's long outlived its lifespan."
Legislators this week approved a process that could lead to a new building. The idea is that the new State House would go directly behind the current one, on what is now a parking lot. Lawmakers have also asked the Retirement Systems of Alabama to solicit requests for proposals.
There is no price tag or design yet. But officials want RSA to finance and build the State House and then lease it back.
"I think that's probably the much more politically, less risky option. Nobody wants to vote on building themselves a new state house. That would be politically fraught," Stacy said.
Other action
Bill would make it a felony to help people who vote absentee
Lawmakers give final passage to bill cracking down on exhibition driving
Alabama Senate OKs ban on trans athletes at a college level
Alabama lawmakers advance 'divisive concepts' ban
Lawmakers advance tax exemption for overtime pay
Includes reporting from the Associated Press