UAB tops Utah Valley, sets up Conference USA showdown in NIT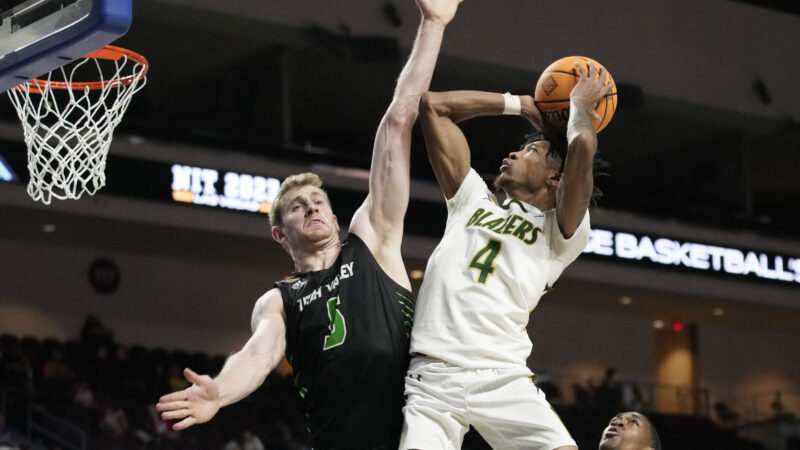 LAS VEGAS (AP) — Ty Brewer had a career-high 30 points with 12 rebounds and five steals, Eric Gaines scored seven of his 13 points in overtime and UAB beat Utah Valley 88-86 on Tuesday night to set up an all-Conference USA final in the NIT.
UAB (29-9) will face North Texas for the fourth time this season on Thursday for the NIT championship. UAB lost to North Texas twice in the regular season before winning 76-69 on March 10 to advance to its second straight conference tournament championship game.
Gaines scored UAB's opening five points of overtime and Trey Jemison added a putback for an 81-76 lead. Gaines also made a contested shot in the lane to make it 83-78.
Brewer sank a jumper from the free-throw line to put UAB ahead 85-83 with 46 seconds left. After a timeout, Utah Valley was forced into a contested 3-pointer at the shot-clock buzzer that did not hit the rim. Jordan Walker was fouled and made two free throws for a four-point lead.
After Utah Valley made a 3-pointer with 3.2 seconds left, Walker sank a free throw before missing the second with 0.8 left. The Wolverines' full-court heave at the buzzer went over the backboard.
Walker finished with 17 points on 5-of-23 shooting for UAB.
UAB scored the opening eight points of the game, with six from Brewer, and led until Utah Valley took its first lead, 62-61, with 8:13 remaining in regulation following a 10-2 run.
Utah Valley guard Trey Woodbury made two free throws with 1:52 left in regulation and he sank a floater in the lane to tie it at 74-all at 33.9. Walker had two chances to break the tie, but he was short on a jumper and his runner bounced off to send it to overtime.
Woodbury and Justin Harmon each scored 16 points for Utah Valley (28-9). Woodbury also had 11 rebounds and six assists. Aziz Bandaogo had 14 points and six rebounds and Tim Fuller, averaging 6.6 points per game, added 14 points and eight boards.
UAB holds WBHM's broadcast license, but the station's news and business departments operate independently.