Tougher penalties on fentanyl trafficking now law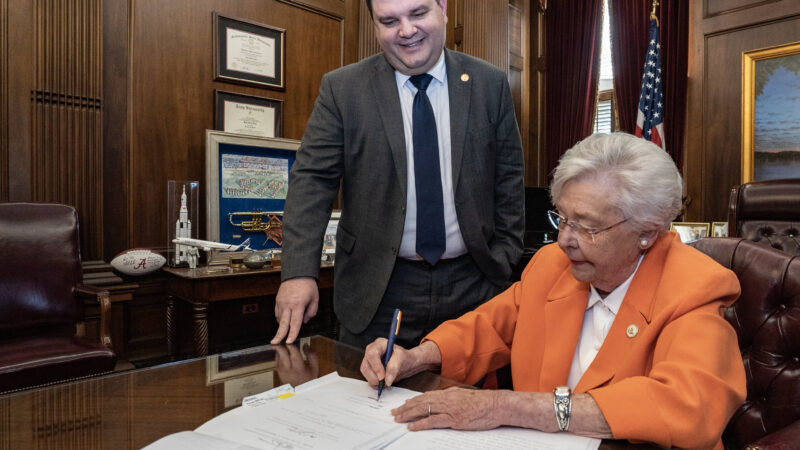 Gov. Kay Ivey signed a bill into law Thursday which would set mandatory minimum sentences, up to life in prison, for trafficking fentanyl. The powerful synthetic opioid has driven the number of overdose deaths higher in Alabama and around the country. It's been found mixed with other illicit drugs.
The measure passed without a dissenting vote in the Alabama House and Senate.
"I don't know if it was surprising, but it was notable," said Todd Stacy, host of Capitol Journal on Alabama Public Television. "That rarely happens."
Stacy discussed that and other actions in the legislature this week.
Harsher penalties for fentanyl trafficking
The bill sets mandatory minimum sentences for fentanyl trafficking based upon the weight of the drug. Bill sponsor Republican Rep. Matt Simpson of Daphne said the weight is based on "pure fentanyl" instead of the combined weight when fentanyl is mixed with another drug.
The mandatory penalties are:
— Three years in prison for amounts between one gram and two grams.
— Ten years in prison for amounts between two grams and four grams.
— Twenty-five years in prison for amounts between four grams and eight grams.
— Life imprisonment with the possibility of parole for amounts of eight grams or more.
"One gram seems low … However, one gram can kill up to 500 people. One gram is not for personal use," Simpson said.
Stacy said Republican and Democrats have agreed something needed to be done to combat fentanyl overdoses, but also gave credit to Simpson for the bill's smooth passage.
"He was methodical about it. He didn't just drop legislation that he wanted," Stacy said. "He really reached out to lots of groups, lots of his colleagues, to make sure everybody understood and everybody was on the same page and that's how you get to unanimous."
Tax cuts of a modest kind
On Thursday, the Alabama House passed two bills which would create small tax breaks by adjusting the lowest and highest income tax rates. It comes as lawmakers decide what to do with billions in surplus funds.
One bill would eliminate the current 2% tax that people pay on the first $500 of taxable income for single people and $1,000 for married couples who file their taxes together. The other bill would gradually reduce the 5% state income tax rate — paid on taxable income over $3,000 for single people and $6,000 for taxpayers who are married and file their taxes together — to 4.95% in 2027.
The two bills combined would offer about $82 million in tax cuts.
"I wouldn't say that these are held up as a big-ticket item, it's just part of a bigger picture," Stacy said.
Lawmakers are expected to consider proposals that would eliminate the state's 4% sales tax on groceries. Democrats have also backed the idea of exempting overtime pay from state income tax.
Tapping the brakes on distracted driving bill
The Alabama House decided Tuesday to delay voting on a bill that would make it illegal to use a handheld cellphone while driving. A majority of states have similar laws.Alabama already has a ban on texting while driving, but debate among became mired in details, dragging on for three hours.
Legislators questioned how the ban would be enforced or if it would be used to target minority drivers.
"I spoke with the speaker about this, he's like, 'Look, the bill's not dead.' But there were enough concerns, let's … figure out what you want the bill to look like and then we'll bring it back," Stacy said.
The Senate also passed a bill intended to crackdown on exhibition driving, which includes burnouts, donuts and street racing. The legislation has been driven by Democratic Sen. Roger Smitherman and other Birmingham-area lawmakers after several people were killed or injured in exhibition driving incidents. 
"I think every city experiences these kinds of things and a law on the books, I think, would be useful in many urban environments," Stacy said.
Includes reporting from the Associated Press