These billboards want you to know how to get abortion pills — even if your state banned abortions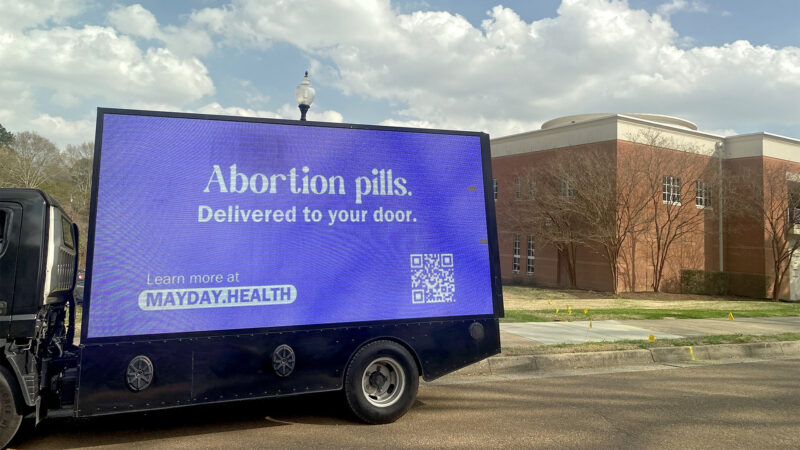 As Women's History Month gets underway, mobile billboards are visiting college campuses in 14 states with abortion bans carrying a reminder that abortion pills are still accessible all across the country.
Mayday.Health, a nonprofit launched last year after legal abortions were heavily restricted or banned in 26 states, was created to provide information on where and how to safely order abortion pills. The traveling billboards are fitted with QR codes that direct people to resources specific to the state where they are hoping to have pills delivered.
The process can be cumbersome to navigate — involving forwarding mail between states, depending on abortion laws, or waiting weeks for an international prescription.
"We do not pretend that they are perfect," said Dr. Jennifer Lincoln, executive director and president of Mayday. "We wish that everybody could just get these medications as easily as you can get Tylenol or Viagra in this country. Where there's a will, there's a way."
Lincoln, an OB-GYN from Portland, Oregon, hopes that by showing up in states with strict abortion bans, these billboards will raise awareness that there are still options for reproductive care. Using her privilege as a health care provider in a protected state, she also wants to engage students and keep the momentum for the reproductive fight going.
Abortions have been banned in the Gulf States since last June, but access was already heavily restricted and inequities in reproductive health care overall run deep. Rural counties suffer from minimal access to health care, and maternal and infant mortality rates continue to be some of the highest in the country.
"In Mississippi and Louisiana, in Alabama, in these Gulf states, we know that in these areas we're already struggling with access to care, with maternity care deserts — that people are already struggling to get the health care they need," Lincoln said.
Lincoln said women do not have to wait for a crisis to order abortion pills or emergency contraception, but can order and store them "to know you've got this in your back pocket."
The mobile billboard tour is happening against the backdrop of a lawsuit filed in federal court in West Virginia that could have national implications. GenBioPro, a manufacturer of one of the duo of pills taken for a medication abortion, argues it is unconstitutional for the state to ban the drug and that federal oversight takes precedence over state law.
While abortion pills remain illegal to prescribe in places with abortion bans, the Department of Justice maintains that it is legal to mail pills across state lines.
"It's exhausting, but we are going to do it. We have to, because I look at my kids and these younger generations, and we won't give up until we get our rights back," Lincoln said.
The Mayday billboards will be traveling around these states with abortion bans over the coming days:
Jackson, Mississippi
Montgomery, Alabama
Baton Rouge and New Orleans, Louisiana
Nashville, Tennessee
Austin and Dallas, Texas
Augusta and Savannah, Georgia
Little Rock, Arkansas
Charleston, West Virginia
Frankfort and Louisville, Kentucky
Boise, Idaho
Jefferson City and St. Louis, Missouri
Madison, Wisconsin
Oklahoma City, Oklahoma
Pierre, South Dakota
Visit Mayday.Health online or on Twitter and Instagram for more information.
This story was produced by the Gulf States Newsroom, a collaboration between Mississippi Public Broadcasting, WBHM in Alabama, WWNO and WRKF in Louisiana and NPR. Support for reproductive health coverage comes from The Commonwealth Fund.