The Birmingham Zoo wants to build a new cat exhibit. First they must deal with unmarked graves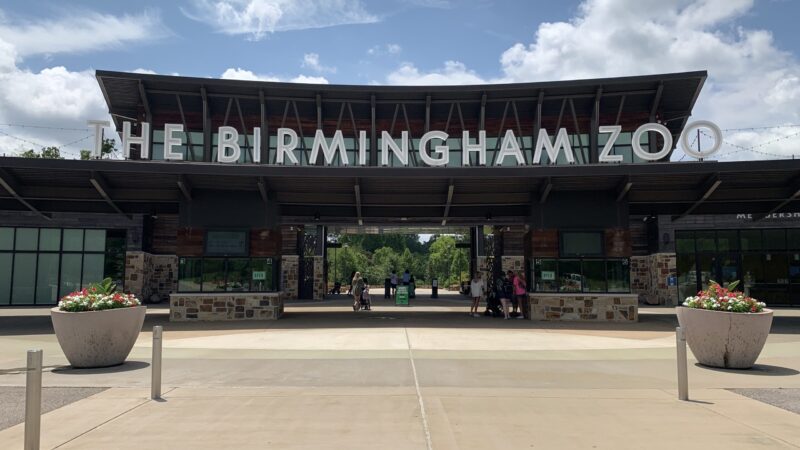 The Birmingham Zoo plans to build a new habitat called Cougar Crossing in the zoo's Alabama Wilds section. But a recent archeological survey found at least 12 graves under the proposed site. Now the zoo has filed for a permit with the Alabama Historical Commission to professionally exhume the graves and reinter them nearby.
"We see it as an opportunity to tell the story of Birmingham. It's got a great story," said Chris Pfefferkorn, the zoo's CEO and President. "I think it gives us a great opportunity as folks visit their zoo to learn even more about their zoo, Birmingham, and where they live."
The zoo has been open since the 1950s, but before that, it was a park and earlier a cemetery. It's changed names almost a half dozen times from Southside Cemetery and New Southside Cemetery to Red Mountain Park and Red Mountain Cemetery to Lane Park.
Records show that in the 1880s the city of Birmingham bought 120 acres where the zoo now sits to use as an overflow for the city's first cemetery, Oak Hill. The goal was to use it largely as a Potter's Field for people who couldn't afford to be buried.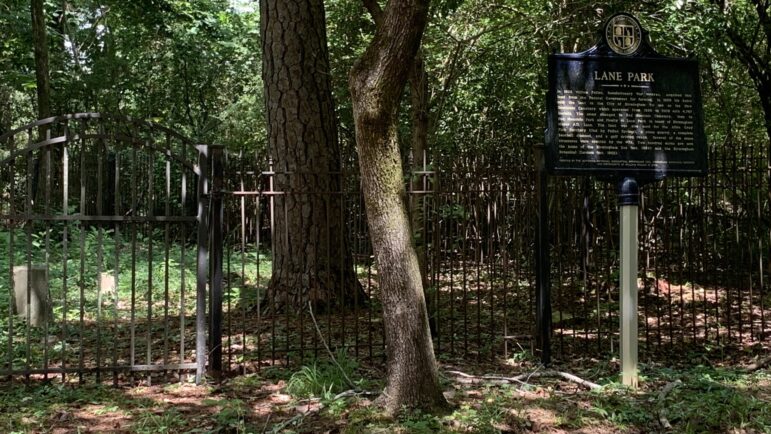 Over a 20-year period, more than 4,700 people were buried there. But tracking down these graves can be hard.
"There has been no map that we can find. We have a list of names, but it doesn't correlate to any position within this area," said Pfefferkorn.
It's an issue Gary Gerlach, the former director of the nearby Birmingham Botanical Gardens, ran into as he spent years researching the history of the area.
"There's no identification so you don't know [where someone is buried] until you put a shovel in the ground," said Gerlach.
Gerlach said that if the permit is approved, the zoo could possibly come across more than 12 graves already discovered under the proposed development.
Terri Hicks, the Jefferson County representative for the Alabama Cemetery Preservation Alliance, said that's why it's important that the organization is involved in the exhuming process.
"If we can get just to have our boots on the ground [and] just to be there to answer questions … I'd like to be there," said Hicks.
The ACPA works alongside residents and the Alabama Historical Commission to find, preserve and maintain thousands of cemeteries across the state.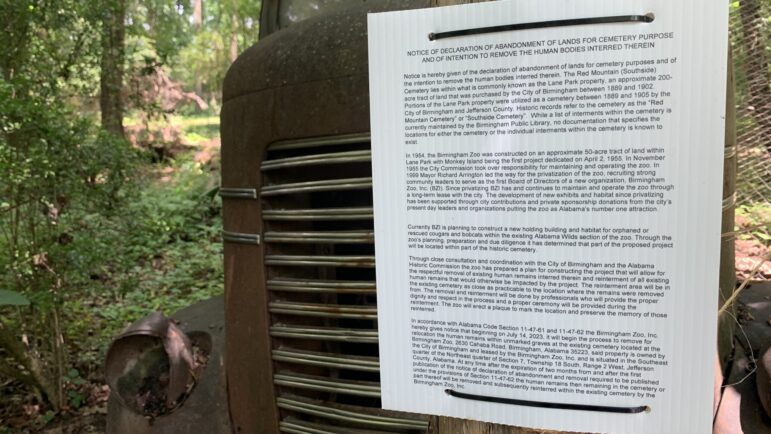 The historical commission will make the decision on the relocation permit. A commission spokeswoman said it hasn't received any relocation permit applications in the past five years.
It's at least a two-month-long process. Each application is reviewed by multiple staff members and they have to include legal documents, previous investigations within the cemetery and proposed methodology for the removal and reinterment of human remains.
If the plan is approved by the commission and the graves are exhumed, archeologists might find remains or burial objects. But Pfefferkorn wasn't counting on it.
"Our expectation of finding things is very low because, one, they weren't kept in a vault or container that would protect the body longer and, two, with the [acidic] soil composition, we may not find much. But it's up to the archeologist," Pfefferkorn said.
In any case, the zoo has a plan. Pfefferkorn said they'll treat any remains with respect by putting them into pine boxes, commemorating them via a placard, holding a ceremony and building a database with their GPS coordinates.
Leaving some kind of marker is exactly what the zoo should do, said Hicks.
"Because if you don't people are going to forget. And every marker is a person just like us. You have to respect those markers and respect the people that those markers represent because they had lives just like we did," she said.