Proposed Ivey budgets: Income tax rebates; public money for charter schools; modest pay raises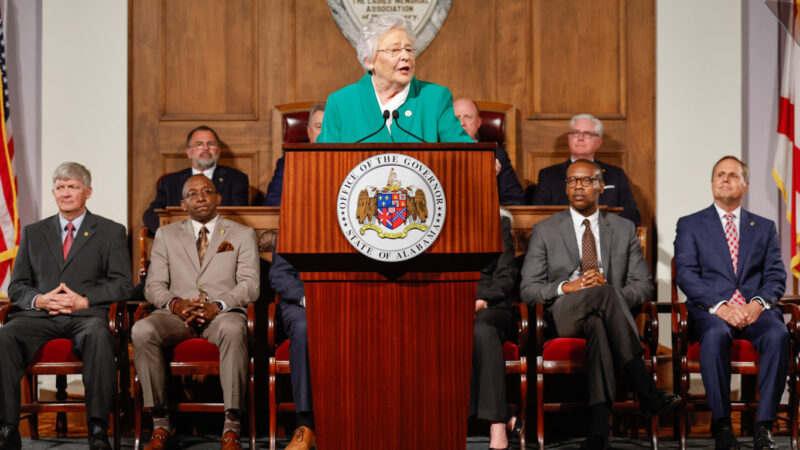 By Jemma Stephenson, Alabama Reflector
Gov. Kay Ivey's proposed budget for 2024 will call for state money for start-up charter schools, tax rebates for those who filed income taxes in 2021 and some pay raises for state employees.
In a budget briefing given to reporters Tuesday morning, Alabama Department of Finance Director Bill Poole said Ivey's budget aims to stabilize state finances.
"Alabama, especially considering the state of the nation's economy, is on sound footing," Ivey said in a statement Tuesday afternoon. "Our budgets are strong, and that is, no doubt, because of the fiscally conservative approach we have taken and continue to take."
The governor will propose an $8.798 billion Education Trust Fund budget and a $2.969 billion General Fund budget. If approved, both budgets would be the largest in nominal terms in state history.
The Alabama Legislature will have the final say on what the state's two budgets look like.
Ivey's budget would allot $966.7 million for $400 for single-filing taxpayers and $800 for those filing jointly.
Poole said that the rebates would be paid to 2021 taxpayers. According to the Alabama Department of Revenue, part year single residents must file if their income exceeds $4,000 a year. An Alabama resident and joint filing Alabama residents must file if their income exceeds $10,500 as Alabama residents.
"So, to the extent these are excess funds received by the state paid in by taxpayers, returning those to the taxpayers and the filers was the most efficient and effective way to administer those funds back to the paid to the taxpayers," Poole said. "So, we'll focus on filers."
If approved by the Legislature, the rebates would go out 60 to 90 days from the effective date of the legislation.
The governor also proposed modest pay raises for teachers and state employees. The budget gives a 2% raise for both groups.
Poole said the governor is focusing on "sustainable" pay raises for teachers rather than "large swings."
"Again, we know we have a teacher shortage," he said. "We know this is a tight labor market and it is critical that educators have career pathways in classrooms."
Poole told reporters that $10 million dollars will be allocated to start-up charter schools. The supplemental appropriations sent to reporters said that another $10 million would be allocated to existing charter schools.
It's not immediately clear how much money is needed to start a charter school in Alabama. A message seeking comment was sent to Alabama State Department of Education Communications Director Michael Sibley Tuesday.
In the supplemental appropriations, Ivey allocates $360 million to the Education Trust Fund for school construction and deferred ground and building maintenance. $150 million would go to rural school districts "that demonstrate the highest need for capital improvement and equipment relative to financial capacity."
At budget hearings earlier this month, state budget officials urged legislators to be cautious with what appear to be record-breaking state revenues, citing what appears to be slowing growth in tax collections. Poole said Tuesday that this budget came after learning lessons from the past, namely the Great Recession. He said there was historic income preceding the recession, and they don't believe that the state's current amount of money is sustainable.
"So, recognizing the lessons of the past, preparing for stability in the future, for the benefit of our citizens," he said.