Oats steers Alabama to March Madness in a turbulent season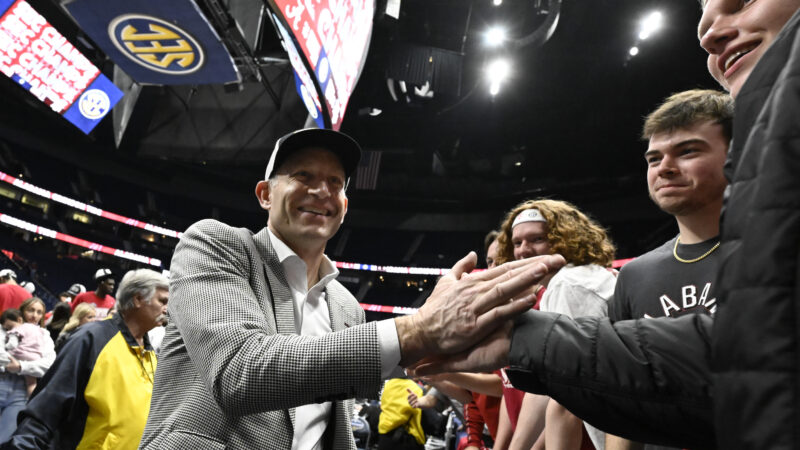 By John Zenor, AP Sports Writer
Nate Oats is steering Alabama through the best and most scrutinized season in Crimson Tide history.
The former high school coach and math teacher seems to have found the right equation for success on the court, twice cutting down nets to celebrate titles and leading the Crimson Tide to the No. 1 overall NCAA Tournament seed.
Oats' biggest challenges and most-questioned decisions have come off the court, where critics have piled on even as the wins piled up.
There's no coaching handbook on how to handle one of your players getting charged with capital murder in midseason while two others were involved, including one of college basketball's biggest stars in AP All-America freshman Brandon Miller.
Oats is not second-guessing his decision to keep playing Miller and Jaden Bradley.
"The fact never changed that we were going by what the police told us, that they were cooperating witnesses," the 48-year-old Oats told The Associated Press in an interview this week. "So based on everything we know — and we're not investigators, we're going on what the professional investigators have told us — Brandon and Jaden never broke any laws. They never violated any school policies. They're fully cooperating witnesses and have been truthful from the minute they met with the police that day. So I'm not sure what they would have been suspended for."
It's a decision that has drawn criticism while the Tide marched to Southeastern Conference regular season and tournament titles and the program's first No. 1 seed. It's become a major story line even as Oats has taken the Tide to unprecedented heights.
Miller went to pick up Darius Miles, who had left his gun in the back seat of the Tide forward's vehicle and sent a text asking him to bring him the weapon early on Jan. 15. Another man, Michael Davis, is accused of firing the shot that killed 23-year-old mother Jamea Harris.
Miller, whose vehicle was struck with bullets, received the text while en route and never touched the gun or knew that it was going to be used for criminal activity, his attorney said.
Oats said he has made it "crystal clear" to his team that the only victims were Harris and her family.
"That's it. That's where our prayers need to be. This is sad, awful," Oats, who described himself as "torn up," said he told the players.
He said he has been stung by criticism and apologized multiple times for a comment saying Miller was in the "wrong spot at the right time" shortly after police testimony tied Miller and Bradley to the scene. And again for not halting Miller's pre-game patdown ritual with a teammate.
"Of course it bothers me," he said. "I'm human, and nobody likes to hear this stuff said about me knowing that it's not who I am."
Oats has climbed the ranks, from leading Romulus High School in suburban Detroit to its first state title in 27 years to a successful run at Buffalo to the top of the college basketball world. All in the span of a decade. Oats received a new six-year, $30 million contract in February.
He has turned Alabama into a basketball powerhouse alongside Nick Saban's juggernaut football program, which has won six national titles since 2009. Never has the Tide had a team that appeared better equipped for hoops glory.
Miller is a projected top five NBA draft pick. Fellow freshmen Noah Clowney and Bradley have complemented players like veteran guard Jahvon Quinerly, center Charles Bediako and transfer Mark Sears.
Oats, a hoops junkie who got a paper route in the fifth grade so he could eventually buy a TV to watch college games, has built the championship-caliber roster and a team that's fun to watch with its tempo, athleticism and barrage of 3-pointers.
Former players say there's far more to their old coach.
To Valdez Green, he's the guy who took him in for two years after Green's mother was jailed four years after his father was shot to death. To Filmore Bouldes, Oats is the man who helped put him on a path to the ministry while in college. Both played for Oats at Romulus High.
Green calls Oats "a great man," coach, father and husband.
"I believe if it wasn't for Oats, I wouldn't be here," said Green, who has three daughters and an infant son. "I wouldn't be here able to take care of my kids or doing what I'm doing every day."
He still keeps in regular contact with Oats and visited Tuscaloosa last season.
"He's going to have your back. Just don't lie to him," Green said.
Bouldes said Oats brought him to chaperone a Christian youth camp before his junior year of college, helping strengthen his own faith.
"That man changed my life," said Bouldes, now an associate pastor at C3 NYC. "I wouldn't have gotten a scholarship. I wouldn't have learned discipline, work ethic."
He said it's been emotional for him and his family to see so much criticism of the man he saw as a dedicated advocate "for the betterment of young Black men who may not have had chances to go to college, get a scholarship."
Bouldes recalls getting benched by Oats and scoffs at critics who think the Tide coach would make decisions on Miller and Bradley based on wins alone.
"It's utterly ridiculous," Bouldes said. "Obviously every coach wants to win and I can see how the optics make it seem like that. But what people have to understand is that the decision he made is a decision not to make him look better, but he's actually championing Brandon. He wants to advocate for someone who he thinks is innocent. And that's what he's always done. He's always done that for us."