'Nobody is getting to you': How workforce challenges leave Gulf South EMS agencies strapped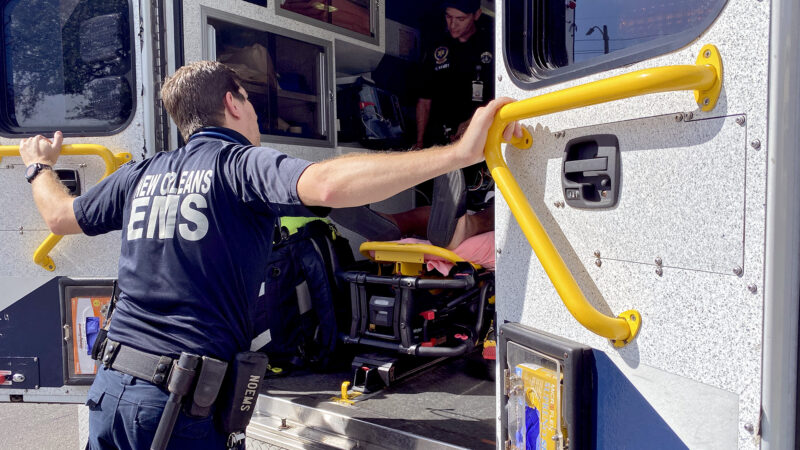 As hospitals and clinics across the nation buckle under the weight of an unprecedented health care staffing shortage, exacerbated by demands of the COVID-19 pandemic, emergency services and ambulatory care providers are also struggling to answer an increasing amount of 911 calls.
That was apparent when New Orleans Emergency Services Lt. Noah Feldman received a 911 call to help a woman in labor in mid-November. The woman, who thought she'd go into her local community health center for a primary care visit, ended up feeling tremendous pain in her abdomen. Something had gone wrong during the visit, and the 911 dispatcher told Feldman that the woman needed an emergency C-section.
"We're going to a labor and delivery in progress," Feldman said, as he turned on his siren and bounded down the bumpy streets of the city. "They said the baby is possibly breached." 
But Feldman wasn't driving an ambulance — he was traveling in a dark blue SUV known as a sprint unit. These cars cannot transport patients, but have sirens and can bring extra personnel and equipment to backup an ambulance crew.
New Orleans EMS didn't have an ambulance available at the time of the pregnant woman's call.
"We didn't have a unit available because they were stuck on the wall," Feldman said as he shuffled medical supplies into an official supply carrier bag. They're trying to get someone to leave the hospital right now."
With that, Feldman entered the health center to attend to the woman — stretched out on a clinic bed and attached to an ultrasound — and possibly administer emergency care if an ambulance didn't come soon.
'Nobody is getting to you'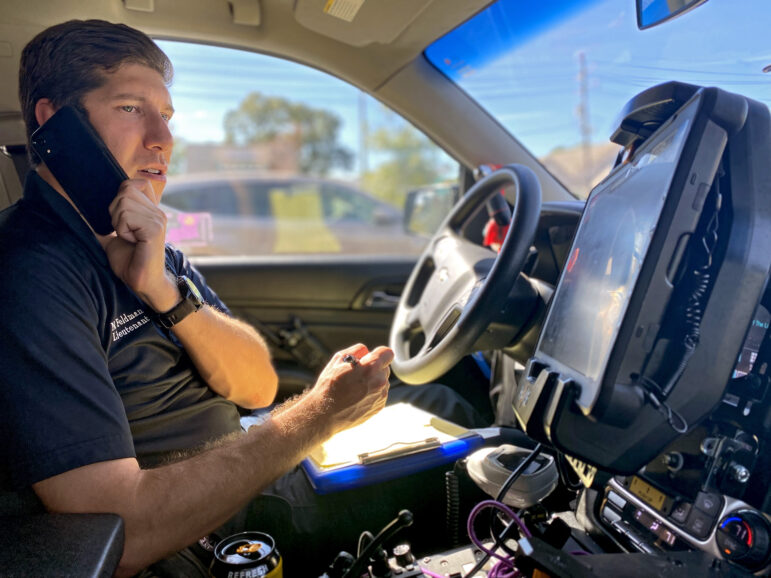 Being "stuck on the wall" is a phrase used in health care to describe what happens when an ambulance reaches a hospital and has to wait in the triage portion of the facility because a doctor or room is not yet available for the patient.  The ambulance can't leave unless EMS puts the patient into the hospital's care and custody — a process that requires checking in the patient and doing some paperwork. So, the ambulance is essentially "stuck" outside the hospital walls during the wait. 
The Gulf States Newsroom acquired data from EMS agencies in Louisiana that showed the number of patients who ended up stuck on the wall of a hospital before receiving a bed has gone up by 122% in New Orleans since 2019 — more than double what it was before the COVID-19 pandemic. That means more and more ambulances are tied up.
Terence Ramotar, director of government affairs at Global Medical Response, which runs emergency service operations across the U.S. and transports about 5 million patients a year, said this isn't just a New Orleans issue — wall times are getting worse in all parts of the country.
"Whether it's rural or urban markets, we're seeing the same," he said. "Some markets are challenged more than others."
Fortunately, New Orleans EMS, along with others in the state, have formed partnerships to adapt to wall time increases. In Feldman's case, a unit from Acadian Ambulance in another parish was able to assist him that day and transport the patient to her emergency C-section.
Feldman explains that emergency services, especially on the heels of the pandemic, have been increasingly strapped.
The direct impact of this trend, Feldman says, is that "nobody is getting to you." 
"There's always been staffing issues, and then utilization of the emergency room doesn't help," he said. "This is a lower-income city, so you've got a lot of people that use the emergency room as their source of any care or primary care."
A multifaceted problem with limited solutions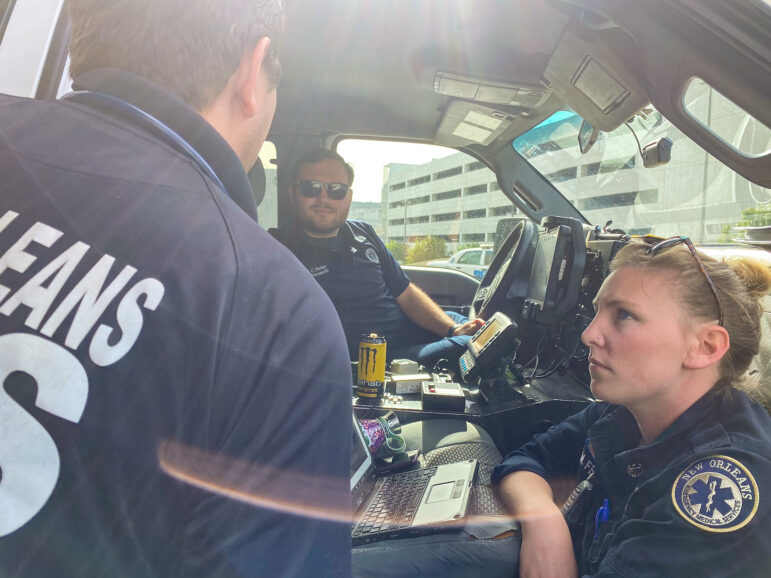 Dr. Jeffrey Kuo, an emergency medicine physician and chair of patient flow at Ochsner Health in New Orleans, says these challenges existed long before the pandemic and they are happening nationally. But now, medical associations are calling the current emergency care situation a crisis — one that Kuo says points to the "collapse of health care infrastructure in America."
"Waiting rooms are all really full," Kuo said. "People are waiting a long time to be seen. There are a bunch of admitted patients waiting in emergency departments for beds. You can only imagine what the toll is on this patient from not only a physical standpoint, but emotionally."
In a November 22 letter to the White House, several dozen health care associations wrote, "when [emergency department] beds are already filled with boarded patients, other patients are decompensating and, in some cases, dying while in ED waiting rooms during their 10th, 11th, or even 12th hour of waiting to be seen by a physician." 
Ramotar said it's difficult to pinpoint a solution to the issue because the problem is multifaceted. Kuo agrees, and points to a few key reasons as to why emergency care has reached this point.
Staffing costs have risen tremendously since the start of the COVID-19 pandemic, as nurses and doctors quit for more lucrative travel gigs. Recruitment and retention also remain hard, and researchers at Health Affairs found the total supply of registered nurses dropped by more than 100,000 from 2020 to 2021.
Hospital closures have also played a role, happening in both large cities and remote areas.
COVID-19 numbers are also slowly rising, in addition to other respiratory illnesses, which are putting added pressure on emergency rooms. And small, safety net hospitals are closing due to increasing healthcare costs and stagnant reimbursement rates from government payers like Medicaid and Medicare.  
"Even if you do have more resources available to you to be able to assess these patients initially, there's also the bricks and mortar issue where you just don't have enough emergency department beds anywhere in the country," Kuo said. "And because of that, even after the initial assessment, the patients have nowhere to go. They end up on EMS stretchers in the hallways of the emergency departments."
Emergency service companies are struggling with limited resources, too. New Orleans EMS has a 40% turnover rate — in line with recent national figures. Ramotar said paramedics are leaving the industry at a higher rate than they were before the pandemic. 
"​​This is a very stressful job," Feldman said. "Working for the city is nonstop, so that doesn't help. We're compensated, but our pay is not great, especially with cost of living going up. It's a conglomerate of bunch of things … people leave for various reasons."
Working collaboratively and finding some answers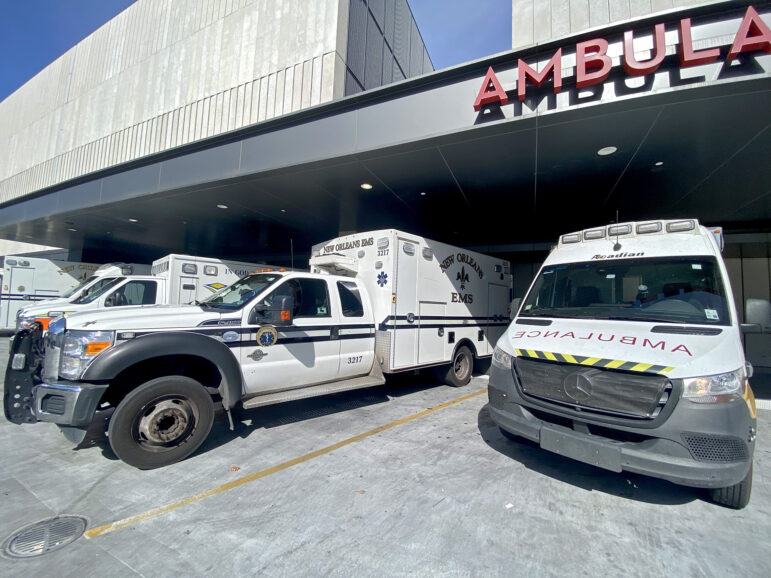 After helping with the baby delivery and answering a few other 911 calls, Feldman turns back to a trauma center in the heart of New Orleans.
There, about half a dozen ambulances from all across the state — some who traveled from hours away — are lined up. All of them are waiting to transfer patients to the hospital so they can go back into service. It's another reminder that this problem isn't going away anytime soon.
To adapt to the current medical landscape, EMS agencies are looking for ways to collaborate with hospitals and partners to ease the load as best as they can. Some solutions are as simple as making sure they don't take every patient to the same hospital, Feldman said.
EMS agencies are also working with other medical providers, too. For example, if a patient isn't experiencing a true emergency, the ambulance could take them to an urgent care or other outpatient facility.
They're also looking at ways they can expand their workforce. In Louisiana and other southern states, Acadian Ambulance has started offering to pay for school, training and certification for people interested in becoming an EMT. 
"We have been able to identify and remove certain barriers to entry, which include financial barriers and technological barriers to entry for people starting EMT school with us," said Justin Back, Acadian Ambulance president. 
Back says the company's academy is one of the larger producers of EMS crew members in the nation. Acadian is also trying to recruit EMTs from other countries, like Back's native Australia.
"We're working on that with different elected officials in the hope that we can open up Mexico and Canada, for example, to be able to bring talent in and train them as crewmembers," he said.
Ramotar says Global Medical Response is implementing many of these immediate solutions but also looking for long-term options by advocating for itself at the federal and state level. The hope is for policymakers to increase Medicaid and Medicare reimbursement rates for ambulatory care, for both emergency and non-emergency patient transports since reimbursement rates are below costs.
These government payers are a main source of revenue for ambulances, especially in underserved areas.
"Our costs over the past couple of years have increased because of supply chain issues, fuel, and of course the cost of recruiting and retaining a workforce," he said, adding that higher reimbursements could help them hire and retain staff at higher salaries.
"We've been pleading at the federal level and at the state level since this impacts the ambulance system's ability to get to the next patient," he continued. "And if that patient is, in fact, in a true life and death emergency, those minutes matter."
Feldman — who will stay on in New Orleans EMS' reserves but has ultimately decided to leave his post with the agency to become a physician assistant after the Gulf States Newsroom's ride along — says progress will depend on recruiting people and setting them up to thrive so they decide to stay and take those 911 calls. 

This story was produced by the Gulf States Newsroom, a collaboration among Mississippi Public Broadcasting, WBHM in Alabama and WWNO and WRKF in Louisiana and NPR.