JeffCo Commission agrees to support Magic City Classic for 1 year, will consider longer contract later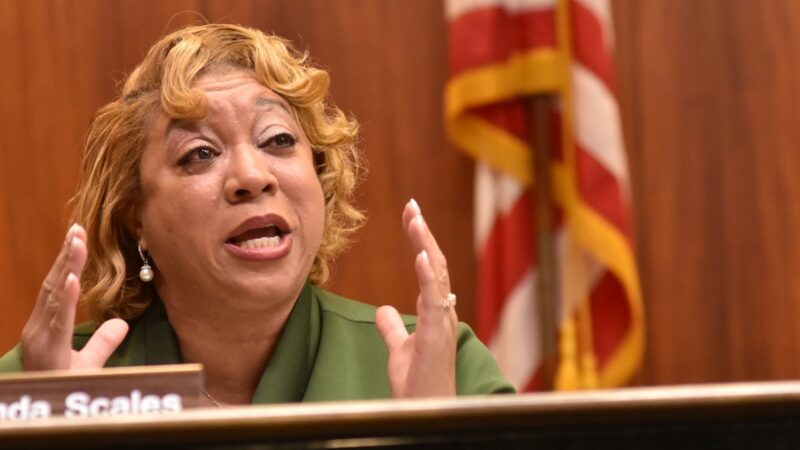 Lashunda Scales was moved to tears Thursday as she lobbied to get a three-year deal for Jefferson County to support the Magic City Classic.
But Scales' tears didn't move her fellow Jefferson County commissioners to go beyond the one-year, $500,000 commitment that was on their meeting agenda.
The commission approved the professional services agreement with the Alabama Sports Council on a 4-1 vote with Scales voting no. Sheila Tyson hesitated before voting with commissioners Jimmie Stephens, Joe Knight and Steve Ammons.
The money comes from the county's economic development fund, although Stephens, the commission president, questioned whether that was the appropriate source.
"Normally, that is a fund that attracts new business," he said. "When new business comes in, we try to incentivize them. It appears in this case we're incentivizing the schools to stay. That's business retention. There's a great deal of difference between business retention and attracting new business."
Scales argued that the Magic City Classic "meets the requirement" for drawing from economic development. She said the county had spent $11 million on The World Games, an event that "still has bills."
"You would rather for me and Tyson to keep going in our own [discretionary] money that should be fixing roads and providing services for our district," Scales said. "You would rather reap the benefits of two commissioners who are willing to give to [the Classic]. Mr. President, this is shameful."
The Magic City Classic, the annual football game between Alabama State and Alabama A&M Universities, has been played 80 times at Birmingham's Legion Field. The Alabama Sports Council for the past 23 years has organized the event, which features concerts, a parade and other activities for about a week.
Perren King, vice president of the Alabama Sports Council, said the Classic had been based on a 40-40-20 split with each school getting 40% of revenue after expenses and ASC getting 20%. The schools have entered a "gentlemen's agreement" to continue to play in Birmingham but no contract is currently in place.
"I thought some things that happened at the city were interesting," said Scales, a former member of the Birmingham City Council. "This place is ridiculous. It is shameful that [ASC], who has had this event for 23 years, the game has been coming here over 80 years and they're begging just to even be at $500,000. Can you give them at least three years? No."
Scales said the lack of a three-year deal opens the window for the universities to shop around for another place to play their annual game.
Stephens, who was absent from Tuesday's commission committee meeting when the funding was debated, said passage of today's action gives the commission a year to look at and to hammer out another funding source.
"From the facts that I've seen presented today, that sounds like a very fair deal," he said.
King told the commission that its support is essential to making the new funding model work.
"We absolutely need the support of Jefferson County at this point, 100%," he said, "and, I might add if I'm not speaking out of turn, a three-year agreement."
Knight expressed concern about the future.
"After that three-year agreement, there's another three-year agreement," he predicted. "It looks like we'll be called upon to do contributions from now on.
"I'm committed to trying to work out something for you guys," Knight said before making the motion to pass the resolution. "We were hit two weeks ago with $750,000 per year for three years or else the Classic's leaving. That's the way it was presented to us."
Ammons said a three-year, $500,000 per year deal was on the table during the committee meeting Tuesday.
"I said before and I'll say it again," he told King. "We have to start talking next week" on the next version of a Magic City Classic funding plan.
"I'm willing work with you and I'm gonna try to find that avenue," Knight said. "Commissioner Ammons is committed to that. I think Commissioner Stephens will be, too. I have said over and over [that] I support the Classic. I stood with you Commissioners Tyson and Scales in '19 and I'll still work toward [that] end. But we got what we got today."