In New Orleans, doctors and churches are teaming up to help Black parishioners get needed care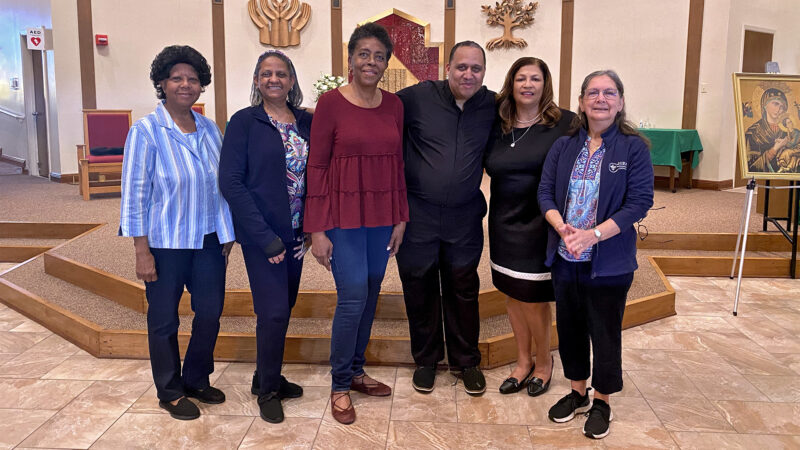 At St. Joseph the Worker Church in Marrero, Louisiana, a handful of parishioners shuffle into a brightly lit church on a Monday morning for daily mass. It's an opportunity to get together and pray for loved ones — from a friend who has landed in the hospital to a child that is sick.
Many of the parishioners at this predominantly Black Catholic church aren't just attending church functions to be well spiritually. They're also going to be well physically. They've either experienced a health condition — like diabetes or hypertension — or know someone who has.
That's why St. Joseph the Worker will be one of at least four dozen churches across the greater New Orleans area to be included in a massive study conducted by Tulane University Translational Science Institute researchers.
In 2020, The National Institutes of Health awarded Tulane $7.6 million to pilot a five-year study to place community health workers and nurses in churches to see if they can successfully treat hypertension and reduce the risk of heart disease within Black communities. The program — Church-based Health Intervention to Eliminate Racial Inequalities in Cardiovascular Health — is set to launch in the fall.
Louisiana — alongside its neighbors Alabama and Mississippi — has some of the highest rates of heart disease in the nation, and Black residents are more likely than white residents to experience high blood pressure. According to Tulane, 40% of adults in New Orleans have hypertension.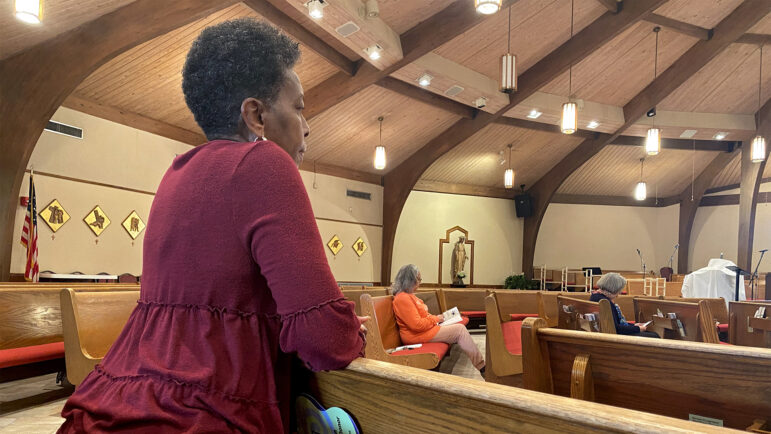 Barriers to a traditional medical setting
At St. Joseph, parishioners are well aware of these statistics. Octavia Fennidy, a longtime member of the church, recalls how her parents used to cook.
"I remember growing up as a little girl going to the boucherie where they actually shot the hog in the head and they made blood sausage and they fried everything — the cracklings and the chicken," she said. "That's how they were brought up, and I know a lot of people in the community still do that."
Fennidy serves on the church's Health Ministry team, which has been around for a few decades. The goal is to teach the community how to be healthier through the help of other parishioners, as well as church members who are licensed nurses or have worked in health care.
Fennidy, who is a nurse, has diabetes and has survived cancer twice. She knows how difficult it can be to go to the doctor. Practical issues like lack of insurance can get in the way, which Fennidy says can force people to decide between paying an expensive medical bill or putting food on the table.
On top of that — there's often judgment, a lack of cultural sensitivity, and racism in the medical field.
"I feel like the doctor does not take as much time with me as they do with a Caucasian patient. So I don't feel like I get the right treatment," Fennidy said. "So why go?"
These opinions are shared by many of St. Joseph's parishioners, so the Health Ministry has looked for ways to ease their concerns — like hosting health fairs where they invite nurses to do routine check-ups and educators to come and speak on topics like exercise and diet.
Lifelong church member Rita Williams said her husband benefitted from one of the Health Ministry's programs, using it to find out he had kidney disease. Williams, who used to work in health care business administration, said she saw through her line of work how patients are often not treated as people, but simply as customers. It's something that often left her husband reluctant to go to the doctor, delaying his diagnosis.
"I know how important it is for us to encourage our community, our own family members, to seek free services and take advantage of it," she said. "So we look forward to any help we can get."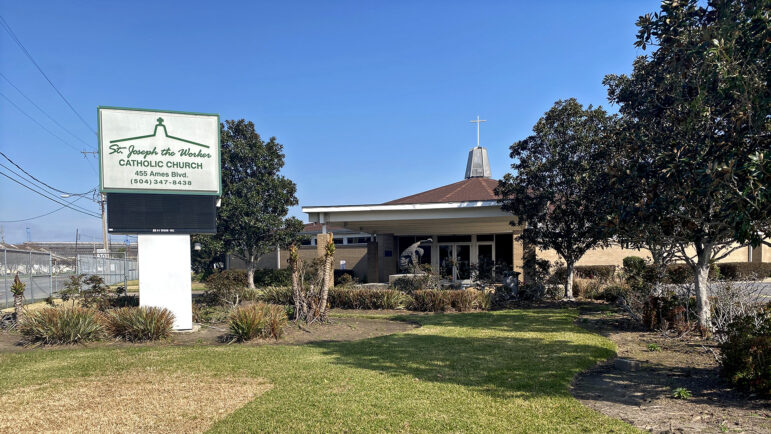 A place to be spiritually, and physically, made well
Tulane believes churches are one way to reach the communities they're targeting, especially in the South.
With the CHERISH program, researchers will identify community members with high blood pressure and offer them support for 18 months. They'll also be connected with a primary care provider.
Father Sidney Speaks, of St. Joseph, said he's excited at the prospect of having a dedicated team of researchers and community health workers focusing on his parishioners later this year.
"You are already in a place that is pushing you to be better," he said. "So it kind of makes sense if I'm coming to church where I'm going to be spiritually made well, well then that will be a place where I could be made well physically."
Throughout the study, researchers will not only place health care professionals at churches but also train fellow church members — like those at St. Joseph — on how to check blood pressure at home. Training facilitators plan to treat the high blood pressure, but also lay the groundwork for better health by offering advice to churchgoers on how to adhere to medication schedules, exercise more, and eat healthier.
Speaks agrees his congregation is a great place to monitor health. This kind of outreach has been successful in the past for St. Joseph. Notably, it has hosted COVID-19 vaccination campaigns throughout the COVID-19 pandemic.
"Why the place of the church? Because it's always been a major center of community life, a center of the life of the person, the center of the family," he said. "When you come to church, you're going to be connected to others."
Meeting patients where they are
The success of church-based care at places like St. Joseph is why the Tulane University Translational Science Institute wants to team up with churches in order to tackle racial disparities in heart disease outcomes in the first place.
Dr. Keith C. Ferdinand, a cardiologist and the co-lead of the CHERISH program, said the idea is to identify and treat patients somewhere they feel comfortable.
CHERISH researchers hope to create a central base in one of the churches where participants can get medicines for free — prescribed by a provider who's "culturally sensitive" and using " appropriate language."
Ferdinand said this model has worked very well in the past, highlighting results from a Los Angeles Barbershop study published in 2018. It placed pharmacists within dozens of salons and created a safe space for Black men to monitor their blood pressure and get prescription medicine. The results showed that the majority of participants were able to significantly lower blood pressure after talking to their barbers.
"The [long-term] solution is to treat everyone, regardless of race, ethnicity, sex, gender, socioeconomic status, or geography," he said. "But we're not there… [so] if you can see patients in a comfortable, community-based environment that may be superior to having the patient come into the hospital clinic for services."
This story was produced by the Gulf States Newsroom, a collaboration among Mississippi Public Broadcasting, WBHM in Alabama and WWNO and WRKF in Louisiana and NPR. Support for public health coverage comes from The Commonwealth Fund.