In Alabama's Paint Rock Valley, researchers count every tree thicker than a pencil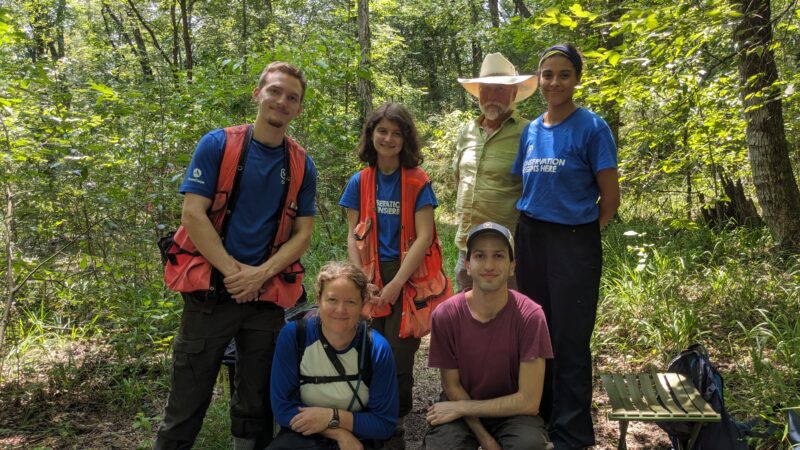 This story is part of a monthly series called Outdoor Connections, which features stories that explore the biodiversity of Alabama and how we depend on it.
On a warm summer afternoon, Bill Finch climbs into an off-road utility vehicle, affectionately termed the "limestone limousine." He strikes up the engine and begins traversing through lush forests full of dense vegetation, caves and streams.
"I get requests from a lot of people who say, 'look I just want to drive out and see what you're doing,'" Finch said while maneuvering over roots and holes. "I think they imagine they're going to be able to look out their car window and see what we're doing. But as you can see, it's a pretty wild place."
Finch is the founder and executive director of the Paint Rock Forest Research Center, a non-profit located in the Paint Rock Valley near Huntsville.
Developed with encouragement from scientists like E.O. Wilson and Stephen Hubbell, the center coordinates research on roughly 4,000 acres of land owned by the Nature Conservancy. And much of that research is focused on a decades-long forest dynamics study – a large-scale, detailed census of every tree in a specific part of the forest.
Understanding forest diversity
Finch parks the limestone limousine and leads the way to the active research plot where five researchers have been out all day measuring trees.
Ryan Long, an intern with the Student Conservation Association (SCA), demonstrates how it's done.
He kneels to the forest floor to measure the tree's diameter at breast height, a standard measurement taken roughly four and a half feet above the ground. Long then maps the tree's location, details characteristics about the species and tags the tree.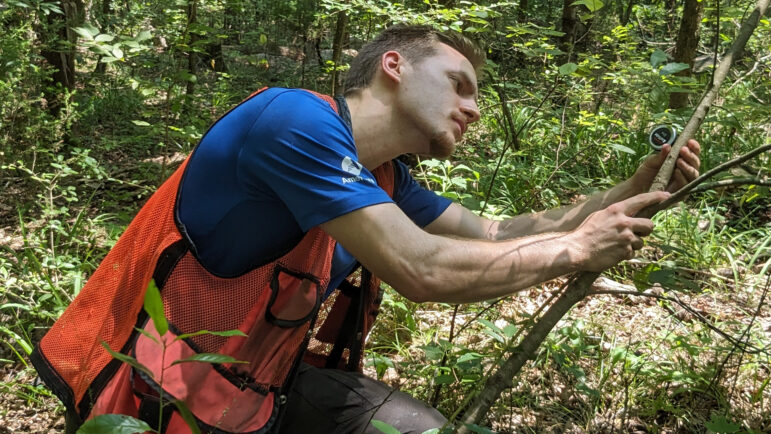 The process is repeated for every tree in the plot thicker than a pencil. The goal is to come back every five years to collect more data, for the next 50 years. According to Finch, they ultimately plan to measure and follow roughly 100,000 trees. So far, they've tagged about half that many.
"It's really a remarkable way of understanding the forest," Finch said. "And it's already taught us some very interesting things about Southern forests, and things about this forest that we had no idea about when we started."
He said they're seeing patterns in how trees are distributed, which raises questions about why those patterns exist. And they're documenting trees that may be completely new species.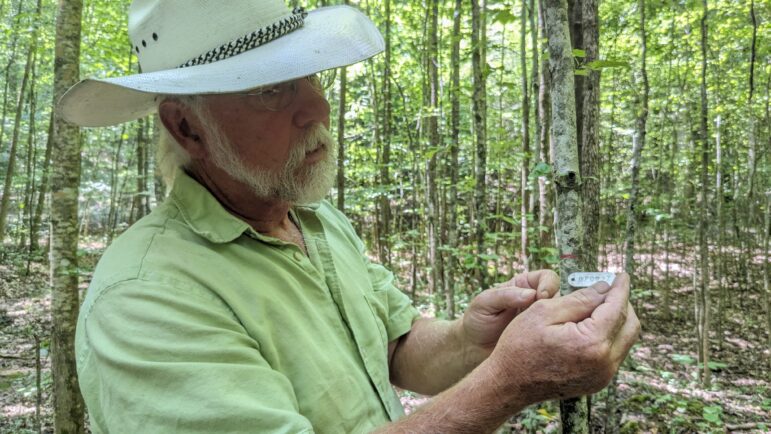 Long term impacts
The census study is led by scientists including Dawn Lemke, assistant professor of environmental sciences at Alabama A&M University. Lemke said collecting this kind of data over a long period of time could offer unique insight into how species adapt to changing conditions, like climate change and other human disturbances.
"When you collect detailed information like that, you can look at tree health, nutrients, water availability," she said, "So we can start connecting where the trees are with what's around them, looking at how they're interacting with the environment."
Northern Alabama is prime territory for the research because the area is home to an abundance of species that survived climatic events like the last ice age and the last sea level rise. Lemke called the region "one of the hotspots of biodiversity in the United States and North America."
That attracts scientists and nature enthusiasts from across the nation to the Paint Rock Research Center.
SCA intern Sakora Smeby said the area's high level of biodiversity is why she left home in Texas to study forestry at Alabama A&M University.
"It's part of the reason I decided to stay," she said. "I had no idea all of this was out here. There's a lot to be explored and a lot of things that have yet to be really studied."
Smeby and other researchers said that applies to the trees and all the species that depend on them, from the wood thrush to the pygmy shrew to two-foot-long worms and tiny caterpillars that look like twigs.
The census may only count the trees, but the numbers reflect an entire ecosystem.
Do you have an idea worth featuring as part of our Outdoor Connections series? Email [email protected].