How a rare edition of 'Uncle Tom's Cabin'  traveled from Italy to Lawson State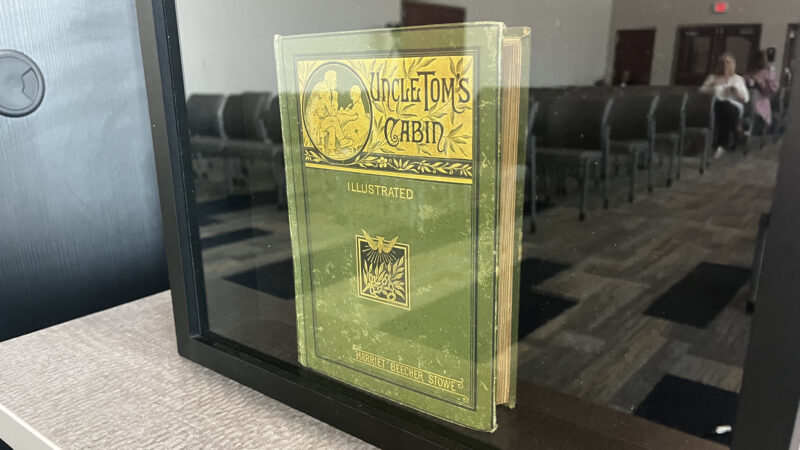 Bundled in layers of tissue paper, plastic and bubble wrap, a rare 1880 illustrated edition of Uncle Tom's Cabin by Harriet Beecher Stowe landed on the steps of Lawson State Community College in December — and it all started with a phone call from 5,000 miles away.
When college librarian Julie Kennedy got a call about a book donation in October last year, she didn't think much of it.
"We get quite a few calls about people wanting to donate books, and you just sometimes wonder, 'Has that been in somebody's basement?' You don't really get too excited about it," Kennedy said.
But this phone call was different. The donor was calling from Rome, Italy, and wanted to donate a rare book she found in a bookstore while roaming the same street the Pantheon is on. And, Kennedy said, the book was in surprisingly good condition.
"Each page has a thin red border and is gold tipped. This book is randomly illustrated with black and white sketches, but for the front and back covers, this book is in amazing condition to be 143 years old," Kennedy said.
Uncle Tom's Cabin is one of the most influential books in American history. The anti-slavery book, which tells the story of an enslaved man and his struggles, is said to have shaped the framework of the American Civil War and was quickly a best seller after it was published in 1852.
The book Lawson State now owns was found by Arlene Rochlin, an Italian lawyer who has ties to Birmingham. She donated the book in honor of her grandparents, Julius and Patsy Blach, whose family owned the historic Blach department stores in Birmingham from 1855 until the 1980s and often financially supported local historically Black colleges and universities.
Lawson State history instructor Gregory Wilson put together a short documentary showing the history of the book and the history of Rochlin's family.
"Her great-grandparents came here from Germany as German immigrants as early as 1905. The next thing — they had a store from there," Wilson said. "They reached a level where they could donate money to the African-American institutions and fortunately, Lawson State was one of those. And to make a connection with the granddaughter of that family was just absolutely phenomenal."
Wilson also noted the significance of a book that was once banned in many states, including Alabama, making it to Birmingham in this unique way.
Kennedy said it makes sense to house the book at a historically Black college and said the college made a point to share this book with the community during Black History Month.
"I'm hoping just seeing that book, knowing that the college owns it and knowing the history and why that book was written, I hope they get excited about it like I did."
The 1880 edition of Uncle Tom's Cabin will be on display in Lawson State's library.
Kyra Miles is a Report for America corps member covering education for WBHM.