Commission considering funding to keep Magic City Classic in Birmingham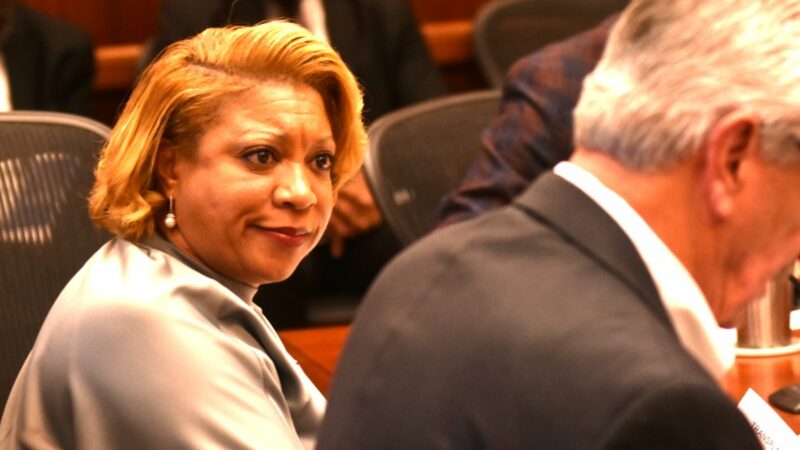 The Jefferson County Commission sent a resolution to the agenda of Thursday's meeting to pay $500,000 to the Alabama Sports Council in support of the Magic City Classic.
The resolution followed a vigorous discussion among commission members about the level of support the county will provide to the annual gridiron meeting between Alabama State and Alabama A&M Universities.
Commissioner Lashunda Scales initially presented a resolution for the county to pay the ASC $750,000 for each of the next three years to help keep the game at Birmingham's Legion Field, where the past 80 Classics have been played.
"Let me be clear, there has not been a contract signed between the universities, Alabama Sports Council, neither with the city or the county," Scales said. "Therefore, we may be at risk of losing this game if we do not treat it with the kind of economic support that it requires. Each school is asking between $1.2 and $1.5 million. And yet they're bringing in more than $22 million to this region."
Scales added that the county's economic development fund is annually restocked with $10 million from its general fund.
Gene Hallman of the ASC and Alabama A&M President Daniel Wims said there is a "gentlemen's agreement" that the football game between these two historically Black colleges and universities will continue to be played at Legion Field. Each added that a contract is not yet in place. The Alabama Sports Council has managed the Classic the past 23 years.
"This is the last piece of building our funding model to see our way clear to satisfy their request, which I think is a reasonable request," Hallman said.
Commissioners went through several motions and amended motions in pursuit of an agreement on funding the Classic. The motions that came to a vote were split with Scales and Sheila Tyson voting yes while Joe Knight and Steve Ammons voted no.
Ammons' motion to fund the Classic at $500,000 per year for three years garnered a second from Scales. She rescinded her second when Ammons said funding could increase or decrease.
"It could have gone a lot differently," said Knight, who chaired the meeting in the absence of Commission President Jimmie Stephens. "I had no idea that we were having the show, that all these people were coming in here. The only one I knew was coming was Hallman.
"I want to support this game. I do," Knight continued. "When you start talking about a three-year commitment, we don't know where we'll be financially in three years. Would it be OK to do a three-year commitment? I think we can hopefully get there by Thursday. I don't know."
Knight referenced the county's need to refinance its sewer debt this year.
"If we don't get it refinanced, then we're gonna go from here, really to here and then way up," he said. "We can't afford that.
"As finance chair, I have a fiduciary duty to the county to make sure that the funds are spent wisely, correctly," he said. "I never want to get back to a point to where we don't have enough funds like we did when I first came into this office. We've been very conservative in our spending."
Scales repeatedly said that failure to appropriately support the Classic could mean the game leaves Jefferson County, which then would not receive the economic impact it has been getting from the game.
Data supplied by the Greater Birmingham Convention and Visitor's Bureau said the 2022 Classic had a direct economic impact of $12,520,833 and an indirect economic impact of $8,860,131.
"The Classic has earned its merit to receive funding to the tune of what these schools are asking," Scales said. "If the Alabama Sports Council doesn't receive this $750,000, it makes it more challenging for them to guarantee the schools what they are asking."
Scales added that the county's economic development fund is annually restocked with $10 million from its general fund. 
"The schools have already dug their heels in. They're saying we're going to either get between $1.2 or $1.5 million or we ain't doing the game. They are negotiating on behalf of their institutions and their students."
Scales said she hopes a three-year funding agreement can be reached before Thursday's meeting.