Black lawmakers say Alabama GOP's proposed new congressional map insults the Supreme Court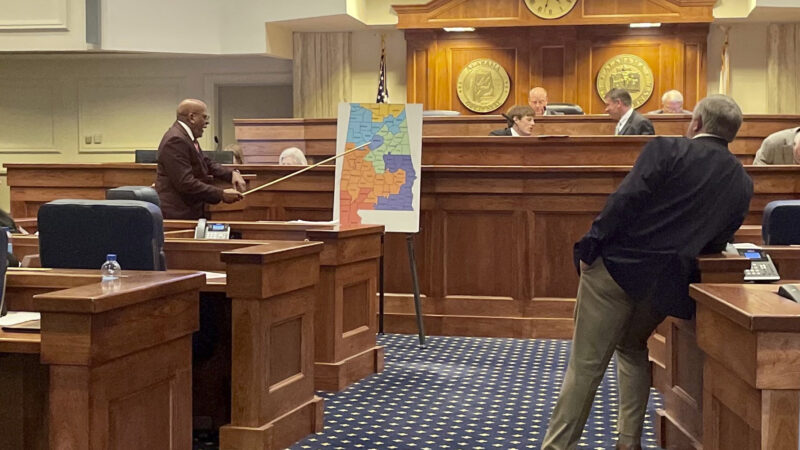 MONTGOMERY, Ala. (AP) — Facing an order to draw new congressional district lines, Alabama Republicans advanced dueling proposals on Wednesday that boost the number of Black voters in a district, but Black lawmakers called the plan an insult to the court directive to give minority residents a greater voice in elections.
The Republican-controlled House of Representatives and Senate advanced separate plans that increase the number of Black voters in the state's 2nd congressional district, but do not establish the second majority-Black district sought by plaintiffs who won the Supreme Court case last month.
The GOP plans would increase the percentage of Black voters from about 30% to 38% under the Senate proposal, or 42% under the House plan. Republicans said that complies with the court's directive to provide a second district where Black voters can influence the outcome of congressional elections. Democrats said that does not comply with a three-judge panel's directive to create a second majority-Black district or "something quite close to it."
"This is really a slap in the face, not only to Black Alabamians, but to the Supreme Court," Rep. Barbara Drummond, D-Mobile, said during the floor debate.
State lawmakers face a Friday deadline to adopt new lines after the U.S. Supreme Court in June upheld a three-judge panel's finding that the current state map — with one majority-Black district out of seven in a state that is 27% Black — likely violates the federal Voting Rights Act.
Republican House Speaker Pro Tempore Chris Pringle argued that the proposed lines satisfy the court requirement to provide greater "opportunity" to Black voters. Republicans said the reconfigured district would become a swing district that could be won by either a Democrat or a Republican.
"We've drawn a district that provides an opportunity for the minorities to elect a candidate of their choosing," Pringle said. "The court said we had to provide an opportunity and that's what that district does," Pringle said.
Republicans in the House and Senate have proposed different maps. Sen. Steve Livingston, a Republican from Scottsboro, said the two chambers will work toward a compromise.
"The question is what is opportunity there?" Livingston said. "I think everybody has a different interpretation of what opportunity is."
Black lawmakers said the proposals invoke the state's sordid Jim Crow history.
"Once again, the state decided to be on the wrong side of history," Rep. Prince Chestnut, a Democrat from Selma said. "We're fighting the same battles that they were fighting 100 years ago, 50 years ago, 40 years ago, right here today," Chestnut said. "Once again the (Republican) super majority decided that the voting rights of Black people are nothing that this state is bound to respect. And it's offensive. It's wrong."
A group of voters who challenged the existing congressional plan said white Republicans drew the map "to maintain power by packing one-third of Black Alabamians" into a single majority-Black district while leaving lopsided white majorities in every other district. Alabama now sends one Black congresswoman to Washington — Rep. Terri Sewell, whose 7th congressional district is majority Black — and six white Republicans.
The appellate ruling that struck down the existing congressional map said Alabama should have "either an additional majority-Black congressional district, or an additional district in which Black voters otherwise have an opportunity to elect a representative of their choice." The judges added any map should include two districts where "Black voters either comprise a voting-age majority or something quite close to it."
Black lawmakers disputed that the 2nd congressional district, a rural district with deep ties to farming and military bases, would easily become a swing district. They said history shows that Black candidates generally don't win in Alabama unless they run in a majority-Black district.
Senate Minority Leader Bobby Singleton, a Democrat from Greensboro, said data shows that former President Donald Trump would have won the district in 2020 under the Senate proposal.
"(It) tells you everything you need to know about that opportunity district," Singleton said. "What Black has an opportunity to win in that district? I just don't see it."
Republicans hold a lopsided majority in the Alabama Legislature and will control what ultimately passes. Republican lawmakers in both chambers voted down an effort by Democrats to bring up a plan, backed by plaintiffs who won the Supreme Court case, that would create a second majority-Black district.
Once a new GOP map is approved, the fight will shift quickly back to the courts. Republicans, who have been resistant to creating a solid Democratic district, are wagering that the court will accept their proposal or that the state will prevail in a second round of appeals. The three-judge panel could step in and draw its own plan if they deem it unacceptable.
"You can save your time. You can save your money, because we're going to have a special master drawing this map," Rep. Chris England, D-Tuscaloosa, said.